Surgery can be a life-or-death procedure. With the stakes so high, practice is crucial. Simulators allow surgeons to gain experience before working with patients.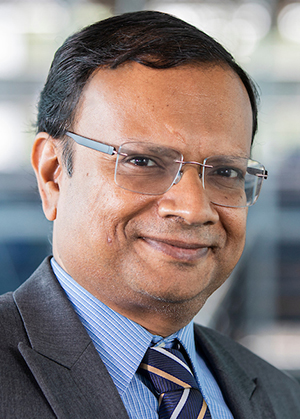 Suvranu De, dean of the FAMU-FSU College of Engineering, is building a better simulator — one that uses brain stimulation to improve learning for physicians undergoing training for robotic surgeries for oral cancers. The work is funded by a four-year, $2.3 million grant from the National Institute of Biomedical Imaging and Bioengineering, part of the National Institutes of Health.
"We've always been taught to learn by doing," De said. "What if we could use technology to accelerate learning? Learning happens in the brain. For a task such as this, it's about neurons in the cortical regions of the brain being attuned to what you're doing. We think we can stimulate those neurons in the brain with electric current to help surgeons learn faster and reduce errors."
Physicians training on the simulator will wear a cap that delivers low electric current to the parts of the brain involved in learning a complex fine motor task such as robotic surgery. The idea is that stimulating those parts of the brain will increase the excitability of the underlying neurons, accelerating learning.
The goal is to develop a simulator that takes advantage of the brain's neural plasticity to function as a better teacher than existing methods. That would be a benefit for surgical residents, who have limited time to learn the skills they need to deliver high-quality service to patients. It could also help surgeons who need practice with certain procedures to maintain their skills.
Along with adding brain stimulation to surgical training, De will break new ground on this project by developing a simulator for transoral robotic surgery, or TORS, a minimally invasive technique for treating cancers in the pharynx and larynx in addition to obstructive sleep apnea.
After developing the simulator and accompanying brain stimulation technology, researchers will test its effectiveness. One group of surgeons-in-training will receive stimulation during the training while a second group will undergo a sham stimulation. By comparing learning between the groups, De and colleagues will determine if the stimulation is an effective enhancer for surgical performance.
Technology that replicates the visual, touch and motion sensations of a real procedure will offer a platform for practice where mistakes don't carry the heavy consequences of an operating room. Creating the equipment to mimic that environment is an engineering challenge that De and colleagues look forward to.
"If you're looking at the health care environment, I think there are plenty of problems 
that engineers can understand and work shoulder-to-shoulder with clinicians to create a solution," De said. "It is very fulfilling to know that the things that we are doing are helping the field go forward and enhancing patient safety."
De will work with computer scientists from Florida Polytechnic University and surgeons and neuroscientists from Beth Israel Deaconess Medical Center, a teaching hospital of Harvard Medical School, on this project.
---
RELATED ARTICLES
Researchers Receive $1.6M NIH Grant to Develop Virtual Bariatric Endoscopic Simulator (ViBE)
Improving Outcomes with AI-Powered Virtual Surgical Simulations
FAMU-FSU College of Engineering Names Esteemed Scholar, Innovator as New Dean