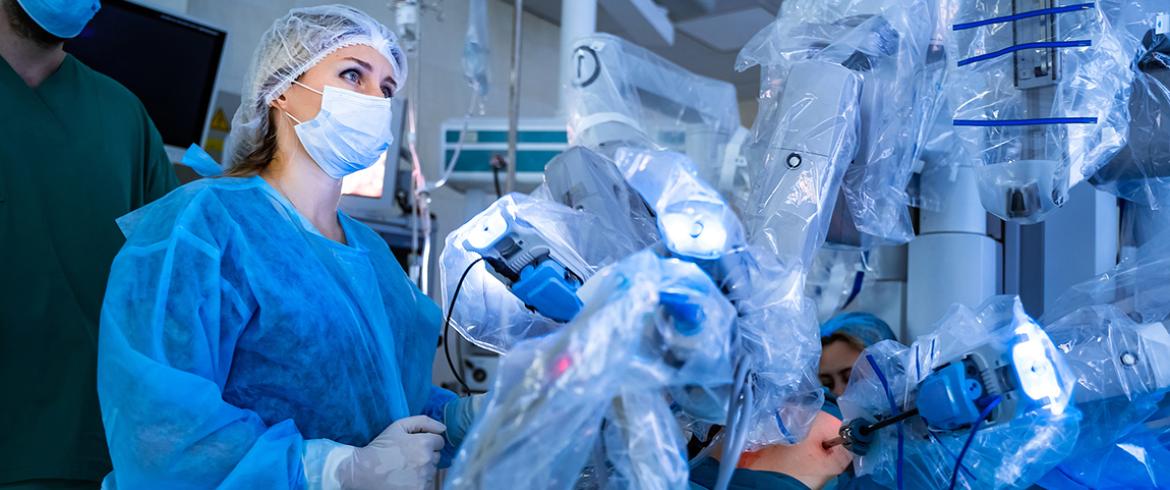 Researchers at the FAMU-FSU College of Engineering have developed a promising new virtual reality training tool for medical professionals that may soon help millions of patients struggling with severe obesity. The system may increase patient safety and provide a non-surgical option for bariatric patients.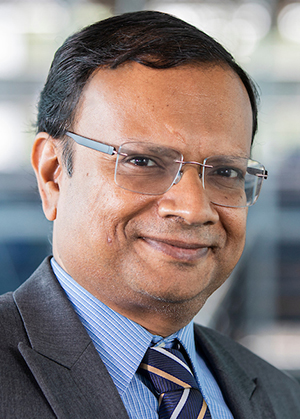 A multi-university research team led by Suvranu De, a mechanical engineering professor and dean of the FAMU-FSU College of Engineering, is developing the Virtual Bariatric Endoscopic (ViBE) surgical simulation system, that engages users using visual and haptic technology. The device trains medical personnel to become more proficient at performing bariatric endoscopy procedures, like endoscopic sleeve gastroplasty (ESG).
"ESG is rapidly emerging as a non-surgical option for weight loss management," De said. "However, performing the procedure is technically demanding and not enough endoscopists and other medical professionals are trained to do the procedure."
According to the Centers for Disease Control and Prevention, 41.9% of adults over age 20 nationwide are obese. Severe obesity further increases the risk of obesity-related complications such as heart disease and diabetes, and multiple treatment strategies are needed to combat the disease, according to De.
"Obesity is a global pandemic and a function of our most recent civilization," De said. "Diet, and exercise are good but only result in and eight to ten percent reduction, then recidivism kicks in and the weight eventually comes back." 
"There are many co-morbidities associated with severe obesity and an urgent need for solutions," De explained. "Surgery is usually the last resort for these patients, but most don't choose the option, so ESG has emerged as a good, non-surgical alternative." 
During the ESG procedure, a flexible endoscope is passed down the throat to suture from inside the stomach, reducing the organ's volume. By reducing the amount of food you can eat in one setting and lowering the number of hunger hormones you can produce, appetite and cravings decrease. The procedure is incisionless, reversible, and done on an outpatient basis.
"Currently there is no standardized curriculum for training endoscopists, surgeons or others to do this procedure," De said. "Our aim is to design, develop and test a device that can train professionals for endoscopic bariatric procedures like the ESG."
The ViBE system has two parts: one is the computer using a software application, and the other is a haptic interface. Haptic technology uses the sense of touch and motion to reproduce sensations felt by a user interacting directly with a physical object. A new technology called constrained spline dynamics, being developed by De's research group, is at the heart of the simulations that enables real-time simulation of endoscopic suturing. 
"The user has a seamless interaction between the haptic interface and computer simulation," De said. "It's like a true flight simulator if one were sitting in a plane cockpit, interacting with a real joystick and tools, but they are actually interfacing with a computer program." 
The computations for virtual environments must be fast enough to generate the touch interactions of a surgeon with a virtual human body. When the practitioner is suturing the stomach of the virtual patient, they must feel the same forces experienced when doing the procedure. Enhancing high-quality virtual environments is one of the 14 National Academy of Engineering's Grand Challenges and it is a powerful tool for training practitioners and treating patients. 
Endoscopy simulators are currently available for diagnostic endoscopy but not for ESG procedures or endoscopic suturing, an ability unique to ViBE. The researchers have completed the first step in understanding surgical procedures and cognitive tasks needed for the process. Now, they plan to develop the simulation and test it. 
"We want to know if people can learn using this, if their performance improves and if they can retain their skills over time," De said. "The simulation must work repeatedly and perfectly. The endoscopy suturing skills learned on the ViBE translate to other endoscopic procedures that utilize endoscopic suturing." 
The training tool will provide real-time feedback and a performance scoring method while immersing medical professionals virtually in the ESG procedure. When complete, the ViBE will enhance patient safety and validate how the skills learned will translate to the real world. 
The study is supported by a three-year, $1.6 million R01 grant from the National Institute of Biomedical Imaging and Bioengineering at the National Institutes of Health in partnership with researchers at Florida A&M University, Florida Polytechnic and Indiana University. 
RELATED ARTICLES
FAMU-FSU College of Engineering Names Esteemed Scholar, Innovator as New Dean
Engineering Researchers Take Robotic Touch to a New Level with Novel Haptics
FAMU and FSU Researchers Land $500K NSF Grant For Bio-Adhesive Study