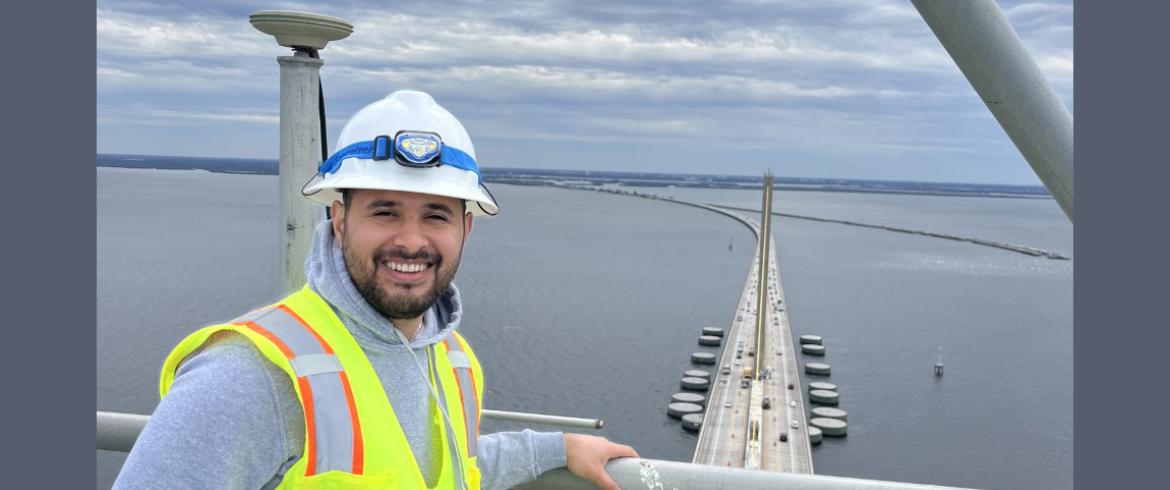 Designing better bridges is something Anwer Al-Kaimakchi thinks about a lot these days. The recent FAMU-FSU College of Engineering graduate has received countless awards for his work, incorporating stainless steel strand technology into bridge design. 
"I cannot wait for the day when I can work on the design of a new bridge where stainless steel strands are required; I know this day will happen—hopefully soon," Al-Kaimakchi said. 
Al-Kaimakchi graduated in 2021 from the college and Florida State University with a doctorate in civil engineering. He's currently working in Tallahassee, Florida, as a bridge designer at Corven Engineering, a Hardesty & Hanover company. The company is a national leader in the design, construction engineering, inspection and rehabilitation of complex bridges. 
Al-Kaimakchi recently shared memories of his engineering journey, starting with his home country of Iraq, where he discovered early on that he had a passion for physics and math.
What was it like growing up in Iraq?
Growing up in Iraq was challenging. However, I had a network of family and friends, and I cherish all those memories. After getting my bachelor's degree in civil engineering from Al-Nahrain University, I knew I wanted to do more. I was fortunate for the opportunity to pursue my master's and a doctorate in civil engineering at the FAMU-FSU College of Engineering.
What was it like coming to the U.S. to pursue school?
As an international student, FSU helped me make the most of my college experience through programs at the Center for Global Engagement. I flourished in the program, making friends and meeting people with different backgrounds.
What is your area of research?
My research involves stainless-steel reinforcing materials, which are corrosion-resistant, for concrete bridges in aggressive environments. These materials increase the life span of a bridge and decrease maintenance costs and disruptions to the public. Unlike carbon steel strands, stainless steel strands do not hold rust on the surface. They are ideal for preventing corrosion in aggressive environments. 
Can you tell me about your research effort as a graduate student?
I am fortunate that Dr. Roddenberry, my former Ph.D. advisor, encouraged me to work on stainless steel research with the freedom to explore the topic. Maybe she saw how eager I was to investigate and learn. The success came after many hours of reading and even more hours of writing, and countless lunch meetings for discussions and editing. 
Do you have a favorite experience? 
I had the opportunity to share our research findings at the 13th fib Ph.D. Symposium in Paris. I did not go in person to present my work but instead gave a presentation through Zoom because of COVID-19. It was my first time presenting the material to a European audience. 
After the conference, I received an email from a friend congratulating me for winning the best paper award for structural analysis and design. There was a time difference, and I was not aware that I had won because I missed the closing meeting of the conference. Even though I was not there in person, receiving this honor was quite rewarding. 
What is your best advice for students?
Seek research topics you are passionate about. Pursuing a Ph.D. can be a rigorous commitment, but everyone deserves to enjoy it. I understand it is hard to know your research interests at the beginning of the Ph.D. program, but there is always a way to fine-tune it and enjoy the bittersweet journey.
---
Continuing to push forward, Al-Kaimakchi has had a string of awards for his work, which has continued since college. He has published several award-winning journal papers on the topic of stainless-steel strands in prestressed concrete members and received the 2022 Editor's Choice edition in the ASCE Journal of Bridge Engineering, along with Michelle Rambo-Roddenberry, a professor at the FAMU-FSU College of Engineering for work related to concrete bridges. He also recently received the 2022 George Nasser Award from the Precast/Prestressed Concrete Institute for authors who are 40 years or younger for a paper published in the PCI Journal during a single year relating to the design, research, production, or construction of precast concrete structures.
When he was in college, his many earlier successes included Best Paper for Structural Analysis and Design at the 13th fib Ph.D. Symposium, co-authored with Rambo-Roddenberry. He was also one of five students winning the University Innovation Award for his abstract and presentation from the American Segmental Bridge Institute, in 2020. He also received numerous awards, including the Global Citizen Award, the Dean's Cup award from FSU, and the People's Choice award at the Three-Minute Thesis Competition at FSU in 2018.  
RELATED ARTICLES
Civil engineering postdoc selected for 4TU Resilience Engineering Fellowship
Engineering professors win FSU GAP awards help faculty commercialize inventions
Electrical Engineering Ph.D. graduate promoted to top job at university in Iraq