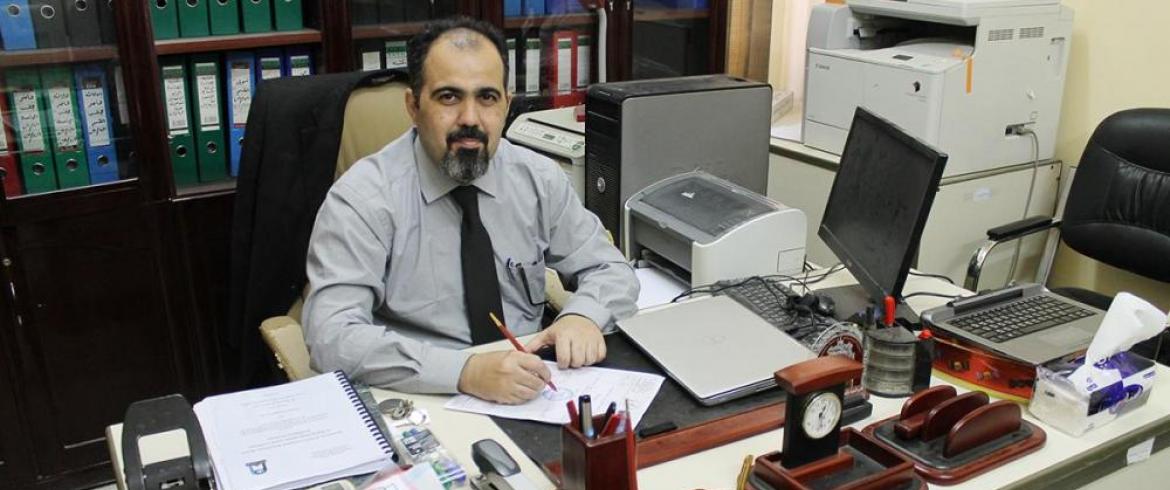 Aws Al-Taie is the new Head of the Electrical Engineering Branch of the University of Technology (UoT), Baghdad, Iraq. Al-Taie received his doctorate in electrical engineering from the FAMU-FSU College of Engineering in 2019.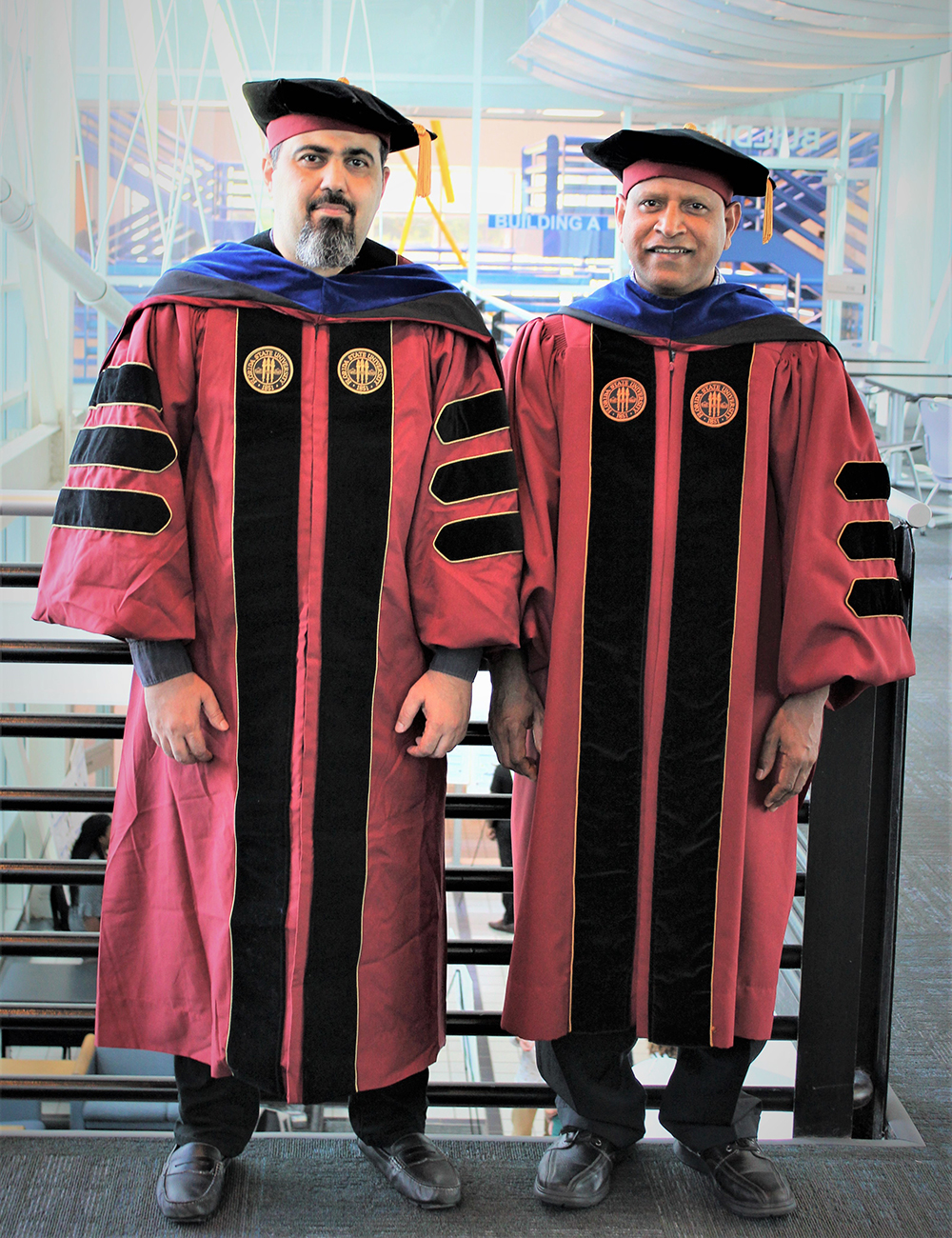 (L to R): Al-Taie and faculty advisor Sastry Pamidi, Ph.D., M.B.A. in his 2019 FSU doctoral regalia.
"I am thrilled to be able to come back to my home country," Al-Taie said. "Exactly one year after returning to Iraq, I have been tapped as head of the Electrical Branch in the Electrical Engineering Department at the university. It's been an amazing journey."
During his study, Al-Taie's research in high voltage superconducting power applications allowed him to work with Sastry Pamidi's research group in the Center for Advanced Power Systems (CAPS). Pamidi is the associate director of CAPS and the chair of the Department of Electrical and Computer Engineering at the FAMU-FSU College of Engineering.
"Aws benefited from his involvement with our research group," Pamidi said. "The multidisciplinary group provided the kind of mentorship in engineering education, collaboration, teamwork and networking that will serve him well in his new position in Iraq." 
Al-Taie hopes his new role at UoT will help with the nation's effort to rebuild and expand electrical power for the Iraqi people. After years of war, much of the infrastructure in the country requires significant maintenance and improvements. Factories have been closed down for a long time and the electrical power grid needs expansion. 
"My country needs to start the rehabilitation and construction process that our people have been waiting for," Al-Taie said. "Electrical engineering graduates will play a vital role in this effort and much more."
Murray Gibson, dean of the college, expressed his optimism in the way students like Al-Taie find ways to pay-it-forward.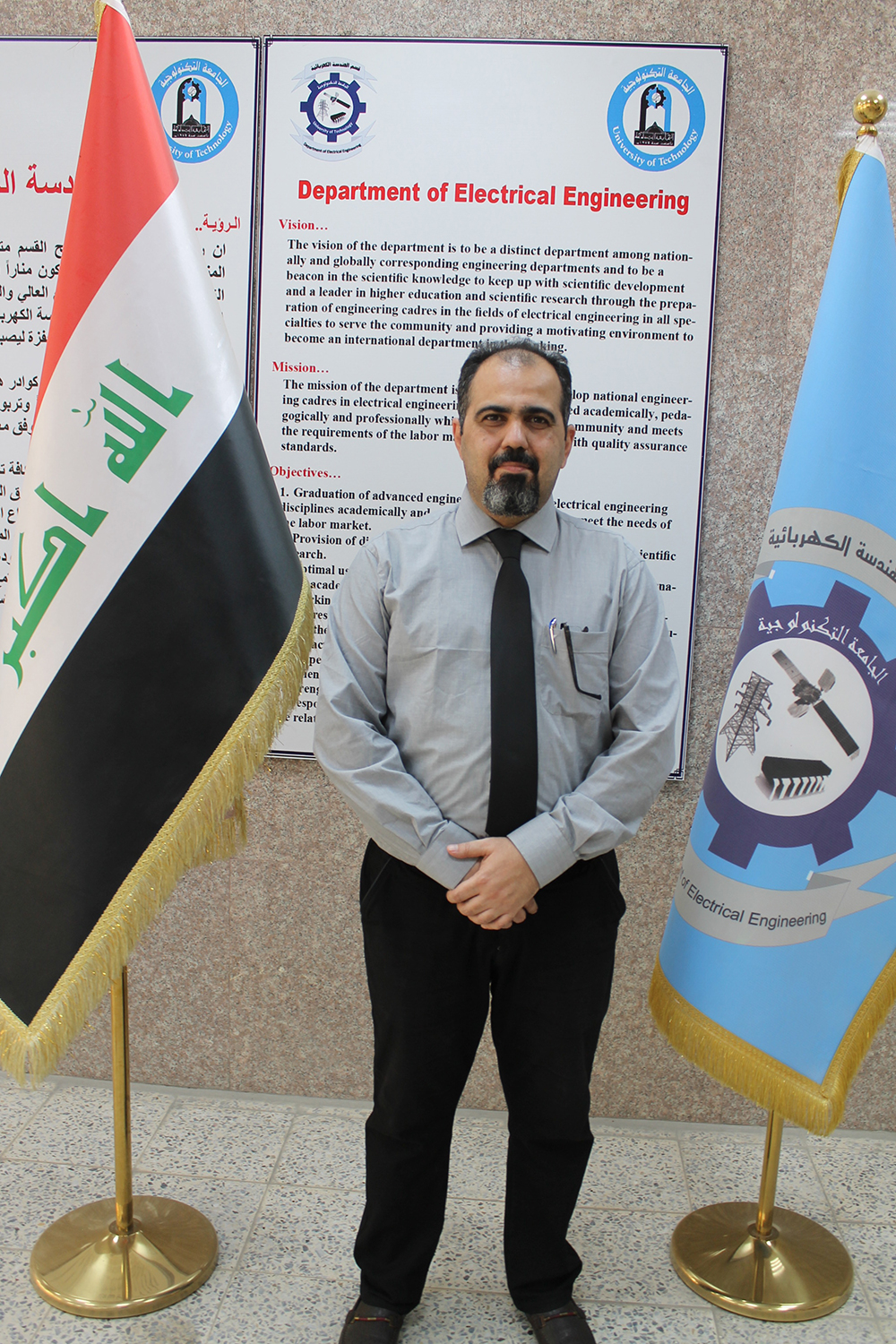 Al-Aaie at the Department of Electrical Engineering, University of Technology in Baghdad.
"It warms my heart to hear one of our talented international students return to aid his home country to advance their research education and infrastructure," Gibson said. "Some of our international students stay in the U.S., and help the U.S.' competitive advantage, others return home and help to build valuable bridges between nations."
Al-Taie wants to maintain a strong linkage between the two colleges and is interested in exploring future cooperation and collaboration at many levels with the FAMU-FSU College of Engineering.
"We are hoping both colleges can collaborate through research and webinars," Al-Taie said. "Maybe we could send some of our electrical engineering students from UoT to the FAMU-FSU College of Engineering to work on their final year undergraduate project or we could exchange research ideas; the possibilities are endless."
Al-Taie had his choice of colleges when he first came to the U.S. He was awarded a full scholarship from the Iraqi Ministry of Higher Education and Scientific Research to pursue a doctoral degree in electrical engineering. After he saw the research facilities affiliated with the college, Al-Taie explained that he knew he had found the right place.
"I was astonished by the state-of-the-art research facilities. The kindness and compassion of the professors—especially Professor Pamidi—was unmatched," Al-Taie said. "Joining FAMU-FSU Engineering was the best decision I have ever made in my life."
Pamidi had equally kind words for his former student.
"The success story of Aws is an example of the positive impact our college has on engineering education in the world," Pamidi said.