Affectionately called a "Sneakerhead" by his peers, Robert Blount, Jr. has an enviable collection of sneakers that he loves.
"If I had to choose, the coolest sneaker would be an off-white Jordan 1," he says. "I love the design and artwork of a sneaker. Sneakers are like the stock market, you can buy and depending on their value, sit on them a while, then maybe sell them for a lot more. I love collecting them."
Blount is a member of the FAMU-FSU College of Engineering chapter of the National Society of Black Engineers and Theta Tau. He also serves on the Student Engineering Leadership Board.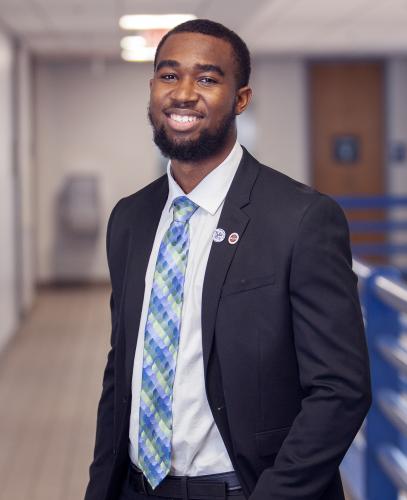 "I am working with SELB on the student organization committee as a co-chair with Lauren Daley," Blount said. "We work with the student organizations to make sure they have what they need to run more smoothly. We assist them any way we can."
Blount is a fourth-year mechanical engineering student at FAMU-FSU Engineering through Florida A&M University. He became interested in engineering during his senior year of high school when introduced to CAD and the opportunity to build houses. He soon realized he wanted to be an engineer. His father is an electrical engineer and that gave him some insight on what it takes to be a success in the profession.
"I loved watching my father build something out of nothing, he was so creative," Blount says. "I thought you needed instructions … but he was doing it off the top of his head. It made me wonder if I might be able to do something like that. Once I took the engineering class, I saw that it might be possible."
Blount had an internship with General Dynamics at St. Marks Powder as an undergraduate and will soon work at Universal Studios. He hopes to gain experience from various corporations while he pursues his degree.
"I chose mechanical engineering because it is broad, there are so many things you can do with it," Blount explains. "I actually have a passion for civil engineering and once I graduate I might even go back to that. I like to have options."
He has some advice for engineering students: "Always follow your passion. Don't do something just because it's popular. In the end, you need to find out what fit's you best." 
Have something you'd like to say to this or another member of FAMU-FSU Engineering's Student Engineering Leadership Board? Send an email.