The Student Engineering Leadership Board hopes to bridge the gap between students and faculty
The Engineering Student Leadership Board (SELB) at the FAMU-FSU College of Engineering is a new organization that serves as an advisory and leadership capacity for students. Miranda Manning is the advisor for the program and hopes to create a space for communication between students and faculty administration. 
"The board was created to be a liaison between students and administration," Manning explains. "We hope to address student needs and implement programming to enhance the student experience."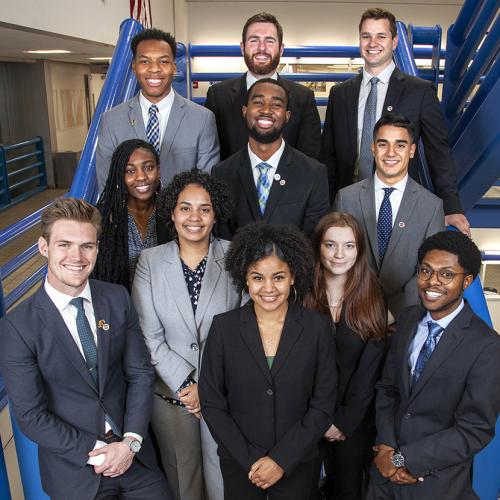 Board members are advocates and liaisons and represent the interests of both undergraduate and graduate students. The ten-member board brings student concerns to the college leadership and aims to make sure students' voices are heard. 
More than just an advocate, SELB also harnesses the full power of engineering students to support community outreach and service projects. One such project involves training engineering students as mentors for MathPals, a math tutoring program supported by the United Way of the Big Bend. 
Another SELB-supported project involves using aquaponics as a tool to introduce local school students to STEM concepts. Kyle York, a member of the SELB outreach committee, hopes the project will inspire youngsters to develop an interest in engineering. 
"We are currently working with one of the elementary schools in town on an aquaponics project. It involves a recycling process to provide a sustainable food source," York says. "We hope to teach kids the engineering behind it. We want to get them interested in engineering and science in general."
If you would like more information or to get involved with some of SELB's projects, contact Miranda Manning.
If you'd like to get in touch with the SELB, send them an email. 
Meet our SELB leaders!
Alexis Riley, Diandra Reyes, Lauren Daley, Kosi Sumpter, Jonathan Yepez, Ja'Niyah Allen, Kyle York, Bryan Anderson, Weston Dudley, Adam O'Neil, Robert Blount Jr.