E-Week 2023
Monday, February 20, 2023 @ 09:00 AM
-
Friday, February 24, 2023 @ 05:00 PM
Event Location
FAMU-FSU College of Engineering
Creating the Future!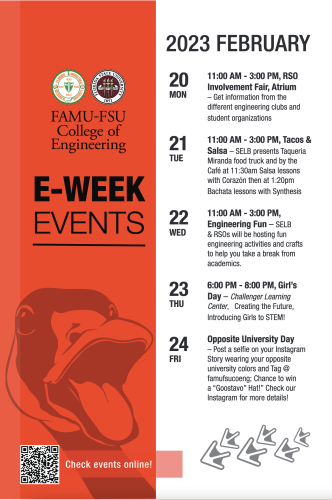 MON 2/20:  RSO Involvement Fair
11:00 AM - 3:00 PM; B-Atrium 
Get information from the different engineering clubs and student organizations
TUE 2/21: Tacos & Salsa 
11:00 AM - 3:00 PM; B-Atrium
SELB presents Taqueria Miranda food truck and by the Café at 11:30 AM Salsa lessons with Corazón then at 1:20 PM Bachata lessons with Synthesis
WED 2/22: Engineering Fun
11:00 AM - 3:00 PM; B-Atrium
SELB & RSOs will be hosting fun engineering activities and crafts to help you take a break from academics.
6:00 PM - 8:00 PM; Challenger Learning Center
Creating the Future, Introducing Girls to STEM!
FRI 2/24: Opposite University Day
ALL DAY; Instagram
Post a selfie on your Instagram Story wearing your opposite university colors and Tag @famufsucoeng; Chance to win a "Goostavo" Hat!" Check our Instagram for more details!