Civil Discourse: Designing Technologies to Support Older Adults With and Without Cognitive Impairments
Wednesday, February 15, 2023 @ 11:00 AM
-
Wednesday, February 15, 2023 @ 01:00 PM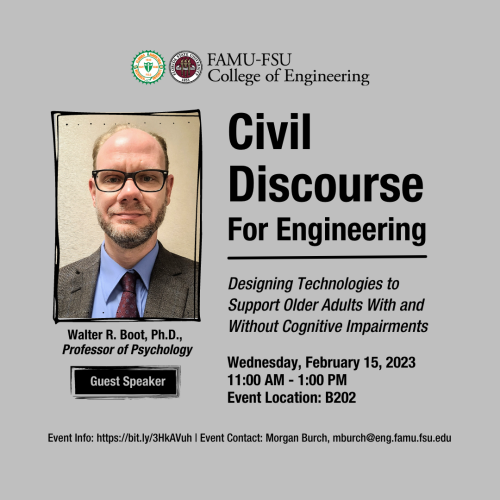 FAMU-FSU College of Engineering faculty, students, staff and friends are invited to join us for lunch and a civil discussion on ethics and the societal impacts of engineering (both good and bad). 
Engineering solutions can both serve and divide communities. They meet the needs of humans while also degrading the environment and depleting resources. How does the accessibility of infrastructure, telecommunications, education, etc., by underserved or rural communities affect those individuals and society as a whole? 
At what point is innovation not socially responsible? Participants will engage in civil debate and examination of both sides of the issue, working in small groups and free exchange with the whole.
----------------------------------------------------------------------------------------------------------------------------------------------------------
"Designing Technologies to Support Older Adults With and Without Cognitive Impairments"
We are witnessing the intersection of two significant societal trends, 1) a dramatic increase in the number of older people in the U.S. and around the word, and 2) the rapid proliferation of technologies that promise new opportunities to help older people maintain health, wellbeing, social connectivity, and purpose in life. However, promises will not be realized unless older adults' needs, preferences, and abilities are considered, and older adults are placed at the center of a user-centered design process. This talk provides an overview of the age-related "digital divide," the potential for emerging technologies to support older adults, potential barriers, the importance of an iterative, user-centered design process, and the necessity of large-scale efficacy trials to confirm usefulness and ease of use of technology solutions for diverse groups of older people. Unless these issues are given attention during the design process, technology developers have the potential to exacerbate the digital divide, disadvantaging older adults and locking them out of the many benefits of technological advances. A design philosophy that centers on older users is crucial for them to benefit from emerging technology solutions, including advancements in artificial intelligence, sensing technologies, robotics, and extended reality.
Walter R. Boot Ph.D., is a Professor of Psychology at Florida State University. He received his Ph.D., from the University of Illinois at Urbana-Champaign in Visual Cognition and Human Performance in 2007. Walter is one of five principal investigators of the multi-disciplinary Center for Research and Education on Aging and Technology Enhancement (CREATE), a long-standing and award-winning National Institute on Aging-funded center dedicated to ensuring that the benefits of technology can be realized by older adults. He is also Co-Director of the ENHANCE (Enhancing Neurocognitive Health, Abilities, Networks, & Community Engagement) Center, funded by the National Institute on Disability, Independent Living, and Rehabilitation Research, with a focus on how technology can support older adults living with cognitive impairment. His research interests include how humans perform and learn to master complex tasks (especially tasks with safety-critical consequences), how age influences perceptual and cognitive abilities vital to the performance of these tasks, and how technological interventions can improve the well-being and cognitive functioning of older adults.