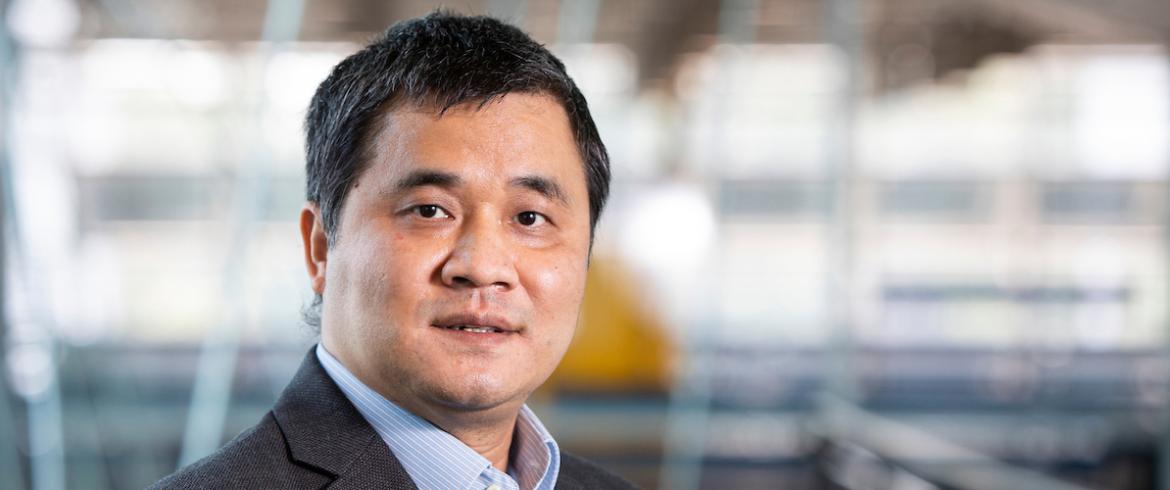 Interim Dean Farrukh Alvi announced today the appointment of Changchun (Chad) Zeng, Ph.D. as the chair of the FAMU-FSU College of Engineering Department of Industrial and Manufacturing Engineering (IME). Zeng begins the new role on July 1, 2022.
"Chad has been one of our most active researchers in recent years and I'm honored to appoint him to this leadership role," Alvi said. "His experience and vigor will bring a fresh perspective to the department and a new voice to our college executive committee."
According to Zeng, with the nation's focus on advanced manufacturing, and the emergence of artificial intelligence (AI) and machine learning as a ubiquitous enabler, the IME department is uniquely positioned to tackle some of the world's toughest problems by building on the ecosystem found at the department. 
"Just as our college is unique with a partnership between FAMU and FSU, our department is a unique partnership between industrial and systems engineering faculty," Zeng said, "who have expertise in data science and systems, engineering analytics, and artificial intelligence (AI) for complex systems; and materials and manufacturing engineering faculty, who are leading experts in advanced materials and manufacturing, nanomaterials and smart materials."
"We are living in the golden era for industrial and manufacturing engineering," Zeng said. "I am honored and humbled to take this position at this exciting moment."
Zeng joined the department in 2007, where he was hired from the engineering industry. Zeng's research is in the areas of innovative materials and advanced manufacturing technology, particularly in multifunctional polymeric materials and polymer foams, and their novel manufacturing process and applications in industrial and biomedical fields. He is well-known for his work in auxetic foams.
His work has attracted broad support from the National Science Foundation (NSF), NASA, Department of Defense (DoD) and Department of Veterans Affairs, as well as private industries. He has published extensively in peer-reviewed journals including many in the topmost journals in the areas of materials, nanotechnology, polymers, and composites research. Zeng is also the inventor of 12 patents. 
Zeng is a recipient of Florida State University's Developing Scholar Award, and the Research Excellence Award from FAMU-FSU College of Engineering. He serves on the board and has been chair of the Division of Thermoplastic Materials and Foams (TPM&F) of the Society of Plastic Engineers (SPE), the largest international professional society for plastic materials. He also serves as editor of the Journal of Cellular Plastics. 
Zeng received his PhD from The Ohio State University in 2004. He assumes of the role of chair as Professor Okenwa Okoli returns to full-time faculty in the department after nine years as the IME Chair.