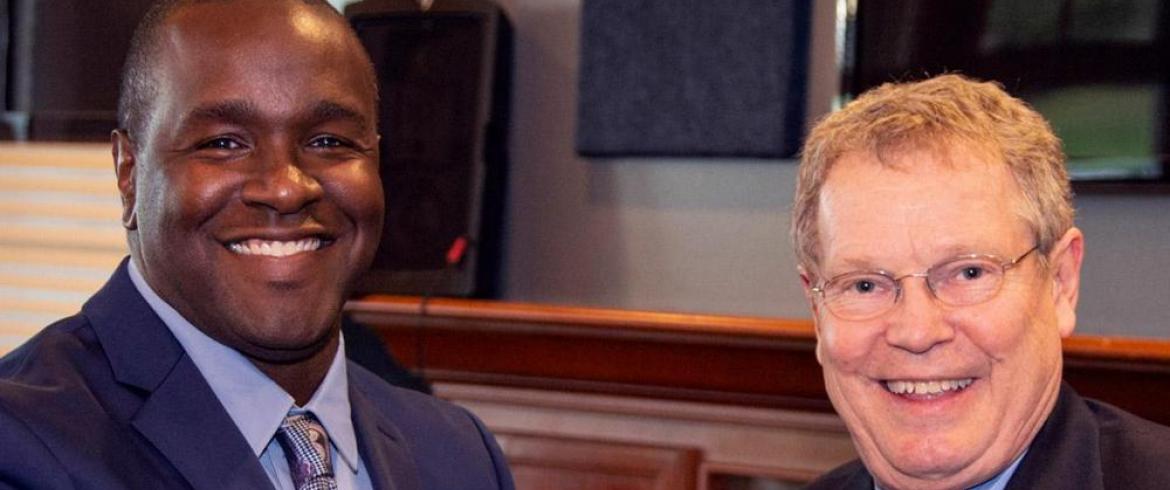 Terrell Finch has worked for 12 ½ years at Northrop Grumman Corporation Aerospace Systems in Redondo Beach, CA. His current role for the past 2 ½ years is the Product and Functional Manager for the Thermal Insulation Products Department. Commonly known as the Multi-Layer Insulation (MLI) group, Terrell manages a large team that designs, fabricates and installs thermal insulation for the James Webb Space Telescope (JWST) program.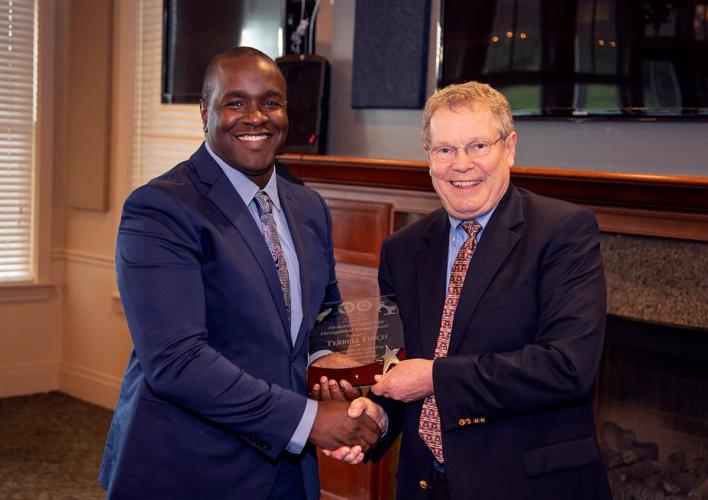 Eric Hellstrom, Ph.D. (right) gives Terrell Finch (left) a Distinguished Alumni Award during the 2019 Department of Mechanical Engineering Alumni Awards Banquet.
Prior to joining the MLI team, Terrell worked in the Thermal Design Engineering (TDE) group where he developed thermal control hardware for bus panels and payloads. He has also been the responsible thermal lead for payload integration, supporting high-bay inspections of flight hardware, executing thermal cycle and thermal vacuum tests, and monitoring SV thermal state-of-health during launch campaigns.  Prior to Northrop Grumman, Terrell was employed by Raytheon in El Segundo, CA, as a Thermal Engineer on advanced programs.
Terrell holds an Undergraduate degree in Mechanical Engineering from Florida A&M University, and a Master's degree in Mechanical Engineering from the Georgia Institute of Technology.  Outside of work, Terrell enjoys spending time with family, vegetable gardening, and sailing.
"I remember my first impressions during my freshman year at FAMU—getting used to green/orange color combination, the beach being much further than I imagined, and Miami Bass music dominating the airwaves.  But by the end of my years at FAMU, my life was enriched by life-long friendships and the pride and honor to have graduated from a historically Black university.  Now, green and orange, and 90's Bass immediately rekindle in my mind all the fond moments I experienced at FAMU."