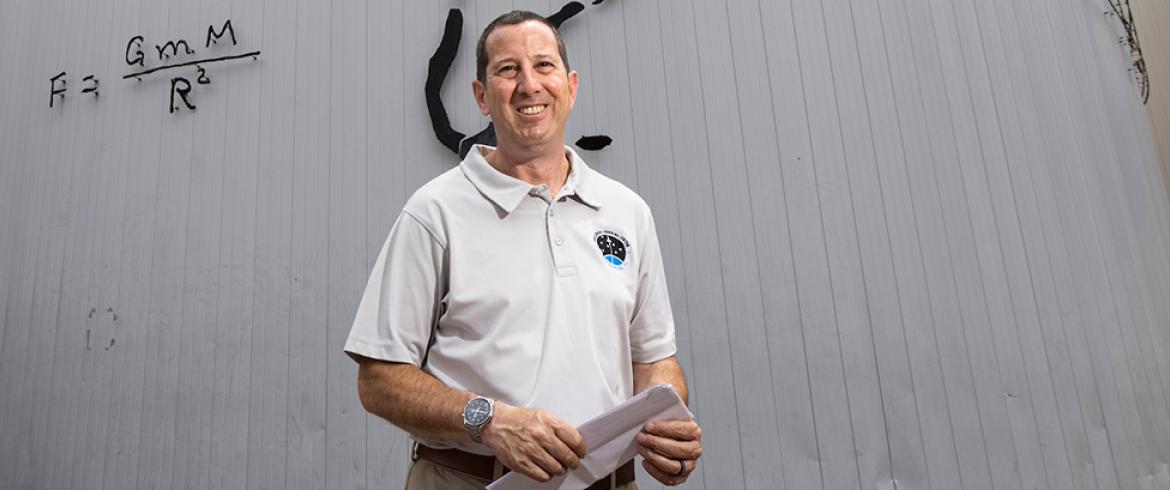 Alan Hanstein, longtime center board member and community supporter, takes the helm June 10
Farrukh Alvi, interim dean of the FAMU-FSU College of Engineering, announced today the appointment of Alan Hanstein as the executive director for the Challenger Learning Center of Tallahassee (CLCTLH). Hanstein takes the helm on June 10, 2022.
The educational center is the K-12 outreach arm for the joint engineering college. Hanstein was chosen from a handful of candidates after a national search. In the new role, he will be responsible for all aspects of center operation, including its IMAX Theatre, Planetarium Theatre, Camp Challenger, educational school programs (field trips), lecture series, public programs and more.
"Alan's enthusiasm for the Challenger Center's mission and community connections made him the right choice to lead the facility," Alvi said. "He will foster new collaborations between the center and our college and with the region at large. He has creative ideas for Challenger and we're delighted to have him on board." 
Hanstein has served on the CLCTLH board for nearly 20 years and is a past chair. He succeeds Michelle Personette, who stepped down in February after two decades in the position.
"I am beyond excited for the opportunity to lead the Challenger Learning Center of Tallahassee into the future and to work with our incredible staff who are inspiring the next generation of engineers and explorers," Hanstein said.
Most recently, Hanstein was partner and director of Business Development at Event Owl, LLC, a developer of hybrid/virtual event apps for state and national associations. He has more than three decades of experience leading successful technology companies. Active in the community, Hanstein serves on several non-profit boards, including Making Awesome, Tallahassee's Makerspace and Moonshot Florida. He served on the boards of Florida State University Schools and Knight Creative Communities. He is a Jim Moran Institute Fellow.
Hanstein lives in Tallahassee with his wife, Amy. They have two adult children, both of whom grew up visiting CLCTLH frequently.
About the Challenger Learning Center of Tallahassee: 
The Challenger Learning Center of Tallahassee (CLCTLH) is a 32,000-square-foot facility on Kleman Plaza in downtown Tallahassee. Located in the heart of downtown Tallahassee, the CLC is open to the public 363 days a year and serves approximately 100,000 people (40,000-60,000 students annually) through its various programs. The CLCTLH is the K-12 outreach facility of the Florida A&M University – Florida State University College of Engineering and strives to foster a long-term interest in science, technology, engineering and mathematics (STEM); create positive learning experiences; and motivate students to pursue higher education and careers in these fields. The CLCTLH mission is primarily aligned to K-12 students throughout a 67 county, tri-state service area to provide standards-aligned, high-quality "hands-on, minds-on" educational experiences through the use of a space mission simulator, demonstration and hands-on laboratory activities, an IMAX® Theatre and a Planetarium. The center serves a tri-state area.