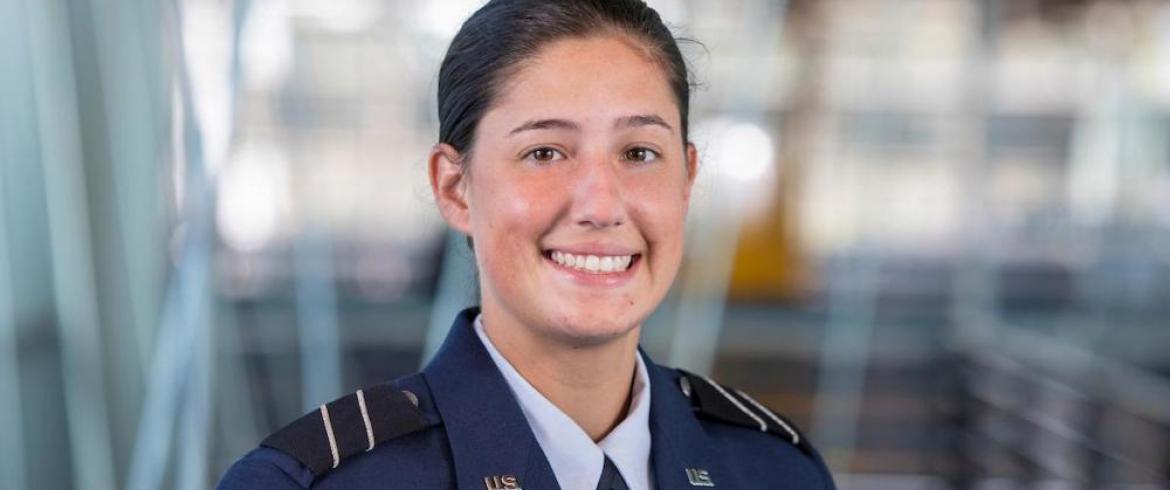 Alysha Vidal is from Tampa, Florida, and is pursuing a degree in civil engineering and environmental engineering. When not taking her engineering classes, Vidal spends time as a cadet in the Air Force ROTC program at Florida State University. She hopes to be a pilot one day.
"With my degree, I hope I can join the military and get a pilot slot, but if not, I hope to do aircraft maintenance," Vidal said. "My focus right now is to get my degree and go straight into the military. I hope to further my education, once in."
Entry into the Air Force ROTC program is possible from high school on an ROTC college scholarship. Vidal was able to take advantage of the program as a recipient of the scholarship.
"I have always been good at math and knew I wanted to do some sort of engineering for a career," Vidal said." The ROTC scholarship helped me to do both."
In college, students must have a minimum 2.0 cumulative GPA and meet the Air Force physical requirement to be accepted. They also must complete at least three years in the AFROTC program and summer military training event to commission as an officer. 
"Cadet Alysha Vidal is the Color Guard Commander for the cadet wing," Cadet Lieutenant Colonel Elsa Lovejoy said. "She is a sophomore in the program and has already shown her adept leadership abilities and I am proud to serve with her."
Lovejoy is a senior cadet in FSU's USAF ROTC program and serves as the Public Affairs Officer for the 145th cadet wing. 
Vidal has always had a passion for the military. Her mother was a Marine for fifteen years and inspired her to go into the ROTC program. She is one of the reasons Vidal decided to pursue her engineering degree at the university.
"My mother inspired me because she was a female in the military and I saw her passion and love for service," Vidal said. "When I was trying to decide between going into the military or attending college, it was my mother who showed me that I could do both with the ROTC program. I could not be happier."
Vidal has been on the dean's list throughout her time in college and has won several academic and leadership awards within the ROTC program. 
She has received multiple awards, including the Silver German Armed Forces Proficiency Badge (GAFPB). The GAFBP medal recognizes military performance. Cadets and commissioned officers go through a week of rigorous exercises and mental struggles that begin with a vigorous swim in full uniform, a seven-mile ruck march and a series of physical endurance exercises. The week ends with a marksmanship test.
Vidal was also selected as an American Legion Military Bronze Medalist in the Air Force ROTC "You Can Fly Program," for outstanding attributes of leadership. She competed against hundreds of cadets nationwide for an opportunity to get her private pilot license.
"I love the FAMU-FSU College of Engineering campus—everyone is helpful and friendly," Vidal said. "The best thing about college is the opportunities the school gives you. I love the vibe I get from college. There are lots of cadets in the program who are also in engineering, which makes it easy to turn to my wingmen for help when I need it."