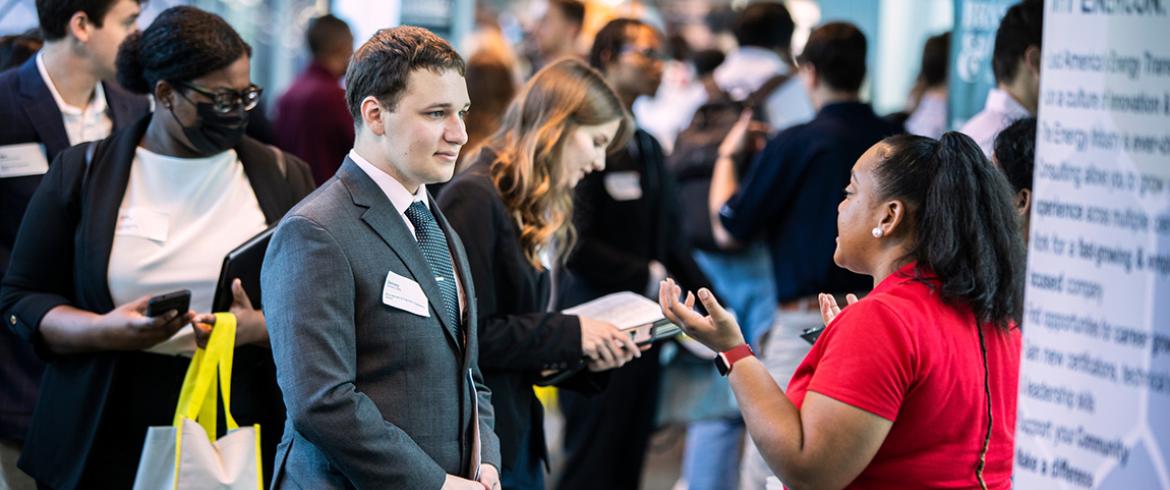 On September 20, the FSU Career Center welcomed employers and students to the annual STEM Career and Internship Fair on the FAMU-FSU College of Engineering campus. Employers flock to the annual event to offer STEM-major students full-time research and internship positions. 
Abbey Hale, the Assistant Director of the FSU Career Center, said, "The FSU Career Center and the FAMU-FSU College of Engineering welcomed over 114 employers back in person to the sold-out STEM Career and Internship Fair! Both FAMU and FSU students have the chance to build their networks and discover opportunities for internships and full-time positions." 
 
Hale is the career liaison for the college and helped organize the event. Last year, more than 1,000 students attended. This year, the aisles were full of eager students ready to network—more than 1400 attended. High-tech companies including the Harris Corporation, Boeing, Lockheed Martin, and many others participated.
For Basia Price, a first-year engineering student majoring in environmental engineering, it was a first experience. 
"I am excited to be at this event, definitely a little nervous, but excited. I'm trying to take in the experience, look around, see what companies might be here in the future," Price said. "I'm really interested in internships that focus on green energy."
From an employer's perspective, fairs like this one provide the opportunity to meet students firsthand and network with prospective recruits. Many of the recruiters at the event were alumni of the joint college. 
Consuela Smith, a representative from L3Harris, said, "As an employer, and a former student, we know the curriculum these students take, how well they are prepared. We want the best and brightest minds working for us." Smith earned a master's in electrical engineering at the college through FAMU in 1997.
Thierry Kayiranga, a representative from Danfoss, earned a doctorate from FSU in electrical engineering in 2017 and reflected on returning to the college as an employer.  
"I went to events like this when I was in school," Kayiranga said, "What a beautiful experience to be on the other side and have the chance to offer opportunities to students as an employer and share my experience with them."
Boeing representative Tamika Jones graduated in 2005 from FSU with a bachelor's degree in mechanical engineering. Her company is hiring mechanical, electrical, computer, industrial, civil and chemical engineers. 
Jones' takeaway is, "In an event like this, you can have your resume looked at by different companies, land an interview, and walk away with an internship or a full-time job."
The day-long STEM Career and Internship Fair was open to all majors from both universities and the public. The college suspended classes this year with the expectation that students attend the event to find an engineering internship or job.