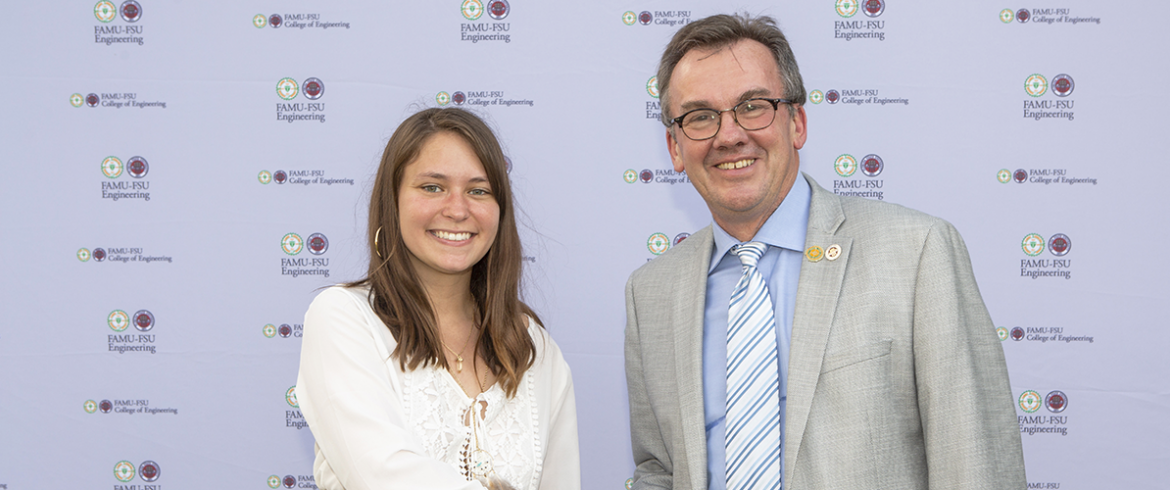 Rachel Rosko is the type of student that every parent hopes their child will become. Bright, driven and focused, she graduates this spring as a mechanical engineer from the FAMU-FSU College of Engineering. 
This year she also earned the Florida State University Academic Leadership Award for the college, one of two such honorees and the only undergraduate engineer with the distinction.
Rosko was nominated by Engineering Dean J. Murray Gibson for the FSU Academic Leadership Award in recognition of her time spent in service to the college and her academic performance as an undergraduate. The award is among the most prestigious the university bestows and Rosko was honored at an April banquet for the recognition.
In nominating her, Gibson pointed to Rosko's tireless dedication to her studies and her peers. She spent her time at the college not only as a standout academic, but also as a student leader, having served two terms as president of the Society of Automotive Engineers (SAE) student organization and also was a volunteer leader in the Society of Women Engineers (SWE) on campus. 
In addition, Rosko was one of two student representatives on the Joint Management Council for the college, where she sat alongside university provosts, presidents and members of the Florida Board of Governors to steer the college's oversight and planning functions.
Rosko was "surprised and honored" when she heard her name at the awards banquet, but says the effort of sustaining academic and student leadership performance was worth it.
"I always felt like I was doing exactly what I was supposed to be doing," she explains. 
Rosko is currently considering her job options, one of which stemmed from her three internships at Chrysler during her undergraduate studies. At her time with the automaker, she worked in dimensional quality control and developed a love for automotive and aeronautical engineering.
She is quick to point out the tremendous positive impact made on her by staff and faculty at the college as part of the key to her success.
"I've had many role models and mentors along the way," Rosko says. "Dr. Shayne McConomy, Dr. Pat Hollis, Dr. Simone Hruda, Dr. Carl Moore, Dr. Emmanuel Collins, my roommate (and 2017 engineering graduate) Leslie Dunn, Miranda Manning, Garit Poire, and many more are all people I've been able to glean lessons from. They have been nothing but helpful, encouraging and positive figures in my life for many different reasons."
Similar to most leaders, Rosko showed signs of leadership and involvement early on, serving various roles in high school clubs and on the FSU Marching Chief's color guard during her freshman year at FSU. But just as those roles transitioned into more engineering-focused service roles and experiences, Rosko believes her time at the college will lead not only into an engineering career, but to a wider breadth of opportunity out in the world.
"The award made me feel humbled," she says. "It felt like my efforts were meaningful and recognized. I hope I can use this award as not only motivation for what I can do next with my career, but also as a positive role model for other women in the major so they know they can do, be and achieve anything they want."