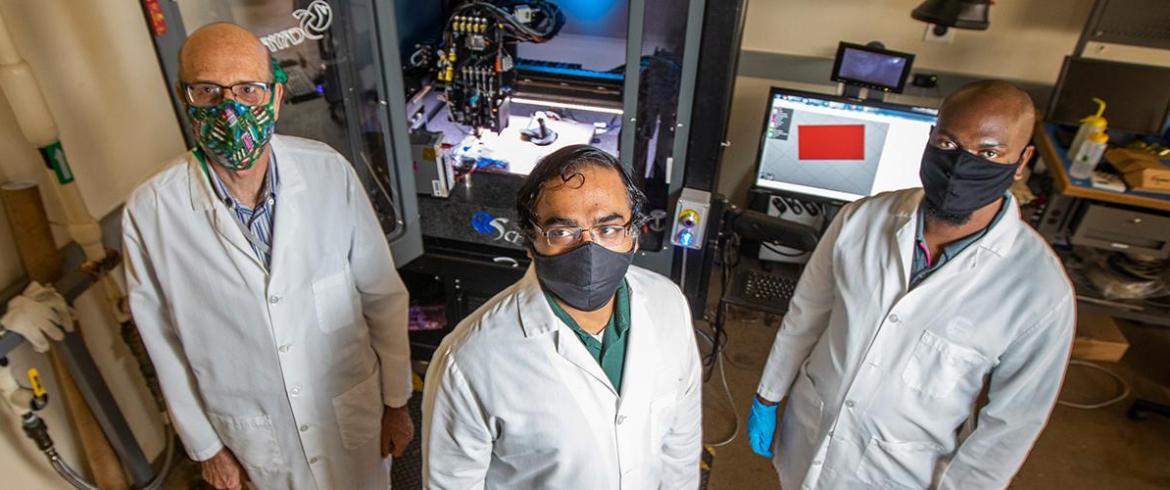 New materials made from polymer (resin) matrix composites are the latest trend in materials research. They have the potential to make planes light-weight and more fuel-efficient. They can also be used to protect troops from explosions. Researchers say the versatility of these materials is vast, but more understanding is needed on the nano-scale for them to reach their full potential.   
In a new study, scientists at the FAMU-FSU College of Engineering are collaborating with the Massachusetts Institute of Technology (MIT) and Brookhaven National Lab to study these composites that are 3D printed. 
Subramanian Ramakrishnan, a professor and researcher in the FAMU-FSU Engineering Department of Chemical and Biomedical Engineering, and his team received $659,000 from the Department of Defense to support discoveries for the next three years. Ramakrishnan explains the research is not only about making new materials, but also about providing scientists information and guidelines that will result in the development of lighter and stronger materials. 
"We are asking the question of why and how things happen," Ramakrishnan said. "We want to know how to develop novel materials, and help to advance design rules for processing them." 
Ramakrishnan's collaborators at the college include Theo Siegrist, chemical and biomedical engineering professor and Tarik Dickens, associate professor of industrial and manufacturing engineering. At MIT, James Swan, associate professor of chemical engineering, is collaborating.  
"We will be looking at thermoset resin, a polymer that can be 3D printed to produce devices," Dickens said. "We want to see how properties flow during the print process and how we can control it to achieve the desired property." 
The materials have caught the eye of the Department of Defense and industry leaders such as Boeing for their combination of characteristics. Substantial attention from research by the Air Force Research Lab showed the 3D print process of thermosetting polymer matrix composite resins can produce high-temperature-capable, reinforced polymer composite parts for next-generation materials. These materials can withstand extreme conditions in high-temperature environments. 
The material can play a role in increasing aircraft range and a reduction of fuel consumption because of these unique properties. The new manufacturing possibilities of the material show promise, but issues in the structure of these materials need further research.
"Additive manufacturing and the importance of making novel materials has gotten significant attention from the Department of Defense, especially materials that are tougher and lighter," Ramakrishnan said. "What is lacking is a fundamental understanding of the structure-function-processing relationships in the development of these novel structures and devices." 
The research team will conduct simultaneous 3D printing and x-ray scattering experiments at the Brookhaven National Lab to understand the processing of the materials. Swan will be performing theoretical simulations and calculations to predict material properties.  
There will be two post-doctoral associates and two graduate students working on the project and several undergraduates who will also have the opportunity to participate through summer programs offered at the college.  
"The project will also play a key role in the education of post-doctoral students, minority graduate and undergraduate students in the area of materials," Ramakrishnan said. "They will have the opportunity to be exposed to state-of-the-art research and the opportunity to participate more competitively in defense research programs."