The Society of Plastics Engineers Composites Division selected industrial and manufacturing engineering Ph.D. candidate and HPMI researcher Yourri Dessureault for the 2018-19 Harold Giles Graduate Scholarship.
Dessureault received one of two $3500 scholarships are offered each year — one for an undergraduate student and the second for a graduate student. These scholarship awards are open to outstanding students who not only maintain a good grade-point average but also serve their community, had some experience in the composite area, and are backed by solid reference letters from former professors and employers.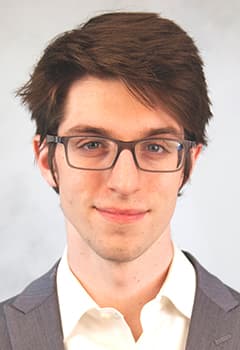 At an early age, Dessureault was interested in building model rockets and airplanes, and while constructing his models, he noticed that construction material choice affected flight. His passion for aerospace technology and understanding of the importance of materials, he studied Composite Materials Engineering at Winona State University in Minnesota. 
While at Winona State University, he interned with Celanese Corporation, researching continuously reinforced thermoplastic composites, assisting in manufacturing testing samples, using data mining procedures to establish statistical controls for material production, and helping develop new mechanical testing methods to ensure product quality. 
During Dessureault's junior year at Winona State University, he conducted independent research to study the effects of intentional voids on the impact properties of continuously reinforced thermoplastic composite laminates. He discovered specific void geometries could reduce energy of the impactor by up to 30 percent. 
Dessureault is currently pursuing a Ph.D. in industrial and manufacturing engineering from Florida State University. His dissertation aims to investigate production of high dimensional order carbon nanotube textiles for scalable manufacturing of multifunctional carbon nanotube – carbon fiber hybrid composites. 
In addition to his membership within Society of Plastic Engineers, Dessureault is the president and carbon fiber I-beam captain of the local student chapter of the Society for the Advancement of Material and Process Engineering. He also repairs composite vehicles such as the Aeromot AMT-200 Super Ximango in his spare time and was a mentor and coordinator for Florida State University's DREAM and RETREAT student programs, whose objectives are to introduce students of diverse backgrounds to advanced materials research. 
The Composite Division offers these scholastic scholarships in honor of the late Dr. Harold Giles, a past Composite Division Awards Chair. As a former professor at the University of North Carolina, Azdel employee and GE employee, Harold Giles knew full well the value of student scholarships. He was always a proponent of awarding worthy students and served the society well in this capacity.