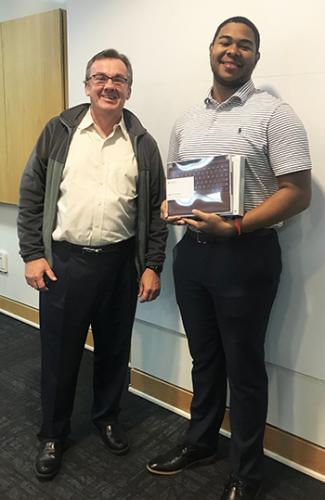 Russell Cooks Jr., an electrical and computer engineering student at the FAMU-FSU College of Engineering, had something to prove when he first arrived on campus. The young scholar applied to the Engineering Concepts Institute (ECI) program during his senior year in high school and was turned down flat. 
The ECI program is an engineering preparatory summer program hosted by the college and is instrumental in preparing students to become effective engineering students. The program provides tutoring, group tours, study groups and community service. Over the course of the summer, students work on engineering projects to build up their skills.
At the time he applied, Cooks was busy with high school exams and hadn't put a lot of thought into his essay, a requirement for acceptance. Judging from his essay, it would have been easy to assume that he wasn't serious about his studies or the program. Quickly trying to set the record straight, Cooks asked for a second chance. ECI extended the application deadline and he was able to resubmit his application. This time he was accepted. 
"I had to show Dr. Caldwell, the director of the program, there was more to me than what I initially presented," Cooks said. "I wanted to prove myself, so I did everything I could to show her I am a leader. I progressed over time in my academics and did well in my internships. I wanted to be the one she could count on the most." 
Charmane Caldwell, Ph.D., administers ECI and other student success programs at FAMU-FSU Engineering. She was impressed by Cooks' second essay. In fact, she nominated him for the Microsoft Black Engineering (BEYA) Surface Go award in 2019, once he began his college coursework after ECI. Cooks has proven her right. He has a GPA of 3.6 and continues to progress in his engineering studies.
"Russell is an exemplary student," Caldwell said. "He has gone above and beyond to be a leader to other engineering students. I was glad to nominate someone of his caliber for the award."
The nomination gave Cooks the chance to attend the BEYA conference where he networked with different companies and met black engineering scholars from around the nation. 
"Getting the chance to go to the BEYA and network was really exciting," Cooks said. "Microsoft sponsored the trip as part of the Microsoft BEYA award and I got to meet their representatives at the event."
Cooks is building an engineering foundation in computer programming and studies microprocessors and object-oriented data structures. He hopes to combine the world of computers and electrical engineering for his undergraduate degree. He plans to go into industry as a computer or software engineer and envisions working on building a large corporate network one day. 
With the foundation provided by ECI and his persistence and drive, Cooks is well on his way to a successful academic and corporate career as a professional engineer.