Vincent Obiozo Eze is a post-doctoral research associate in the FAMU-FSU College of Engineering, Department of Industrial and Manufacturing Engineering (IME). Eze is originally from Nigeria and traveled to Japan for his master's and doctoral degrees before joining the college. 
He currently conducts research at the High-Performance Materials Institution under the direction of Okenwa Okoli, chair of the IME department and associate director of HPMI. Eze's research focuses on developing highly efficient, cost-effective perovskite-based materials. The substances are used for high-performance solar cells, photodetectors and mechanoluminescent pressure sensors.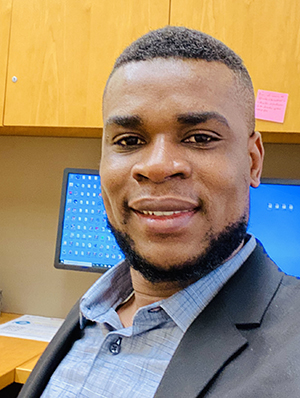 What's your research area? My background is in electrical and materials engineering. I specialize in semiconductor and electronic materials processing and device engineering. My research focuses on high-performance materials that can be easily processed for the advancement of research in optoelectronics.
I work on organic-inorganic halide perovskite material because it is a superb semiconductor and has excellent optoelectronic features with commercialization potential. It is useful for the development of solar cells with high-power conversion efficiency, ultrasensitive photodetectors, radiation detectors, mechanoluminescent pressure sensors, and light-emitting diodes and transistors.
What inspired you to go into this field of study? I got interested in research on emerging photovoltaics such as dye-sensitized solar cells (DSSCs), organic solar cells (OSCs), and perovskite solar cells (PSCs) during my doctoral program at Aichi Institute of Technology, Toyota Japan. I was very enthusiastic about the idea of making novel and innovative contributions in research/technologies that can offer low-cost and alternative benign methods to generate electricity.
I have always admired the way things are produced and the science behind production. My curiosity ended up leading me toward the process of using materials to process electronic devices that are beneficial to humanity.
How has the college supported you and your research? I am passionate and motivated to advance my research in developing highly efficient and cost-effective perovskite-based materials for high-performance electronic devices. The college has helped me expand my research network. I have had the chance to collaborate, improve my grant-writing skills, and developed leadership, mentoring and communication skills. I recently was awarded the FSU Post-Doctoral travel award in 2020 to support my research.
What do you like to do when not in the lab? When not working, I spend my time talking to my family, reading Christian motivational books, listening to good music, watching TV and movies. I plan to add photography, hiking and fishing to my list of recreational activities.
What are your plans for the future? My professional goal is to continue my work on cutting-edge innovative projects as a professor or research scientist. I would like to take the skills I have learned from my professional experiences and academic preparation to make fruitful contributions in the United States' science, technology, engineering and mathematics (STEM) programs. 
What advice do you have for students? While establishing a viable career path can be challenging and at times overwhelming, stay positive and don't be afraid to take a risk. Keep pushing and never give up. Don't be afraid to try something new. Work hard and learn to say to yourself, "I CAN do all things."