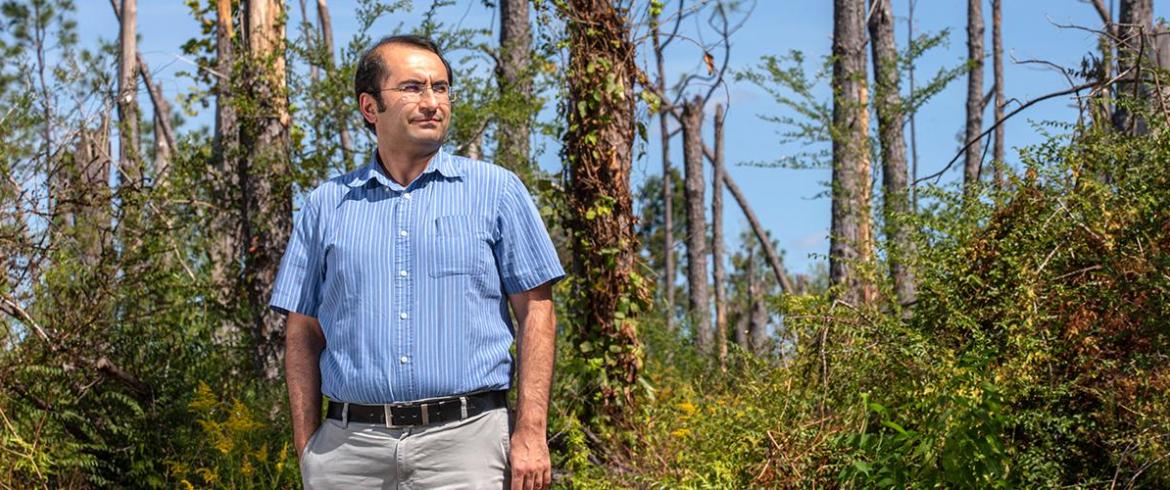 Weather forecasting is best left to the meteorologists, but other aspects of these destructive storms—such as wind damage, storm surge, evacuation, resilience, recovery and more—fall under the purview of engineering.
Florida was impacted by four hurricanes four years in a row—Hermine, Irma, Michael and Dorian. While devastating, these events provided a data-rich environment that researchers are mining for information.
---
Civil and environmental engineering researchers are working together to discover the best methods to deal with hurricanes before, during and after they strike
---
"That's part of the research: collect the data on what happened…So that in the future, the communities become a lot more resilient," said Sungmoon Jung, Ph.D., an associate professor at the college who studies the wind's effect on structures such as buildings, bridges and trees. "Our training enables us to design solutions based on what we learn."
Using satellite imagery, Jung studies which types of trees are located where, how strong they would be when hit by wind and which roadways could be impacted by falling trees. After Hurricane Hermine in 2016, the first hurricane to hit Tallahassee in more than 30 years, researchers worked closely with officials from the cityowned utility to provide prevention and solutions for restoring power after a hurricane.
"After Hermine, power crews would try to go somewhere to fix the power," said Eren Ozguven, Ph.D., an associate professor at the college. "If there's a tree on the road, they had to go back because they couldn't pass. They didn't have the necessary tools." When Hurricanes Irma and Michael came along, the city sent public works crews along with the power crews to work together. "This is just a small example," Ozguven said. "There are, of course, a lot of things to be solved. But what we learned here actually helped."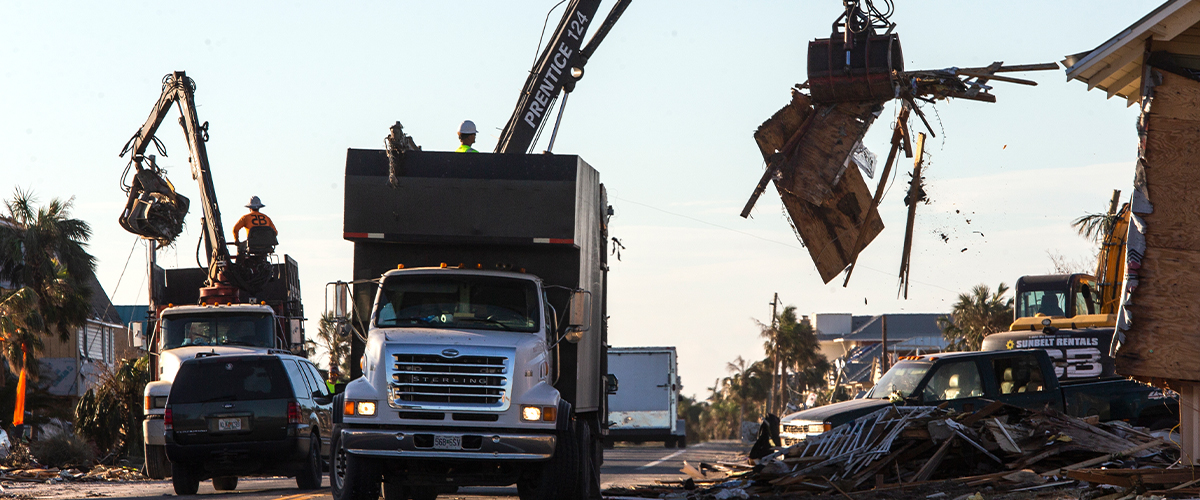 Assistant Professor Maxim Dulebenets, Ph.D. researches operations systems, specifically creating solution algorithms relating to emergency mitigation. Most recently, he studied which characteristics influence evacuation when a hurricane or other disaster threatens. A diverse group of over 100 participants aged "20-something to 89" used a driving simulator, which presented them with scenarios they might encounter during an evacuation.
"It's not a typical (traffic study) based on … traffic volumes and roadway capacity," Dulebenets explained. "We actually have more complicated travel-time functions designed specifically for emergency evacuation and consider a wide range of driver characteristics. They are more realistic and we believe these types of models will be helpful in planning for emergency evacuation."
Professor Wenrui Huang, Ph.D. has studied coastal and estuarine environments since he arrived at the college in 1997. 
"We use the data from the National Hurricane Center—what they predict, the hurricane conditions, hurricane wind, hurricane track," Huang said. "Based on that, I have computer models for the Gulf of Mexico and part of the Atlantic Ocean to predict where the storm surge may occur." He also has models to predict the effects of rainfall-related runoff.
Huang recently received funding for two studies on hurricane impacts. One focuses on integrated hazard and traffic modeling during massive evacuations and the other the combined coastal and inland hazards from high-impact hurricanes.
To complicate the research, hurricanes are fickle things that don't necessarily follow a predicted track. In 2017 Irma, for example, was initially thought to be bringing Category 5 winds to South Florida and many people evacuated the urban area in anticipation. Many headed upstate, only to discover that the storm switched to a more westerly track, bringing hurricane-force winds over most of the state's peninsula.
In 2018, Hurricane Michael quickly revved up from a Category 3 to a Category 5 storm, devastating the area between Panama City and Mexico Beach in Florida and bringing hurricane-force winds well inland.
The aftermath of Michael highlighted the need for plans to change based on the demographics of the area where a hurricane hits.
Unlike urban South Florida, many of the Panhandle counties in Michael's track were rural, sparsely populated, and had limited roadways. Also, many people, particularly the older population, were isolated and didn't have access to communication tools that would provide up-to-the-minute information.
"Some people relied on radio. They stayed, they sheltered in place," said Ozguven. Then, after the storm, their accessibility was so limited, "in Bay County they had an airplane drop flyers with information on food distribution and other information.'"
While scientists within in FAMU-FSU Engineering work across departments on different aspects of storm-related issues, the interdisciplinary study of hurricanes also reaches throughout the parent universities.
"You need to study the infrastructure itself," Ozguven explained. "There are a lot of engineering questions that you have to answer, but on the other hand, you have to study the organizations and agencies and how they work with each other. And then … you need to reach out to communities to share what you have found so that they can make informed decisions. We basically go into psychology, sociology, communications and social work aspects. We have a huge group here, and everybody is kind of into working together to solve these multi-faceted problems. I love it!"