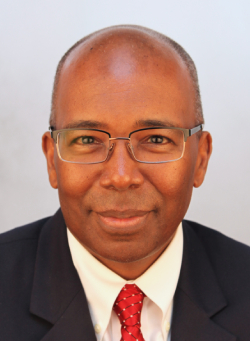 Reginald J. Perry, professor of electrical and computer engineering at the FAMU-FSU College of Engineering, was recently appointed by the Institute of Electrical and Electronics Engineers (IEEE) to serve as a commissioner on the Engineering Accreditation Commission (EAC) of ABET, Inc. ABET is the accrediting body for engineering programs in the U.S. and worldwide. 
Perry has been an ABET program evaluator for over 10 years. In his new role as an EAC commissioner, he will review engineering educational programs and be a part of final accreditation decisions. He will also be responsible for leading teams of program evaluators on accreditation visits. 
His interest in accreditation evaluation began when he was appointed as an inaugural member of Florida A&M University's Institutional Level Assessment Committee (ILAC). He served as the ILAC chair during the 2009-2010 academic year.
The FAMU-FSU College of Engineering has six degree programs that are accredited by EAC/ABET. EAC, the largest of four ABET accreditation commissions, is responsible for reviewing educational programs in disciplines for which each member society has primary responsibility. In addition, each commission is responsible for the continuous review and enhancement of its particular program criteria, policies and procedures. ABET accreditation is considered the "gold standard" for engineering education, assuring that quality standards are met to prepare students for the engineering profession.