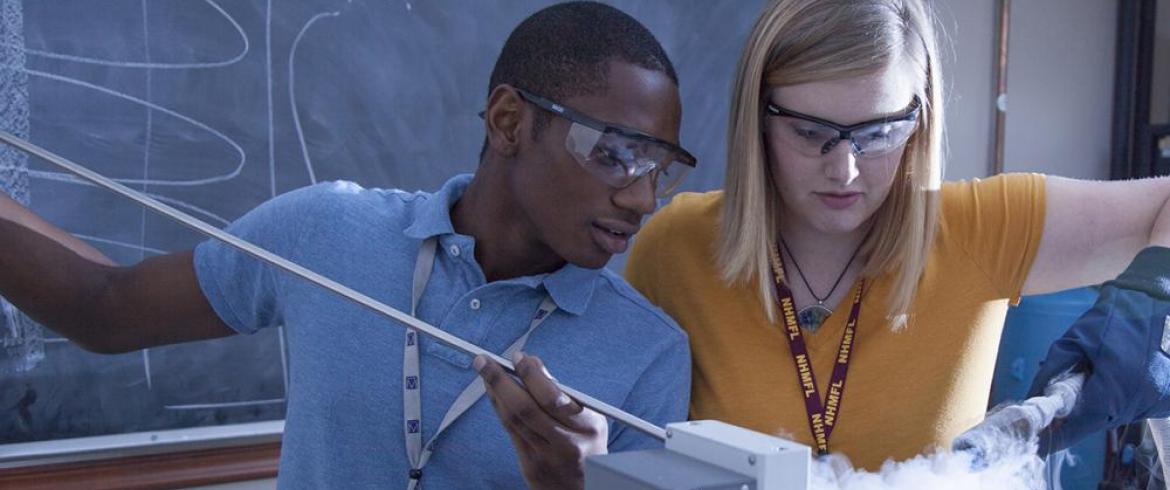 Getting into the engineering research lab often and early can be the key to finding your future career path
Florida State University sophomore Bailee Ku spent the summer of 2021 as a paid undergraduate research assistant at the internationally renowned Center for Advanced Power Systems (CAPS). As an engineering student, she is interested in medical devices and aerospace and is exploring internships during the summer. 
"At CAPS, I enjoy working with people in a group who have different areas of expertise. It has been amazing," the mechanical engineering major at the FAMU-FSU College of Engineering said. "I built a circuit based on a graduate research paper. I had no knowledge of how to build circuits before this experience."
Destiny Law, an electrical engineering major at the college through Florida A&M University (FAMU) is involved with the Advanced Sensors Technologies for Applications in Electrical Engineering Research and Innovation Excellence Consortium, known as ASTERIX. 
"My research experience was different from what I thought it would be," Law said. "Instead of being theoretical, I had the chance to use my recently-gained knowledge of object detection in a lab setting. One of the most exciting things is that I worked with women in engineering and solidified that I want to incorporate coding into my career."
Both Ku and Law researched as undergraduates for the first time.
"Getting undergraduate research experience—whether at the college, the centers, or on the main campus—will benefit students tremendously," Sastry Pamidi, professor and chair of the department of electrical and computer engineering and associate director for the Center for Advanced Power Systems said. "Ultimately, the experiences lead to overall professional development and better jobs."
Lab work brings science to life
Pamidi believes that research opportunities and work in the lab lead to an enhanced understanding of the engineering concepts learned in the classroom. 
"Students learn how to apply concepts to solve real-world problems," he said. "Occasionally, undergraduate researchers earn co-authorship in publications, which are valuable in securing graduate research assistantships and competitive research fellowships."
Samantha Lafrance, a first-year FAMU graduate student in electrical engineering and the ASTERIX program, recalled her experience as an undergraduate researcher. 
"I would say my experience as a new graduate researcher is much the same as when I was an undergraduate," Lafrance said. "For the most part I use logic to solve hands-on problems. My role as an engineer is to be in search of solutions in order to solve problems, right?"
Lafrance works on an Intel-supported project called Artificial Intelligence and Edge Compute Devices. The research deploys computer vision and deep learning applications without the need for cloud computing. 
Shonda Bernadin, associate professor of electrical engineering at the college, is one of the principal investigators for ASTERIX. The consortium provides scholarships for minority and underrepresented undergraduate researchers from FAMU in electrical and computer engineering. 
"The ASTERIX grant allows us to build infrastructure around many of the education and outreach activities that we are doing within our department," Bernadin said. "This spring we supported nine research projects with 17 student researchers. Ten of them returned this summer to continue their research as interns."
Robust and early experience is key
Data show that if engineering undergraduate students get into the lab early, they are more likely to find their passion at be beginning of their college career. That can translate to a more direct path to graduation and perhaps a plan for graduate school earlier than usual. Understanding a career path and how to reach graduate school (and career) goals can be a major stress-saver for engineering students. 
Research centers affiliated with FAMU-FSU Engineering actively recruit undergraduate researchers, and both universities have offices dedicated to undergraduate research opportunities. Still, most undergraduates are intimidated by the research lab. 
"Lots of students think they are not ready to get involved in a research program," Pamidi said. "We know they lack the skills at first, so we introduce students gradually to more difficult problems. After one or two years of doing research, they are often surprised at how much they learned. We just want to see what they are interested in doing."
A typical undergraduate researcher joins a group that has faculty members, graduate students and other undergraduates. Often the research groups are multidisciplinary and offer broad learning opportunities and introduce students to new engineering concepts. 
Pamidi points to many benefits for students who want to do research, including the opportunity to network with industry sponsors. 
"A few years ago, one of our undergraduate research students made a connection with one of our visiting scientists, who offered him a chance to work in a semester in Austria in his lab," Pamidi recalls.
Undergraduate research for freshmen through seniors is available for a wide array of engineering disciplines at FAMU-FSU Engineering. In fact, getting undergraduates is a key goal for Pamidi and the other department chairs at the college. 
Read about some of our student experiences in the research lab:
If you are interested in finding out more about undergraduate research at the college, check with your department or instructor for more information. You may find additional help from the Center for Undergraduate Research and Academic Engagement at Florida State University or the Florida A&M University Graduate and Undergraduate Research Opportunities scholars program at the FAMU-FSU College of Engineering.
RELATED ARTICLES
Undergrad in the Lab live lecture series begins in 2020