Last year, a multi-university team of researchers led by Yanshuo Sun of the FAMU-FSU College of Engineering, received a three-year National Science Foundation (NSF)-funded project to promote social equality and improve transportation accessibility for millions of transportation-disadvantaged people. The concept was theoretical at that time.
After a year of exploration, the concept has some actual data and potential for real-world operations. NSF recently awarded the team funds to deploy the system in collaboration with transit authorities throughout the U.S.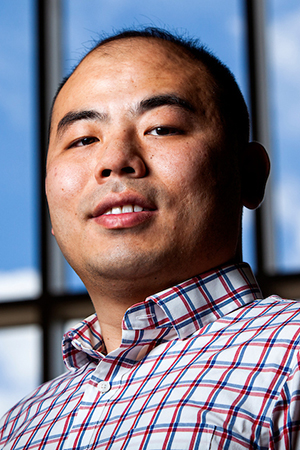 Sun, an assistant professor in industrial and manufacturing engineering, is principal investigator for the project the involves Florida A&M University, Morgan State University and the University of Utah. The team developed a technology-enabled Interoperable Transportation Service Roaming (ITS-R) System that streamlines scheduling for dial-a-ride services.  
"We have made much progress since phase I of the project," Sun said. "We originally worked with transit agencies in Maryland and have now expanded to LA Access in California and the Utah Transit Authority. Urban transit authorities can save money by incorporating transportation network companies, like Uber or Lyft, into the equation."
Paratransit operation is a shared-ride service and uses traditional passenger scheduling software to connect riders to vehicles. Agencies place passengers with similar schedules together and most of the time, ride-sharing is a cost-effective way to transport people. However, trips outside of the "norm" can be costly for providers.
Passengers might need to travel far distances, or they might need to travel to or from a rural area. The researchers found that it is more efficient and less expensive to use Uber or Lyft for those passengers. 
"We have designed an algorithm that can be plugged into existing software to advise the paratransit authority who should use Uber or Lyft and who should use transit for their service," Sun said. "By optimizing the process, we found that it reduces cost for the companies involved and gives the rider a better experience."
Another issue the team is tackling deals with cooperation between transit operators. The researchers want Star Metro, a Tallahassee, Florida-based paratransit authority and Big Bend Transit, a service based in Leon, Country, Florida to collaborate. Since two paratransit companies are involved, Sun says, the solution is somewhat different.
"We use a different algorithm when dealing with the cooperation of two paratransit companies, one rural and one in the city," Sun explains. "For example, when a rider from Tallahassee travels outside the city or a rider in a rural area wants to travel to Tallahassee, that can be costly. If the service providers can share their fleet and demand information, it may reduce operational costs and improve the level of service for riders."
This research is being used beyond the streets, as well. The team's findings are being incorporated into courses taught at the FAMU-FSU College of Engineering and Morgan State. Additionally, transportation software company IT Curves is providing internship opportunities for the engineering students to attract them to careers in the transportation industry.
RELATED ARTICLES
Yanshuo Sun leads team developing mobile app that opens way for easy use of Dial-A-Ride by older adults
Designing a Better System for Disadvantaged Travelers and Providers