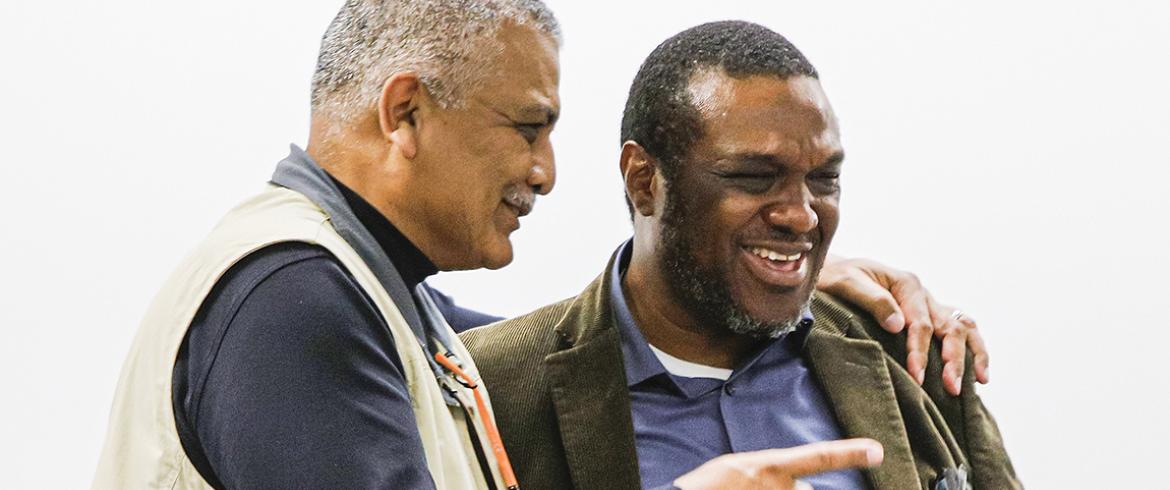 Over 24 years ago, Okenwa Okoli, professor and past chair of the FAMU-FSU College of Engineering Department of Industrial and Manufacturing Engineering, stepped onto the campus and began a career that has since shaped the lives of all who have known him.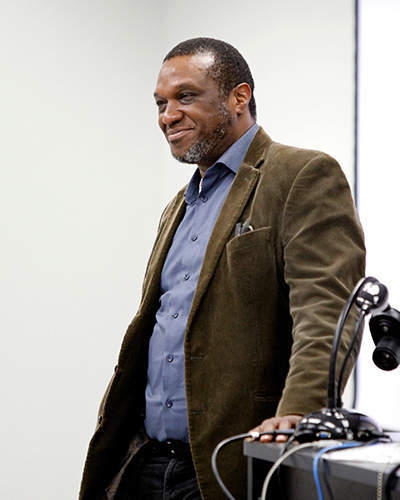 The veteran educator was named the new dean of the University of Memphis Herff College of Engineering in Memphis, Tennessee. He takes the helm in January 2023. 
Faculty, staff, and students gathered at the professor's farewell event, Dec. 7, 2022, to share stories and honor Okoli's legacy.
"I am proud of what we have done at FAMU-FSU Industrial and Manufacturing Engineering over the last 24 plus years, I am most thankful to colleagues and friends. I will miss you," Okoli said to the emotional crowd attending the event.  
During tenure, Okoli's innovative research efforts garnered over $36 million as principal or co-principal in external funding. He has more than 10 U.S. patent applications (awarded and pending) and contributed to efforts to recruit and retain U.S. students in STEM graduate programs focusing on bridging the achievement gap in underrepresented minorities. 
Several friends and colleagues shared their thoughts on honoring Okoli's legacy.
"Dr. Okoli is an excellent example of caring about students and focusing on student success. Beginning with student recruiting, he always took the time any opportunity to talk to students in the college hallways. He brought students to participate in undergraduate research and ran REU programs with the AFRL, DOE and NSF. He was committed to connecting to students directly. We will miss him and wish him the best for his future success." —Richard Liang, Sprint Eminent Scholar Chair professor in the department of industrial and manufacturing engineering and the director of the High-Performance Materials Institute 
"In sports—especially American football—we have the Hall of Fame for inducting persons who have made a tremendous impact. Dr. Okoli should be enshrined in the FAMU-FSU COE Hall of Fame, due to his outstanding service to the universities and this department. His impact on the people, both students and colleagues, as well as his research contributions and administrative tenure promoted positive growth that will live beyond his 26-year career in Tallahassee. He was a delight as a professor and even more so as a colleague and friend. I look for positive reports from his new venture where I know he will have tremendous impact." —Tarik Dickens, associate professor in the department of industrial and manufacturing engineering, associate director of CREST CoMand and department graduate director
"Dr. Okoli was a major influence on my interest in doing research and attending graduate school. During my undergraduate studies, I participated in a research program at the High-Performance Materials Institute under the supervision of Dr. Okoli. He helped me grow not only as a student but also as a researcher and a scientist. He inspired me to pursue a doctorate and assisted me every step of the way. I just wanted to thank you for all your encouragement and support over the years. You are such an inspiration to your students. I wish you all the best in your future endeavors as dean." —Lucas Braga Carani, a Ph.D. candidate in industrial and manufacturing engineering.
Okoli received a bachelor's degree in mechanical engineering from the University of Lagos in Nigeria and later earned a master's in manufacturing systems engineering and a Ph.D. in engineering from the University of Warwick in England.
RELATED ARTICLES
Longtime Department Chair Tapped for Engineering Dean
Engineering Researchers Awarded $4 Million to Empower More Minority Students to Pursue STEM
Researchers aim to make new ceramic nanomaterial production safer and expand use for batteries, medicine and more