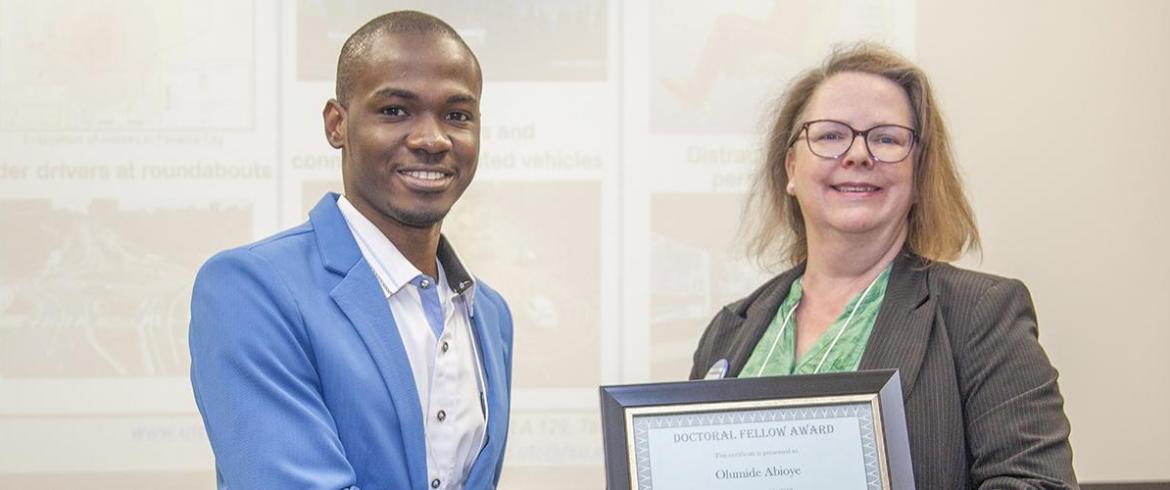 In recognition of academic excellence, Olumide Abioye was awarded a Doctoral Fellow award from the Center for Accessibility and Safety for an Aging population (ASAP). The award is an honorary designation to recognize students who have made significant contribution to research and service in the area of aging in transportation. The FAMU-FSU Engineering doctoral student is studying civil engineering and specializes in transportation research.
Abioye began his studies in 2015 as a Nigerian exchange student from the Federal University of Technology, Akure in FAMU-FSU Engineering's Department of Civil and Environmental Engineering undergraduate program. After working as an undergraduate research assistant on several ASAP-funded projects, the young scholar cultivated an interest in transportation research and obtained a master's at the college. He is currently doing doctoral research under the direction of Maxim Dulebenets, Ph.D., a professor of civil engineering. 
"Most of my research is focused on developing new metric models to assist with transportation and emergency evacuation planning, specifically in areas with vulnerable population groups like aging adults," Abioye said. "During my master's program, I worked on a research project funded by ASAP, which aimed to identify various driver and roadway characteristics that could impact efficiency in terms of emergency evacuation." 
Abioye has presented his findings from the ASAP projects at several conferences and competitions and won various awards, including first place in poster competitions, second place in a Three Minute Thesis (3-MT) presentation, and People's Choice poster competition award. More recently, he has begun work on another ASAP research project, focused on developing a mathematical model to assign evacuees to the available evacuation routes and emergency shelters.
In addition to the numerous awards won while at the FAMU-FSU College of Engineering, Abioye has volunteered his time for several engineering outreach events in the Tallahassee community and served as a mentor to two high school students researching in Dulebenets' lab through Florida State University's Young Scholar Program. 
"My experience at the college has been excellent. I am amazed at the diversity here," Abioye said. "I have been able to meet and carry out research with students and professors from around the world. I am looking forward to contributing to the advancements in transportation research with all the theoretical and practical background I was able to develop here over the last few years."