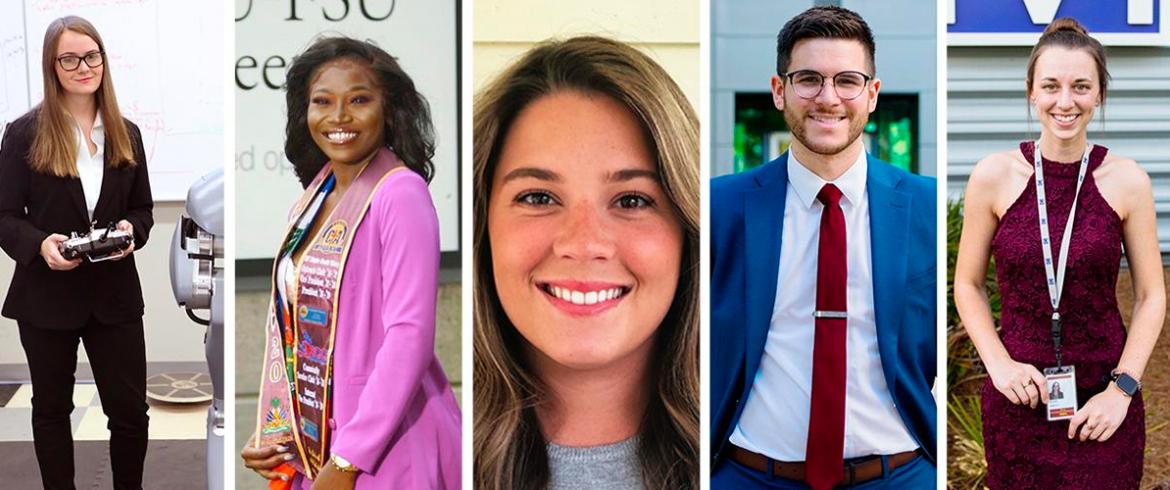 Five FAMU-FSU College of Engineering students received the esteemed Graduate Research Fellowship (GRF) from the National Science Foundation (NSF). The NSF-GRF program recognizes and supports exceptional graduate students in science, technology, engineering, and mathematics (STEM) disciplines who are pursuing research-based masters and doctoral degrees. 
"Being selected for the very prestigious and highly competitive NSF Graduate Research Fellowship is a tremendous achievement for any student," Farrukh Alvi, Associate Dean for Research and Graduate Studies said. "That five students from the FAMU-FSU College of Engineering are selected for this honor is remarkable and speaks to the hard work of our students."
This is the largest number of NSF-GRF recipients the college has ever had during a selection cycle and represents an overwhelming majority of all the Fellowship recipients at both parent institutions, Florida A&M University and Florida State University, according to Alvi.
Fellows receive a stipend of $34,000 for three years (within a five-year fellowship period) and the college will receive a $12,000 towards the cost of education in lieu of required tuition and fees in the three years of fellowship funding.
"We are incredibly proud of these students whose hard work is being recognized through their selection," Alvi said. 
Meet the 2020 NSF-GRF FAMU-FSU Engineering graduates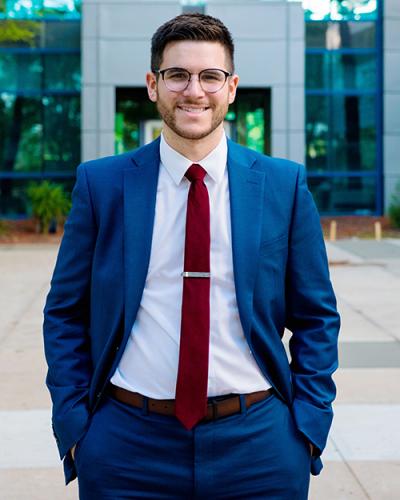 Jonathan Eric Albo is from Plantation, Florida, and is a senior in chemical engineering. After graduation, he plans to pursue his Ph.D. in biomedical engineering at Cornell University. He was also awarded a Cornell Graduate School Dean's Excellence Fellowship and recognized as a Cornell Graduate School Dean's scholar. His research will focus on developing patient-centric approaches for fighting terminal diseases. As an undergraduate, he contributed to research in the lab of Yan Li, Ph.D., associate professor of chemical and biomedical engineering.
"It's extremely rewarding for both myself and other recipients from the college to receive this incredible award," Albo said. "I would not have been able to get to where I am now without the incredible research mentors and education I received from the FAMU-FSU College of Engineering."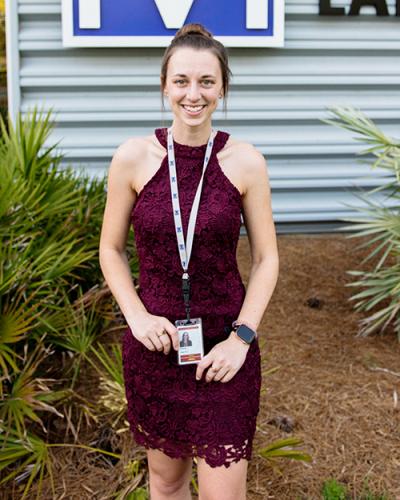 Hannah Elizabeth Alderson is from Amelia Island, Florida, and is a senior in chemical and biomedical engineering. After graduation, she plans to pursue her Ph.D. in biomedical engineering at Vanderbilt University. Her undergraduate work utilized Magnetic Resonance Imaging (MRI) to focus on how blood flows within the brain changes during the onset of a migraine. She evaluated how various medications affected these changes. For her graduate studies, she plans to continue her research in the field of MRI, focusing on neurological disorders and potentially shifting her focus to investigating various regions of the brain in epilepsy patients. Alderson did her honors undergraduate research project at the National High Magnetic Field Laboratory under Samuel Grant, Ph.D., associate professor of chemical and biomedical engineering.
"This fellowship is very important to me as it is a recognition of the effort, I have put into research thus far," Alderson said. "It validates my potential to be a successful scientist."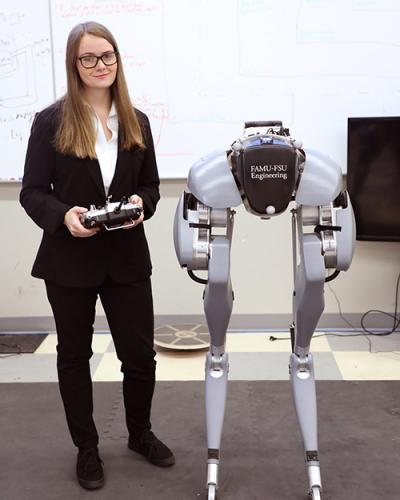 Stacy Amber Ashlyn is from Philadelphia and is currently in the mechanical engineering doctoral program at the FAMU-FSU College of Engineering. She originally started her Ph.D. program at FSU in biomathematics, but switched to engineering and is in her first semester.  She plans to develop a mathematical model based on penguin locomotion that can be applied to the Tallahassee Cassie bipedal robot to allow it to maneuver across slippery surfaces. Ultimately, she wants to combine mathematics, engineering and biology to design prosthetics for people with disabilities.  
Ashlyn will conduct her research at the FAMU-FSU Engineering Optimal Robotics lab, the University of California Neuromechanics Lab and Moody Garden's Aquarium, where she will be observing King and Rockhopper penguins. Her faculty advisor is assistant professor of mechanical engineering Christian Hubicki, Ph.D.
"I am very grateful for this award and am thankful to all the people who have supported me over the years, I wouldn't be the scientist I am today without them," Ashlyn said. "The NSF has given me a great opportunity to grow as a scientist and I greatly appreciate it and am dedicated to making the most of it."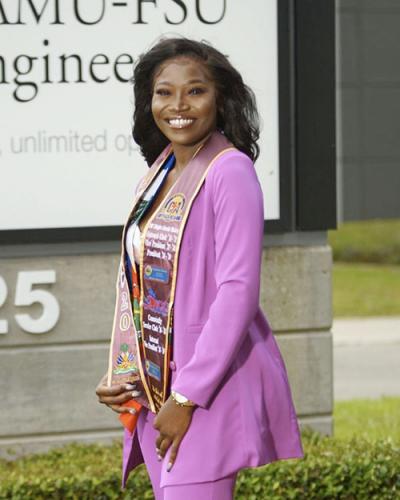 Stephanie Ashley Damas is from Fort Lauderdale, Florida and is a senior in electrical engineering. After graduation, she will intern in Houston with the Bechtel Corporation and then pursue her doctorate in engineering and science education at Clemson University. Damas, a Haitian native, wants to study how minority faculty representation affects the persistence and identity of minority students in engineering and how creating more engineering programs supports the success of minority students.
"In my official letter from NSF, they reminded me who was in the community that I would be a part of," Damas said. "Nobel prize winners and successful researchers. Being an NSF Fellow gives me an added sense of purpose and it comforts me to know that my research and my story is important."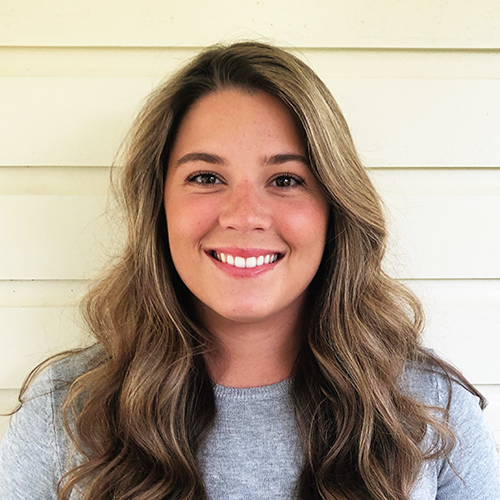 Kylie Van Meter is from Tampa and got her undergraduate degree in mechanical and aerospace engineering from the University of Florida. Originally, she was enrolled at UF for her Ph.D., but now she plans to pursue her doctorate in mechanical engineering at the FAMU-FSU College of Engineering. Her research is on the mechanics, friction and wear of complex surfaces, ranging from cells and soft matter to hard materials for extreme environmental applications. With her NSF Fellowship, she plans to create a research tool that can probe biological interfaces and use it to advance the understanding of how cells and tissues interact. She will be conducting her research in the Surface Interfaces and Materials Tribology Laboratory at the college. Her faculty advisor is Brandon Krick, Ph.D.
"I am incredibly grateful for this NSF fellowship," Van Meter said. "This will enable me to pursue research in a field I am truly passionate about."