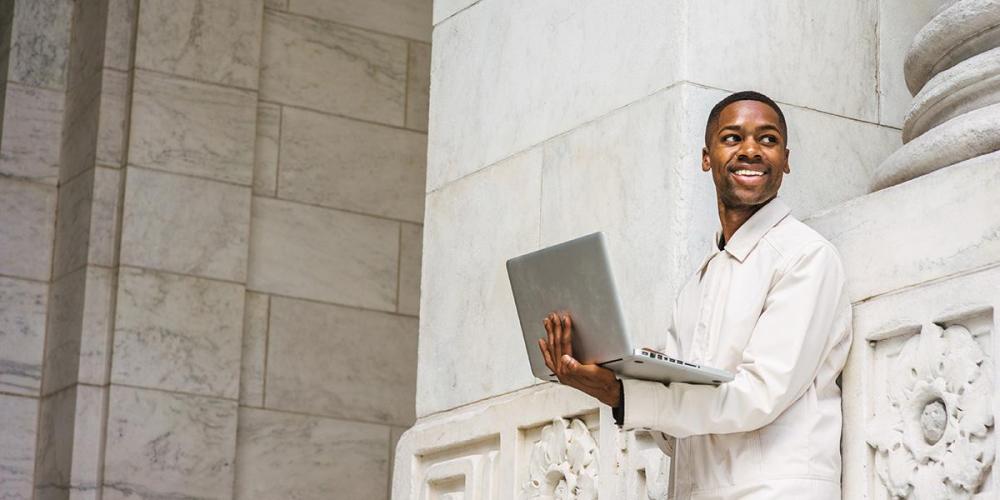 Undergraduate engineering students can get overwhelmed with the experience of navigating their college education. Feelings of isolation and financial burden can sometimes sabotage students before they find the support they need. With a new $1 million grant from the National Science Foundation (NSF), select engineering students at the FAMU-FSU College of Engineering will now have a new tool in their arsenal to help them overcome these barriers.
The grant, called "Retaining Undergraduate Engineering Students through Experiences in Industry, Entrepreneurship, Community Engagement and Research," supports a new program called Educating Engineering Students Innovatively, or EESI (pronounced "easy"),that hopes to improve the success and retention rates of Florida A&M University (FAMU) undergraduate engineering students at the joint college—specifically by targeting sophomores and juniors.
"The grant is based on a new program we piloted last year," Charmane Caldwell, Ph.D., the Director of Student Access at FAMU-FSU Engineering and the principal investigator for the new NSF grant explains. "The idea is to introduce students to different engineering tracks based on their interests and to fund their passion with scholarships that allow them to focus on their studies."
The grant provides multi-year scholarships for more than 40 students over the next five years. EESI targets sophomores and juniors because those are the years usually overlooked nationally when considering persistence of engineering students. In addition to scholarships, the program supports evidence-based academic and professional development activities within four major tracks: industry, entrepreneurship and innovation, community engagement and research. The program aims to equip students with professional and technical skills that will lead to employment or to an advanced STEM degree program after graduation.
Northrup Grumman is one of the companies that will work with engineering students in the industry track, engaging them on a company project and also advising them in a way similar to a senior design capstone project. The various tracks are just one aspect of the program.
 "Traditionally, students have the opportunity to research in a lab or have an internship over the summer." Caldwell says. "These tracks and scholarships allow students to stay in school, work on their classes and engineering projects before their senior year." The scholarships range from $2,000 to $4,000 per semester.
Kamryn Woods is a sophomore in engineering and is one of several students who will have new opportunities from the EESI grant. Woods, who hopes to choose a service-learning track, could work, for example, on a community engagement project for Daniel Hallinan, an associate professor of chemical engineering. With user-centered engineering design methods, the students will develop user needs, requirements and specifications for the educational outreach project.
"Our project sparks young students' interest in engineering through outreach," Woods said. "We visit schools and try to excite middle school students about engineering and 
show them how cool polymers can be. I'm a biomedical engineering student and as a sophomore, it is wonderful to get exposed early-on to engineering projects like this."
 
The new EESI program focuses on FAMU students who are enrolled in biomedical, chemical, civil, computer, electrical, industrial and mechanical engineering at the college. 
"We are delighted to gain the NSF's support for this innovative retention programming developed by Dr. Caldwell and her colleagues," said J. Murray Gibson, Dean of the FAMU-FSU College of Engineering. "Enhancing the success of our students is a top priority for the us."
Institutional data show that while FAMU attracts and enrolls first-year engineering students at a desirable rate, a large number do not graduate with engineering degrees. Caldwell hopes the broader impact of the new project will be students who stay engaged and find support during the early development of their engineering studies, leading to better retention and quality engineers in the STEM workforce.
"These students start out participating in the Engineering Living Learning Community (LLC) in their freshmen year, a student support program where students form study groups, go to workshops and live and study with like-minded students," Caldwell said. "The best students from that program will be selected to go on to the EESI program in their sophomore and junior year." 
Tariq Hopkins, a junior electrical engineering student, is one of those eligible for the EESI scholarship. He is working on connected vehicle technologies.
"One thing I noticed is that some of my peers didn't have the same tools we did and they didn't seem prepared," Hopkins said. "We learn everything—from how to be professionally dressed for an interview to how to do project presentations—earlier than typical engineering undergrads."
"I would take that a step further," Zipporah Harlan, a sophomore in mechanical engineering said. "You can see the difference between us and other schools. For example, a group of the Engineering LLC program students won third place in the AMIE Design challenge—and as the only freshmen team, which was really exciting." 
Caldwell is passionate about diversity and inclusion in engineering and sees the program as another step that helps underrepresented undergraduates succeed. Students who would normally have to take out loans or work while attending college are not only getting financial help but they are also benefiting from mentorship and working with cohorts for better outcomes. 
"EESI is a play on words. We know engineering is not easy but we want to make sure our students are not isolated and they get the necessary tools and support they need," Caldwell says. "Our students regularly outperform and people notice. After going through the Engineering LLC, only the cream of the crop will be selected for this program. The ultimate goal is to bring out the best in our students and make sure they get a chance to reach their full potential."