The FAMU-FSU College of Engineering was proud to host the Master of Science Systems Engineering (MSSE) class for a tour of engineering centers and laboratories on Friday, June 7 2019. The MSSE program is part of the college's industrial and manufacturing engineering (IME) department and is housed at the FSU Panama City Campus. Daniel Georgiadis, Ph.D., MSSE Program Coordinator and faculty, arranged this visit for his students.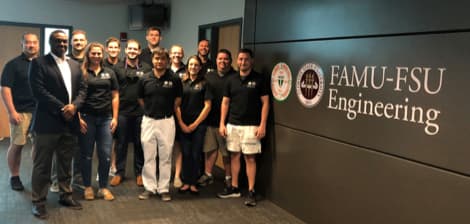 MSSE Students and Faculty at the College of Engineering
"The goal of regular visits and coordination between campuses is increased awareness of the 'state of the art' engineering resources available to our graduate students," Georgiadis explained.
Systems engineering students have multidisciplinary engineering backgrounds including aerospace, ocean, electrical, mechanical, logistics, industrial and civil engineering. The program currently includes in-person classes and online students from industry and the U.S. Department of Defense. They are working professionals seeking to further their knowledge and practice in systems engineering from organizations such as Trane, DRMP Inc., Eglin Air Force Base and the Naval Surface Warfare Center Panama City Division.
The tour began at the FAMU-FSU Engineering campus as the MSSE students were welcomed by the IME Department Chair, professor Okenwa Okoli and the Department Graduate Director, professor Chad Zeng. The group then toured the High-Performance Materials Institute (HPMI); Center for Intelligent, Systems, Control and Robotics (CISCOR); Florida Center for Advanced Aero-Propulsion (FCAAP); Center for Advanced Power Systems (CAPS); and the National High Magnetic Field Lab (NHMFL).
MSSE tour of National High Magnetic Field Laboratory (NHMFL)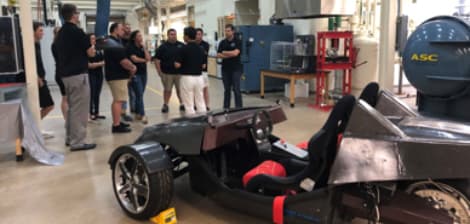 MSSE Students and Faculty tour High-Performance Materials Institute (HPMI), carbon fiber electric vehicle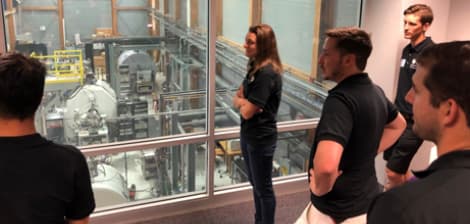 MSSE tour of National High Magnetic Field Laboratory (NHMFL)