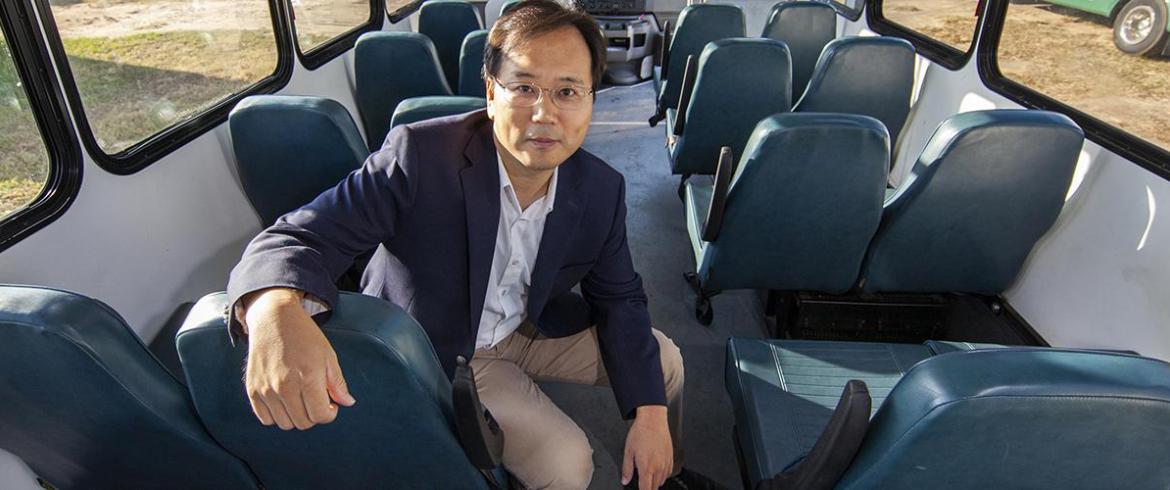 This article was featured in the Annual Engineering Research Report (2019-2020).
Paratransit or "cutaway" buses are modified to transport passengers with disabilities. The buses' unique design and features make access much easier for those that need it, but concerns have emerged about their safety due to the necessary structural changes. Two FAMU-FSU Engineering civil faculty are working to define safety standards for this critical industry.
The Florida Department of Transportation (FDOT) acquires over 300 cutaway buses every year. These "minibuses" usually carry between 16 and 24 passengers. Because construction of these vehicles is unique, their crashworthiness and safety assessment is complex. However, some bus designs are better than others in terms of providing a safe environment for passengers during road accidents.
The transit office of FDOT established the crashworthiness evaluation of cutaway buses program in 1999 with the mission to ensure safe paratransit services throughout Florida.
Researchers at the Crashworthiness and Impact Analysis Laboratory (CIAL) at the FAMU-FSU College of Engineering have been using computational mechanics and modern experimental techniques to assess these vehicles for over two decades. During that time, CIAL has developed a process, known as the Florida Standard, that is currently used by FDOT.
This successful program was established by Jerry Wekezer, an emeritus professor at the college, and is now led by Sungmoon Jung, an associate professor in the Department of Civil and Environmental Engineering. In addition to benefiting bus passengers in Florida and other states, the lab also is instrumental in advancing transportation research and supports a significant number of masters and doctoral students each year.
CIAL research interests include applied computational mechanics and numerical analysis; non-linear, dynamic finite element methods; computer modeling; contact, impact and penetration problems; full-scale crash tests; crashworthiness; safety, vulnerability and survivability.