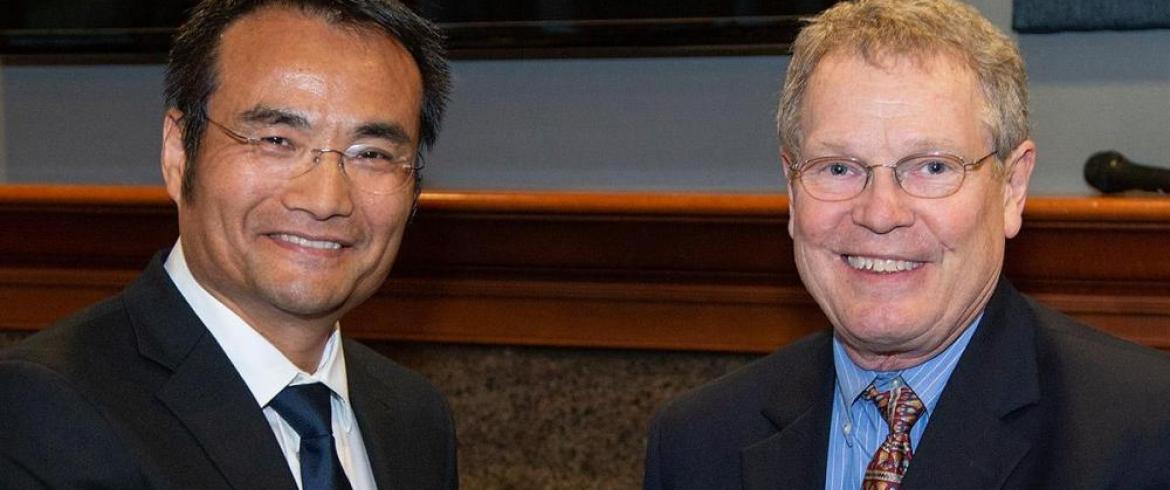 Dr. Lin Sun serves as the Vice President of Engineering & Technology of Danfoss Turbocor Compressors, Inc. (DTC), a pioneer and leading manufacturer of the oil-free centrifugal compressors in the HVAC industry. Lin has over 30 years experiences in Mechatronics and embedded systems. After 10 years of academic work, he joined DTC in its start-up phase, responsible for developing magnetic bearing technologies for high speed oil free centrifugal compressors.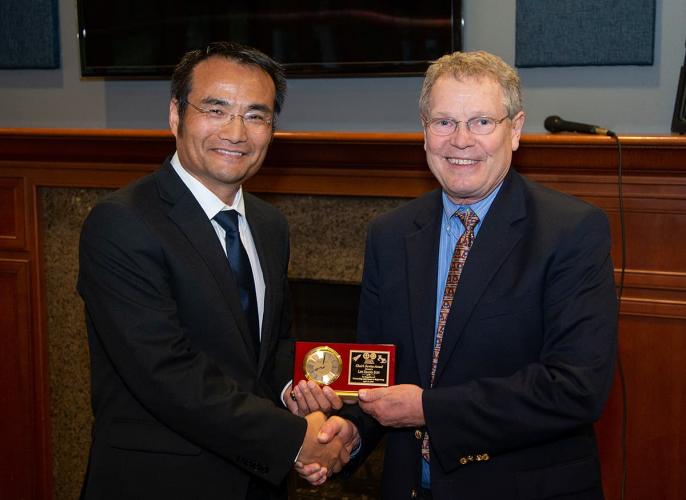 Eric Hellstrom, Ph.D. (right) gives Lin Xiang Sun  (left) the Chair's Service Award during the 2019 Department of Mechanical Engineering Alumni Awards Banquet.
In DTC, he has been actively involved in many areas of business, from R&D, commercial engineering to manufacturing process, quality assurance and product supports.
He believes that the key to success is the right technologies, the right applications, and most importantly the right people with the right mindset.
Prior to DTC, Lin has ten years of academic experience in research and teaching of electronics and mechanical engineering in Tsinghua University in China and in Melbourne University, Australia. Lin has a bachelor's degree and a master's degree in Mechanical Engineering and Mechatronics from Tsinghua University in China, and a PhD in Engineering from Melbourne University, Australia.
Dr. Sun has sponsored Mechanical Engineering senior design projects since 2007, totaling more than 20 projects. He has also provided projects and internships to many of our joint bachelor-master's (BS-MS) students.  At least five of these students still work for Danfoss today.  He has served on the MEAC since 2007, and later served on the college advisor board.  
"Danfoss Turbocor and The College of Engineering have been collaborating since we relocated in Tallahassee in 2007. I have been working with the College, especially the Mechanical Engineering Department in different forms. I am impressed on how much the faculty members care about the students and the education. They push themselves to be better. I am also very impressed by the students' performances, through their senior design projects, the BSMS program, internships, and our employees from FSU graduates.".