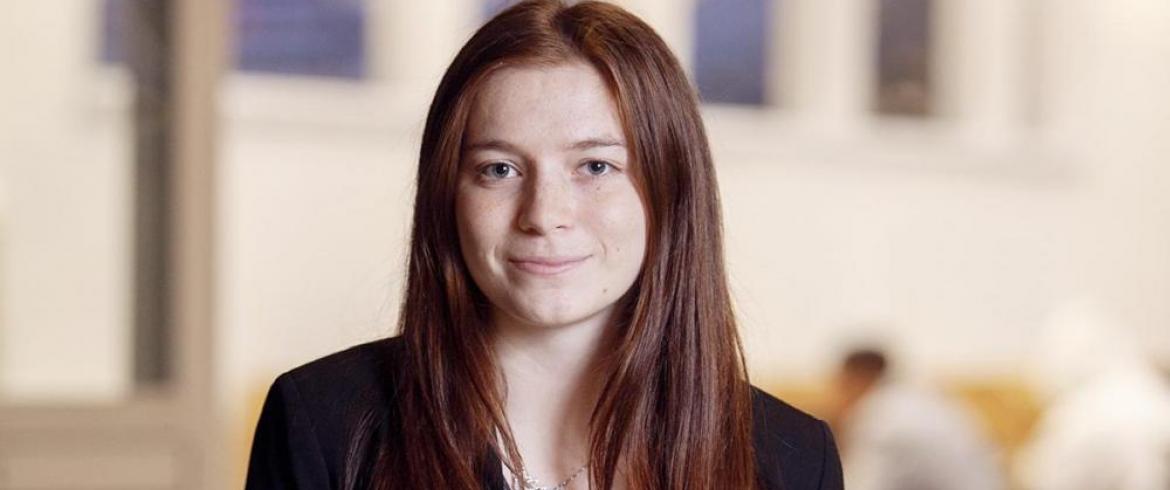 Lauren Daly, a biomedical engineering student at the FAMU-FSU College of Engineering, was recently awarded an FSU IDEA grant from the Center for Undergraduate Research and Engagement (CRE). The grant, funded by the Scott and Ina McNichols Undergraduate Research Award at Florida State University, will enable Daly to continue stem cell research at the National High Magnetic Field Laboratory (NHMFL).
"I am very excited that I was awarded this grant," Daley said." I love research and am eager to seize the opportunity to gain valuable experience at the NHMFL. This grant will support my Honors in the Major Thesis (HITM), a crucial step to graduate admittance."
The FSU IDEA grant Daley proposed aims to characterize the level of brain activity of ischemic rats in a resting state, using Magnetic Resonance Imaging (MRI). She is looking at the viability of using adult human mesenchymal stem cells as a potential cell therapy for stroke and is working with Sam Grant, Ph.D., the principal investigator for the study. Grant is an associate professor at the FAMU-FSU College of Engineering and the MRI Program Director at the NHMFL. 
"Lauren is an extremely dedicated student and leader among our BME students," Grant said. "IDEA funding will provide a critical push forward for the research that we will pursue as her senior honors thesis."
The rapport and respect between Grant and Daley is evident.
"Dr. Grant has been my mentor for over three years now," Daley said. "He has been my professor twice and has always been a stellar mentor for me, I learn something new every time we have the chance to interact. He leads by example and is always makes me feel welcomed in the lab."
Daley knew she loved research when she got her first taste of it in her college chemistry class during her sophomore year. That's when she got accepted in the Undergraduate Research Opportunity Program (UROP) at FSU and credits that moment as a turning point in her college career.
"I had a wonderful experience researching and synthesizing cadmium selenide nanoplatelets in my sophomore chemistry lab," Daley said. "It was cool to see them grow. That's when I knew I loved research. I credit that to UROP. Now I want to drive other students to realize their potential for research and beyond."
Daley will get a $1,000 stipend to perform research. The award was to be for the summer of 2020, but CRE has allowed students to conduct their research in the fall, due to the COVID-19 crises. Daley will have the chance to be featured in the President's 2020 Showcase of Undergraduate Research Excellence.
She hopes to be a professor herself one day and has an overwhelming desire to make a difference in the medical field.  
"My mother died of cancer when I was young and I have a lot of relatives who have suffered or passed away from conditions that could have been helped," Daley said. "I saw the care that could have been improved so rather than feel hopeless about these events I wanted to do something positive. I wanted to make a difference in this area."