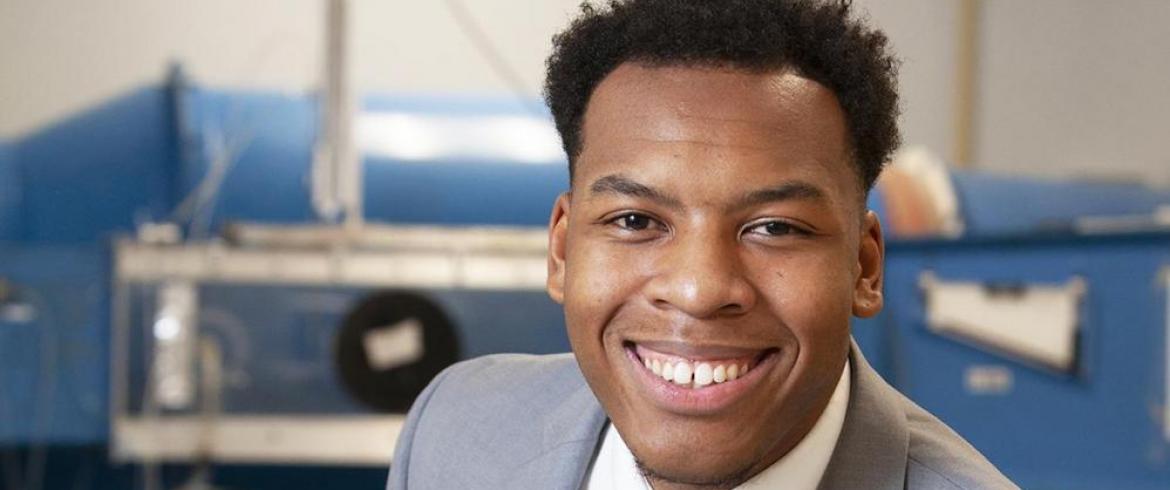 Kosi A. Sumpter has big expectations for the students at the FAMU-FSU College of Engineering.
"We have a big pool of resources at the college. We have two universities and students from lots of different backgrounds," Sumpter points out. "We take classes together but don't always interact as we should. We have amazing opportunities here and I want students to know what's out there for them [and to take advantage]."
The fourth-year industrial engineering student from Atlanta is the outreach chair for the Student Engineering Leadership Board (SELB). He hopes SELB can help build an environment where students thrive—together. 
"Everything I have earned and gotten throughout my life wasn't easy for me," Sumpter says. "I want to take my experiences and pass them on to people I meet. I want to help them get to where they want to go. I try to look for opportunities to help people. That's what I enjoy doing every day."
Sumpter uses his experience to help engineering students find a voice. He is involved with many student organizations, like the National Society of Black Engineers and the Ford Blue Oval Network and is a mentor in The FAMU Kinship of Big Brother Little Brother Mentoring Program, a Florida A&M University organization that pairs incoming freshmen with upperclassmen. 
Sumpter's interest in engineering started in high school. He took a job as a small engine technician and worked on everything from lawnmowers to dirt bikes—anything with a two or four-stroke engine. That experience was a turning point for him.
"I worked for several years on [those] small engines," says Sumpter. "But I quickly saw the ceiling on that. Instead of just repairing parts, I wanted to understand why parts became faulty in the first place. I wanted to be the guy that could fix problems before they got to the mechanic. That led me to pursue industrial engineering."
Forever looking for improvement, Sumpter is working cooperatively with fellow SELB member Jonathan Yepez to charter the first chapter of the Toastmasters Club at FAMU-FSU Engineering.
"This is an international professional communication, public speaking and leadership skill development organization," Sumpter explains. "Engineers have been said to struggle with effective communication and leadership skills, and our organization will be implemented to eradicate that notion."