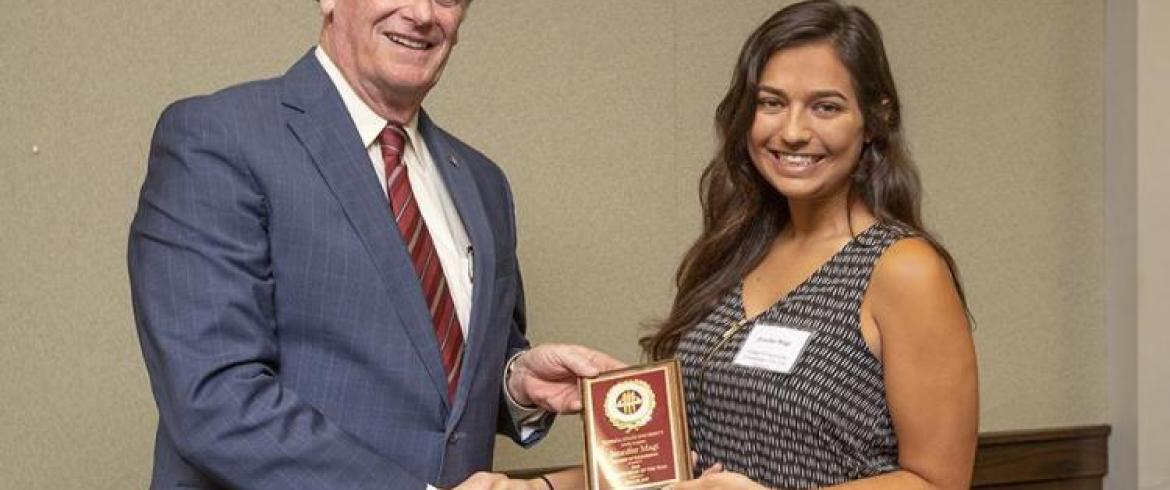 "You will change the world Jennifer, I am sure of it," Florida State University President John Thrasher said to the young junior who quietly stood before him.
Jennifer Magi was at the 2019 FSU Undergraduate Humanitarian of the Year award presentation as an honoree from the FAMU-FSU College of Engineering. President Thrasher recognized fourteen outstanding undergraduates from across FSU at the event. All of the students this year were female.
"Hearing those words from the president brought tears to my eyes," Magi said. "It was an emotional moment for me. It helped me to realize that I can actually inspire and really help people."
Magi is a student in civil and environmental engineering at the college and was selected because of her selfless involvement with numerous humanitarian causes. As an honoree, she received a $200 donation to the nonprofit agency of her choice and represents the college at the overall FSU Undergraduate Humanitarian of the Year Award ceremony in early April. At that time, the winner will be chosen and an additional award of $1,000 will be given to a non-profit agency of the winner's choice. 
One cause that is close to Magi's heart is the Gift of Life (GOL) Bone Marrow Registry. GOL is a national organization that encourages people to register as bone marrow donors to support the fight against cancer. She became involved and founded the FSU Chapter of GOL with the help of her advisor after her father was diagnosed with acute myeloid leukemia, a type of cancer that can be cured with a bone marrow transplant. Fatefully, Magi heard about the organization at the hospital while her father received chemotherapy. A public service announcement came on TV about GOL and she knew this was something that could help her father and other blood cancer patients.
"After my dad's diagnosis I wanted to do something." Magi said. "Matches for bone marrow donors are based on heredity but there was no match in our family."
This actually happens a lot. More than 70 percent of patients need a donor other that family, so this program and others like it can really help people.
"It worked with my dad," Magi explained. "So I wanted to bring this organization to our campus to help others."
In addition to her work with GOL, Magi has a history of dedicating herself to humanitarian efforts. In her freshman year, she helped raise funds for the Children's Miracle Network through Dance Marathon. She is a member of several service organizations on campus and she has also worked with sustainable campus initiatives.
As an engineering student, Magi is interested in applying what she is learning in the classroom to the environment.  She is fascinated with developing creative solutions to tackle some of the worlds' most important environmental issues, from the role oceans have in climate change to finding energy solutions using kelp biofuels.  
Magi has advice for someone wanting to take on a cause. 
"I would say try to help locally," she said. "It's more tangible if you can do something small at first. If everyone does their part then we can make the world a better place."
From helping to fight cancer with the registry to helping protect the environment, Magi is a force to reckoned with. She is an inspiring humanitarian ambassador and demonstrates commitment to service.
The 2019 Humanitarian of the Year Award was presented at the Leadership Awards Night at 5:30 p.m. Tuesday, April 9 at the FSU Union Ballroom.