Jelani James is a third-year mechanical engineering student from Chattanooga attending FAMU-FSU Engineering through Florida A&M University. He is most avid about building and designing. His vision statement involves using his creations to help others.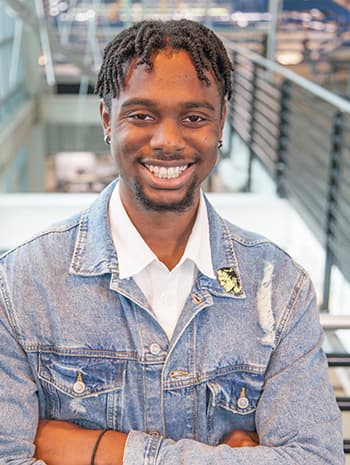 "I want to get into design and production of autonomous weapons systems and robotic surgical tools," he said. "Originally I wanted to build the robots that got sent into space like Mars Rover, but then I eventually gravitated to surgical tools."
James gained his interest in engineering in the first grade when NASA visited his elementary school. The guest lecturers detailed to him and his class what it was like to be aeronautical engineers.
"That originally got me into [engineering] because I thought it would be so cool to build a spaceship," James said.
One of the research projects James is working on involves defense contracting giant Northrop Grumman. The company tests him with real-world scenarios based on jobs it has received before. His latest assignment involves providing advanced surveillance to a military base in "a country with political turmoil," and must set up security to ensure breaches are impossible. This is his favorite project that he's worked on since being at FAMU-FSU College of Engineering.
"The projects I was doing before were less structured, where this is more focused," he said. "I know what I'm doing and why I'm doing it. For me that gives me a little more motivation, a little more effort toward it."