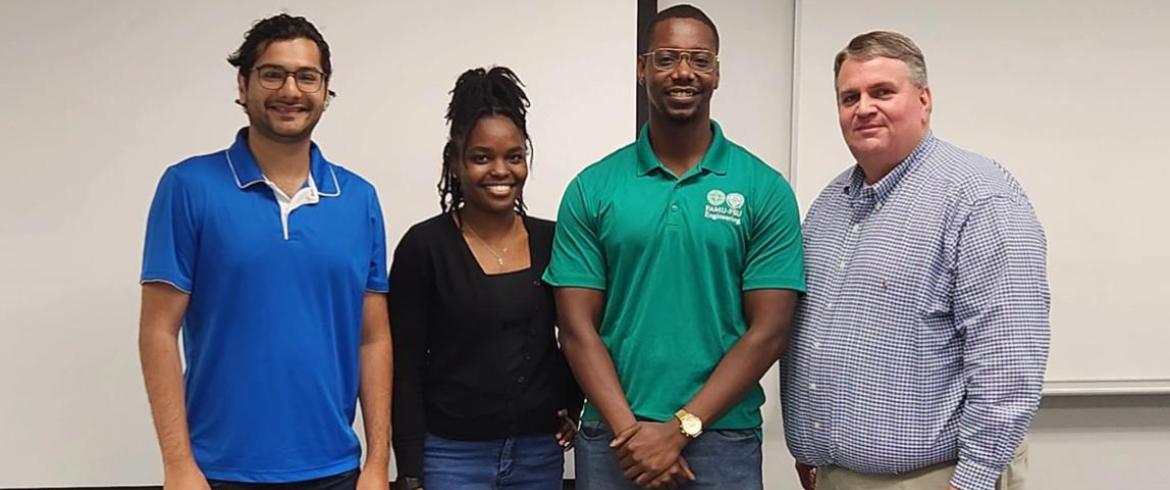 The FAMU-FSU College of Engineering and Marmon Holdings recently hosted Innovate-O-Thon, a 24-hour design challenge where 32 students teamed up for the chance to use technology to tackle the problem of unsightly waste and recycling receptacles. The event was open to undergraduate and graduate students from all majors across both campuses.  
Marmon Holdings asked students to design a trash compactor that increased fill capacity by crushing the trash more effectively. Teams had to consider style, functionality and durability in their design. They also had to be aware of the costs associated with the prototype as well as how easy it would be to roll out to the public.
Several Marmon representatives and employees were on hand for the event. Graduate students acted as coaches and Shonda Bernadin, an associate professor in electrical and computer engineering at the FAMU-FSU College of Engineering, was the faculty coordinator for the event.
"The event provided practical learning experiences for our students to engage in real-world problem-solving, teamwork and effective communication," Bernadin said. "This was a fun and engaging way to connect students with our industry partner so they can gain practical career skills." 
"Students got a one-on-one networking opportunity with a national industry partner," Bernadin continued. 
Marmon Holdings Incorporated, a Berkshire Hathaway Company, prides itself on bringing together problem-solvers and experts to create innovative solutions to complex global problems. 
"This is exactly the kind of future employee we are molding here at the FAMU-FSU College of Engineering," Bernadin said.
Korie Mitchell, a program assistant and event coordinator added, "Events like this are important because they break up the inevitable monotony of just being a typical engineering student. For many of our students, it is school, work, study, sleep every day until midterms and finals. It gives our students a chance to unwind and use their creativity while allowing them to interact with industry representatives within the fields they may be employees in one day."
Congratulations to the winners!
First Place (Tied): Trash Talkers (see main photo)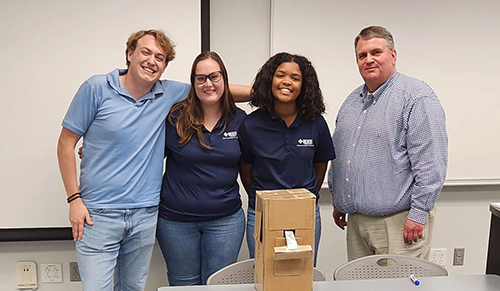 First Place (Tied): Garnet and Gold Wasps (L to R) Vegas Spivey, Genevieve Cruickshank, Anaice Soares-Concepcion and Jeff Garascia, Ph.D.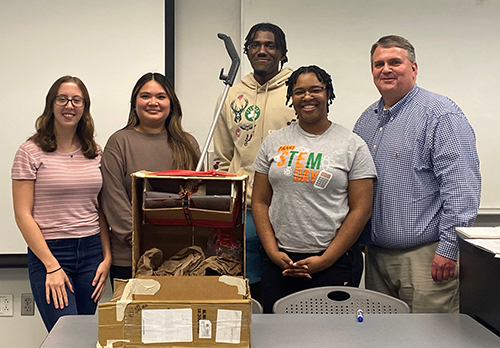 Third Place: Trashaneers (L to R) Erica Hamel, Karissa Ta, Jaylan Howell, Akelah Pugh and Jeff Garascia, Ph.D. 
Everyone received a $75 Amazon gift card for participating to the end of the event. Grand prize winners received gift cards to be split between all team members with the top prize being $1000 in gift cards.
---
RELATED ARTICLES
Hackathon Showcases AI Solutions for COVID-Related Issues, Prepares Students for Real-Life Problems
Engineering team shines at DIGITECH 2018, a showcase of cutting-edge technology
Local start-ups with ties to FAMU-FSU College of Engineering shine in TechGrant competition