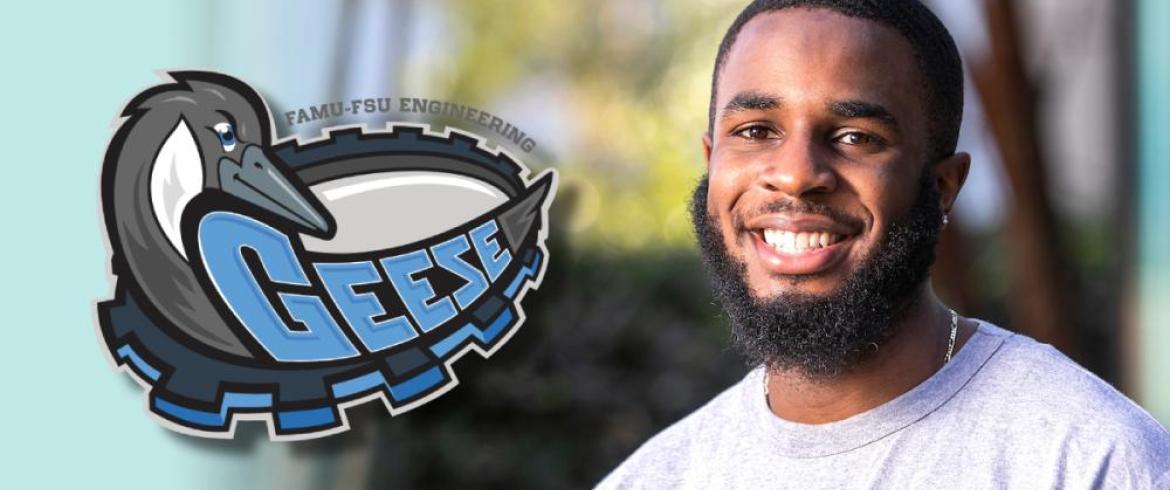 Nehemiah Fields designed the winning entry for the new "goose" mascot for the FAMU-FSU College of Engineering. In a close race, Fields' entry, was chosen unanimously by the committee from those submitted in the student mascot contest in spring 2021. 
"Whether I was at marching band rehearsal for the Marching '100' or walking to class from the COE parking lot, I've always seen geese hanging around on both campuses. Specifically, Canada Geese, which I've observed is a year-round resident in Florida," Fields said. "I think the Canada Goose symbolizes the COE's diversity, geography, and the unique community of our college and surrounding community."
Committee members particularly like the smirking expression and attitude, showing both fierceness and drive. The gear element in the design is a standard symbol for engineering disciplines. Using Fields' inspiration, professional illustrator Marc Thomas of Florida State University Office of Communications drew the official mascot. The image was approved formally by both parent universities in 2021.
Since the competition, Fields has completed his bachelor's degree in industrial and manufacturing engineering via Florida A&M University (FAMU), and is continuing his graduate studies in engineering management at the college through Florida State University (FSU). Fields, who is from Miami, shared some thoughts about college life. 
What is the best thing about going to school here?
The FAMU-FSU College of Engineering allows students to enjoy a shared cultural experience. The diversity in peer relationships allows a broad learning experience inside and outside of the classroom.
Do you have a background in art or design?
As a child, I had an interest and natural talent in art. However, this was only my second time creating digital art. In high school, I got the opportunity to make a Snapchat Geo-filter.
What is your area of research? 
I am currently obtaining my Master of Science in engineering management. I hope to become a robotic process automation developer. I want to work cross-functionally with business operations and business analysts to optimize and create workflow processes.
What advice would you give students interested in your major or area of research?
I want to emphasize the importance of seeking mentorship from a professional who has industry experience. Having someone who has been where you are is significant. Develop a constructive relationship with your professors and department faculty. It can enhance your classroom experience. Remember to seek positive cultural experiences throughout college, outside of the classroom. Being a well-rounded individual will allow you to connect to more people and increase your network.