Imam Hossain, doctoral student in materials science at the FAMU-FSU College of Engineering and Florida State University (FSU), was recently awarded a 2021 Graduate Study Fellowship by the Institute of Electrical and Electronics Engineers Council on Superconductivity (IEEE-CSC) for work in the field. 
Every year, six doctoral students in the field of applied superconductivity receive the IEEE award. International applicants compete in the categories of electronics, materials and large-scale applications. Hossain, a student at the college working at the closely associated National High Magnetic Field Laboratory (MagLab) Applied Superconductivity Center (ASC), received the honor for the materials category. The award recognizes the quality of prior work and the impact of current research.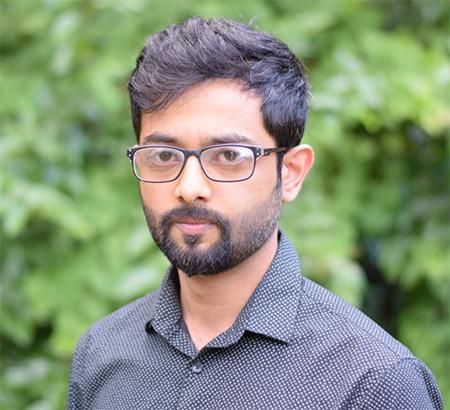 "Over the years, the MagLab Applied Superconductivity Center has produced some excellent doctoral students whose contributions have been recognized internationally," Hossain said. "I'm really honored to get this award and it feels pretty good to be able to follow their footsteps." 
The annual fellowship is given to full-time graduate students who have made significant contributions to the field of superconductivity. As part of the honor, Hossain received an IEEE-CSC graduate fellowship award of $5,000 and membership in the IEEE. 
Hossain hails from Madaripur, a small town in Bangladesh. He completed a bachelor's in engineering at the Bangladesh University of Engineering and Technology before starting doctoral studies at the FAMU-FSU College of Engineering.
"One of the main attractions for me to come here was the Mag Lab," Hossain said. "The material science and engineering program allowed me to spend time in different research groups and I had the chance to explore before deciding on a research area of concentration."
Hossain's research involves investigating the function of Bismuth-2212 superconducting wire, specifically how processing parameters impact the wire. The objective is to optimize the wiring architecture for better performance. He is a member of the Bi-2212 workgroup at the Applied Superconductivity Center and works under professor Eric Hellstrom, Materials Science program director at FSU and the college.
"My work is aimed at improving our understanding of the processing-performance relationship of Bi-2212," Hossain said. "We have been able to identify some key factors limiting performance, and hope to circumvent these issues by changing the wire architecture."
Hossain plans to finish the doctoral program and build a career as a materials scientist in the area of superconductivity. He will be recognized for the award at the 27th International Conference on Magnet Technology in Fukuoka, Japan, in November.