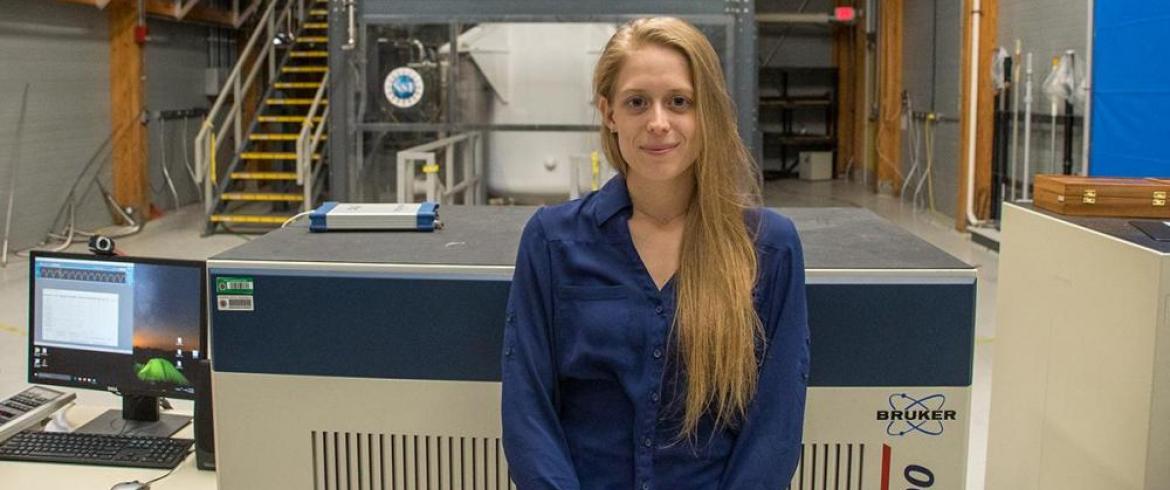 A stroke happens every 40 seconds, and of those, someone dies every four minutes. Strokes are a leading cause of death and disability worldwide and afflict over 800,000 people in the U.S. annually, according to the Centers for Disease Control and Prevention.
Shannon Helsper, a biomedical engineering graduate student at the FAMU-FSU College of Engineering, is part of a team of researchers looking to improve those odds with promising new therapies that may improve outcomes in stroke research. 
"An effective therapy is needed to minimize short, and long-term deficits in ischemic stroke," Helsper said. 
Helsper is the recipient of a new Pre-Doctoral Fellowship award from the National Institutes of Health and will receive $112,288 over a three-year period to cover tuition and fees and other costs associated with her research. She is part of a team of researchers from the National High Magnetic Field Laboratory to conduct her research.
Over 87% of all strokes are ischemic, in which blood to the brain becomes blocked. Helsper and her group want to determine if the presence of human mesenchymal cell therapies in an ischemic region of the brain is essential to healing. They also want to know if the delivery of cell secretions, especially extracellular vesicles known as exosomes, could improve outcomes. Exosomes play a role in the regulation of cellular and physiological processes.
Cell therapies employing human mesenchymal stem cells are the focus of numerous clinical trials. These trials capitalize on the potential therapeutic effects of specific cell treatments that play a role in regulating the peripheral and central nervous systems.
"We want to know if these cell therapies are actually working," Helsper said." Employing high field magnetic resonance imaging (MRI) and spectroscopy can help answer this question."
Sam Grant, an associate professor at the college and the MRI program director at the National High Magnetic Field Laboratory, is Helsper's research advisor and one of her fellowship mentors. Helsper is part of Grant's team conducting research as part of a National Institutes of Health R01 grant.  
The NIH project utilizes ultra-high field magnetic resonance imaging and spectroscopy (MRI/S) acquired using the 21.1-T magnet at the Maglab to assess therapeutic efficacy and track tissue recovery after the administration of human mesenchymal stem therapies.
"With in vitro assays and in vivo MRI/S, we are comparing culture pre-conditioning approaches, such as hypoxia and 3D aggregation, to generate more robust cell therapies against stroke," Grant explained. "Shannon's award will allow us to evaluate the mechanisms involved in stroke recovery and help determine if cell-free therapies are as viable as direct injection of the cells themselves." 
During an ischemic event, disrupted blood flow leads to osmotic swelling and ionic homeostasis disruption that culminates in neuronal death. 
"Sodium, as a quantifiable metric of ischemic lesion and tissue recovery, is directly linked to this acute disruption," Helsper said. "A longitudinal analysis of sodium and metabolite levels in the ischemic core and penumbra can help us quantify sub-acute and long-term recovery."