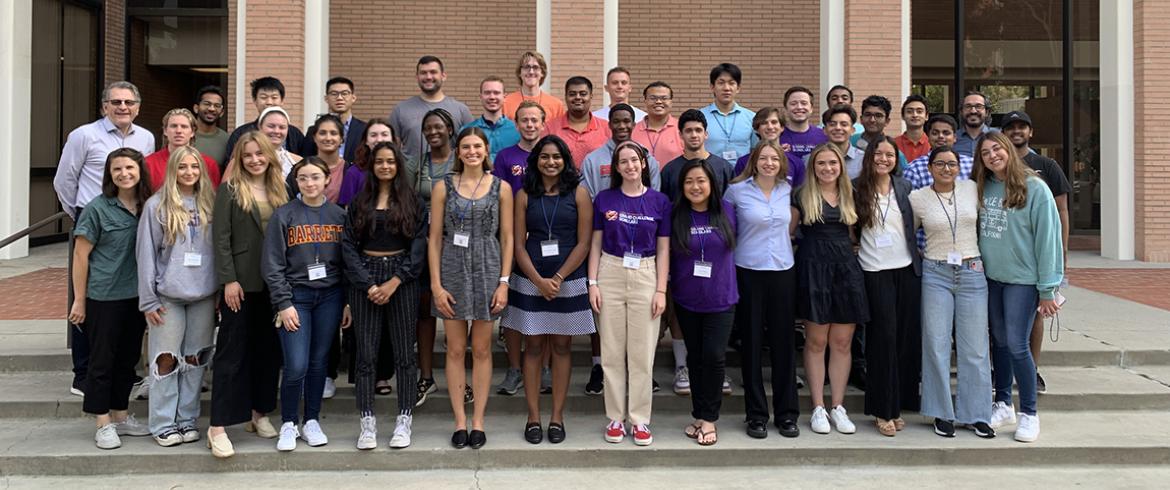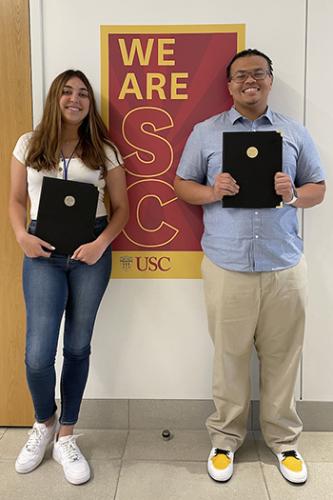 FAMU-FSU College of Engineering undergraduate students Andrea Moncada and Rahsaan Corbin II had the opportunity of a lifetime to explore technology commercialization at the Innovation Node workshop hosted by the University of Southern California Viterbi School of Engineering. The students are part of the Grand Challenges Scholars Program at FAMU-FSU Engineering.  
"Andrea and Rahsaan encompass all the best things about the College of Engineering and the Grand Challenges Scholars Program," said Kassie Ernst, Ph.D., Director of the FAMU-FSU Engineering Grand Challenges Scholars Program. "They each took the initiative to apply to the National Science Foundation-funded workshop in Los Angeles and they will have the chance to apply for $50,000 towards customer discovery of a technology-based project."
Moncada is studying industrial engineering at Florida State University, and Corbin is in computer engineering at Florida A&M University. The National Academy of Engineering-linked workshop helps students explore the commercial potential of technology-based projects and develop a strategic model for commercialization.
"The Grand Scholars Program has been great, it's offered me a lot of opportunities, like this conference," Moncada said. "One takeaway is all the great people I get to meet. It's like a support network and is really helpful."
Moncada and Corbin had the chance to team up with engineering students from around the country to explore topics like engineering better medicines and securing cyberspace. The skills they learned at the workshop centered around entrepreneurship and business strategy.
"The workshop taught me that even if you have the most perfect solution for a problem, if it doesn't fit the customer's needs, then the product is worth nothing," Corbin said, "It is an idea that I need to give more thought to if I decide to go the entrepreneur route." 
Moncada explained, "I learned how to identify a customer, and ask the right questions to find out what they need. These are skills engineers don't naturally have—soft skills, to be honest—that many of us are lacking." 
"Innovation Node LA is specifically aimed at undergraduate students with big ideas and provides the technology, education, and support to help them identify and take their next vital steps in turning ideas into reality," Ernst said. "Can you imagine walking away from your engineering undergraduate degree already having received $50,000 for your idea?! I am so excited to see what they will do next."