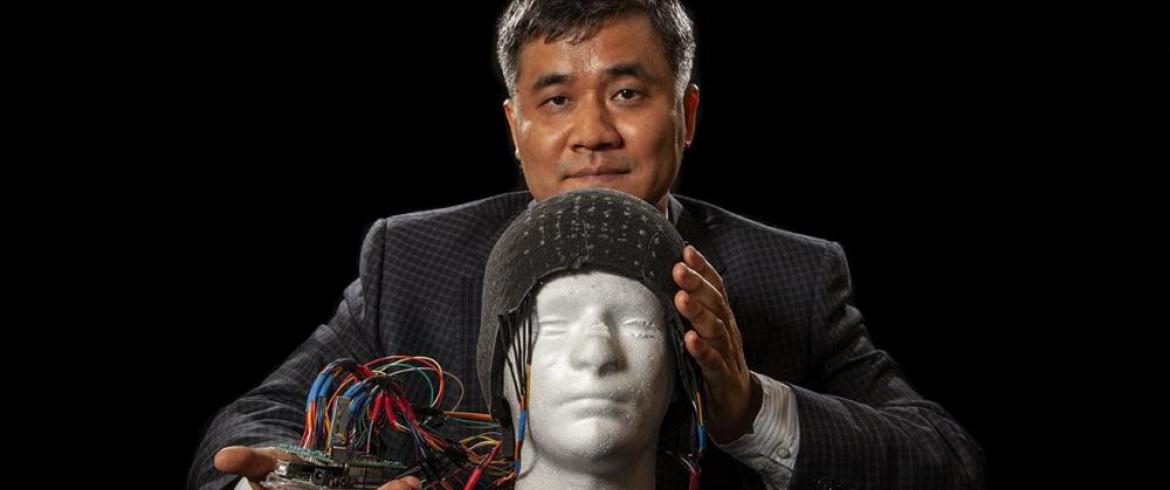 A next-generation foam technology developed by engineers at Florida State University could soon be a key component in safer and more effective football helmets, thanks to a new grant from the National Football League's Play Smart. Play Safe. health and safety initiative.
The technology, called auxetic foam, was invented by Changchun Zeng, an associate professor in the FAMU-FSU College of Engineering and a researcher in FSU's High-Performance Materials Institute (HPMI). Zeng said the foam's advanced properties make it ideally suited to the critical and complex demands of a professional football helmet.
"Contrary to conventional foams, auxetic foams become denser and harder when being hit," Zeng said. "The harder the foam is hit, the harder it gets. As a result, auxetic foams provide a much higher energy absorbing capability and much better protection."
That expertly engineered knack for energy absorption is coupled with an enhanced shape conforming capacity that ensures superior fit and more comprehensive protection, especially in the curved dome structure of contemporary helmets. Add to that a significantly higher resistance to shear force, which provides an improved safeguard against dangerous and under-protected rotational blows, and you get a material uniquely tailored for use in a high-impact sport like football.
Zeng's auxetic foam is exclusively licensed by the Florida-based company Auxadyne, which received the $86,688 grant for its successful submission to the NFL's "Play Smart. Play Safe. HeadHealthTECH Challenge VI." The national competition is part of a $60 million NFL-funded effort to improve understanding of biomechanics and head injuries in professional football and create incentives for the development and commercialization of improved protective equipment.
Joe Condon, president and founder of Auxadyne, said this grant will help his company push the limits of their XPF foam pad system — a sophisticated technology derived from Zeng's groundbreaking auxetic foam.
"The HeadHealthTECH grant affords Auxadyne the resources to design and test several XPF formulations in a variety of XPF-based football helmet pad systems," Condon said. "The objective of the exercise is to quantitatively optimize XPF for this application. We are certain of the ability of this amazing technology to contribute to the safety of helmets. Now it's time to prove it."
With the NFL grant in hand, Auxadyne will now be tasked with identifying the specific combination of properties that provides the most protection against the diverse impacts and blows common on the gridiron. The team will also have to account for fit and comfort, and will need to work toward an optimized manufacturing strategy for the array of distinctly sized and shaped foams that constitute a football helmet padding system.
Condon said the remarkable work of FSU and Auxadyne engineers to this point make him confident that these challenges will be met with innovative and effective solutions.
"Being recognized by the NFL as a top-tier technology is a tribute to the powerful research team at FSU's HPMI and the very talented team at Auxadyne," he said. "All who contributed to getting us to this point through hard work, diligence, persistence and belief should take a bow."
While support from the NFL represents an exciting new opportunity for the development and commercialization of the HPMI-developed auxetic foam, Zeng said this is just one of many potential applications for the technology.
The foam could offer robust protection in a range of other sports and military equipment, he said. It could also be of tremendous value in prosthetics and other biomedical products — the field for which the technology was originally developed. It could even have important automotive and aircraft applications, reducing noise and improving comfort.
But, Zeng said, the prospect of his technology helping to protect football players is undeniably exciting.
"I was a graduate of The Ohio State University, and now I'm a part of Florida State, so football is big for me," he said. "I am also a fan of the NFL, so on top of being ecstatic knowing our technology could potentially lead to products that would make football safer to play, there is also a personal connection and a great sense of gratification."