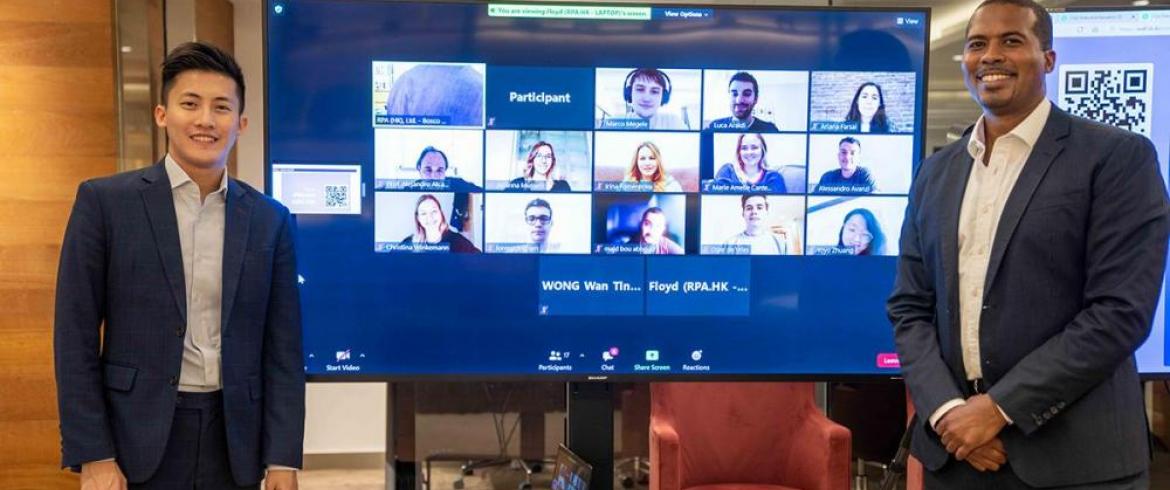 A new intelligent automation course at the FAMU-FSU College of Engineering gives students a chance to learn about working in a global environment from an alumnus succeeding abroad.
Successful entrepreneur and HBCU alum Floyd E. Newsum III hasn't forgotten the mentors and education that propelled him into business on the international stage. Newsum began his journey at Florida A&M University (FAMU) and the FAMU-FSU College of Engineering, and is giving back in a new academic collaboration with the institutions. 
Newsum owns Hong Kong-based RPA, (HK) Ltd, a technology firm focused on building digital workforces. The company helps clients successfully initiate robotic process automation (RPA) and artificial intelligence (AI) initiatives. Using AI software robots, manufacturers and all companies can automate business processes and improve productivity and quality. 
Newsum is sharing his expertise in RPA with a new training program for students at the college.
"When we combine RPA and AI, we get something we call intelligent automation," Newsum said. "My goal is to give students a fundamental appreciation of this new technology and offer them a door into this new opportunity in the digital workforce."
The collaboration develops a technology training service to teach online, mentor-guided automation courses for students in the college's Department of Industrial and Manufacturing Engineering. In spring 2021, a new intelligent automation course called "Digitech Marvels," taught by industrial and manufacturing engineering professors Rebekah Sweat and Tarik Dickens, was the first to involve Newsum.
Dickens had the chance to meet with Newsum when the alumnus visited the campus for a senior design presentation. That's when the idea of the RPA collaboration got started.
"After hearing Floyd's presentation on RPA, we wanted to develop a way to pull the industry and the college together," Dickens said. "RPA has been the fastest growing enterprise software sector in the world every year since 2016 and we want our students to be prepared." 
The course module was partially funded by a National Science Foundation (NSF) grant and is part of a program to support science, technology, engineering and math (STEM) education initiatives at FAMU. Dickens and Sweat are co-leaders for the program.
"We want to provide students an opportunity to understand how manufacturing works globally, to understand how their math and programming skills can be applied, and get exposure to other cultures," Sweat said.
"This was the first-ever intelligent automation course taught at an HBCU this past spring," Newsum said. This makes the alumnus particularly proud, because he points to the faculty and administration at both FAMU and the college as early supports for his success.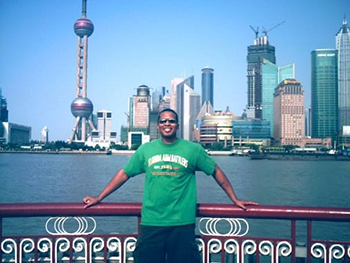 "The idea of my going to China began in the late nineties, with professor Chen, the former dean of the FAMU-FSU College of Engineering," Newsum said. "He told me how the level of manufacturing was shifting to the developing world—especially China—and suggested I get involved in a study exchange program at Tsinghua University in China, where the two schools had established a program."
Okenwa Okoli, professor and chair of the college's Department of Industrial and Manufacturing Engineering, recalled seeing Newsum in his industrial engineering systems class in the late '90s. That's where he noticed the student taking notes in Mandarin.
"I was quite impressed and learned about his plans to work globally at that time," Okoli said. "Floyd is a great example of what our students can do and the importance of learning how to work in a global environment."
Newsum had encouragement from many sources while he was at the college and acknowledges some of those who helped him along the way.
"Dr. Frederick Humphries, the then-president of FAMU and Dedra O'Neal of the FAMU university scholarship program, and my parents—who are educators—all supported me," Newsum said. "They provided me the opportunity and scholarships to make it happen."
He took the study exchange opportunity Chen mentioned and moved to China for a year and a half. His international journey continued to arc upward from there.
"Employer after employer expressed interest in me and the connections I had with mainland China," Newsum said. "For several years I was asked to go back to the country to work on projects—first on physical robots, then for services in the banking industry. After the 2008 financial crises, I was transferred to Hong Kong to work on software robots. In 2019, I formed my own business."
Newsum earned degrees in industrial and manufacturing engineering from Florida A&M University (bachelor's in 2000) and Florida State University (master's in 2001). Currently, he is working on a doctorate in business administration at the City University of Hong Kong. He considers his time at FAMU and the college critical to his overall success.
"For me, the HBCU experience was just as powerful as the opportunities I've been blessed with to live, study and work abroad in China," Newsum said. "When I saw the beautiful FAMU campus and the FAMU-FSU Engineering building with the diverse backgrounds of all the students in one place, I just knew FAMU was the place for me."
The latest course, Digital Technology and Engineering Marvels, is offered in the fall. It is open to all freshmen and sophomores from all majors.