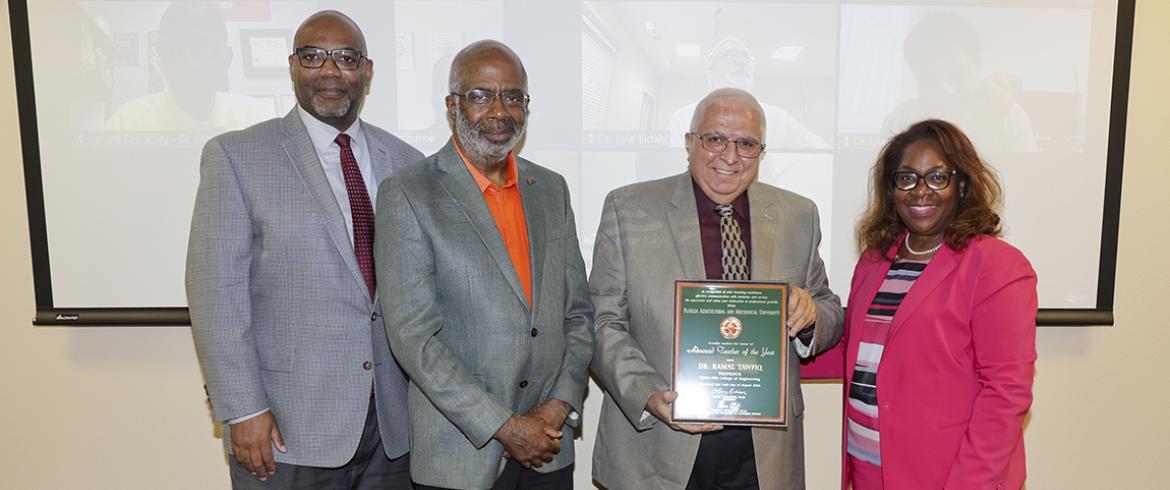 Kamal Tawfiq, professor of civil and environmental engineering at the FAMU-FSU College of Engineering, received the 2022 Florida Agricultural and Mechanical University (FAMU) Advanced Teaching Award. Tawfiq has taught at the joint college for more than 34 years. 
"I am deeply pleased and honored to receive this prestigious award, and I look forward to more challenges and great opportunities to advance my contributions to teaching our undergraduate, graduate and practicing engineers," Tawfiq said.
The FAMU Advanced Teaching Award recognizes outstanding faculty members who demonstrate a commitment to engaging and helping students in a manner that reinforces the principles of excellence in education and authentic support for personal, academic and professional development. This prestigious award is given annually to one faculty member. 
"My teaching strategies have been shaped and evolved with time by my experiences as a professional engineer, a researcher and an educator," Tawfiq said. "I believe that an engineering educator's job is not only to instruct students of what are in the textbooks, but also to inspire and stimulate their curiosities. This can be realized by bringing the real-world experience in engineering practice and new discoveries to the classroom and expose the engineering students to what to expect in the real-life after graduation."  
Lisa Spainhour, professor and chair of the department of civil and environmental engineering at the college expressed her gratitude for Tawfiq's contributions.
"We are so pleased that Dr. Tawfiq's lifetime of commitment to educating civil engineering students is being recognized by the university," Spainhour said. "In particular his work on our online program has been transformational. Not only has he developed more online courses than any other faculty member, but all of his courses have also received perfect scores on the challenging Quality Matters standard."
Spainhour noted that this was the fourth university-wide teaching award the department has received in the past two years, which is a testament to Tawfiq's leadership as former chair of the department.