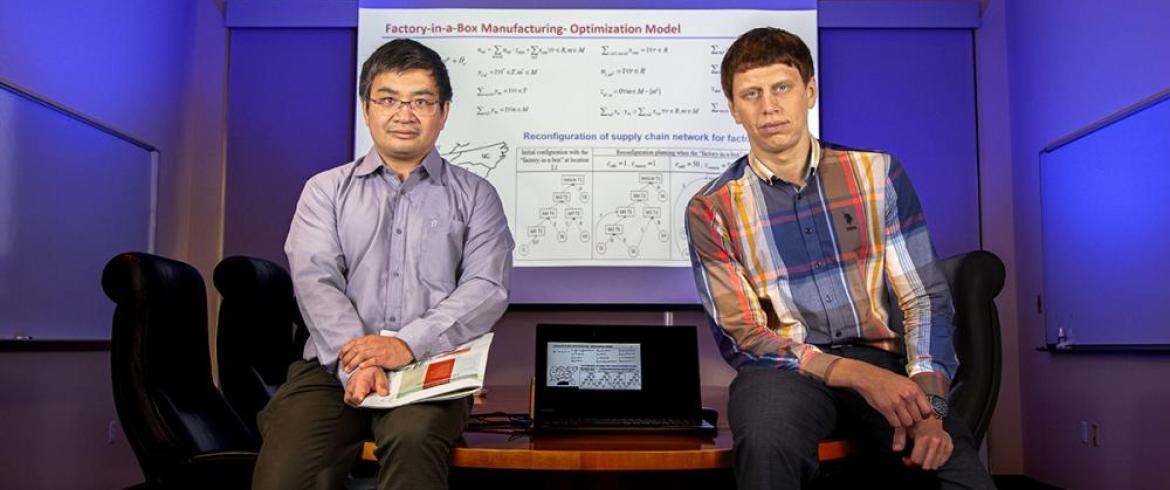 In a crisis like the current  COVID-19 coronavirus epidemic, even something as simple as a face mask can suddenly become a hot commodity. In the wake of a disaster, supplies can run out while getting time-sensitive medicines to people in need could mean life and death for someone from an affected area.
Two researchers at the FAMU-FSU College of Engineering hope a new concept called "factory-in-a-box" may provide a solution for disruption in the supply chain that occurs in a disaster.
The idea is to bring a fully functional mobile factory to the people directly affected by a disaster. Once the need is met, the factory can be packed up and moved to another location. The logistics of this involves many moving parts, from setting up the facility, to providing raw material, to finding suppliers. Timing is everything according to Hui Wang, an assistant professor of industrial engineering at the college. 
"Factory-in-a-box is an emerging concept for flexible manufacturing," says Wang. "A traditional factory is in a fixed location but now we can take the factory to the customer on-site. This concept is particularly suitable for the production under emergent scenarios that have a requirement of material freshness or on-site production for a certain period. It might be used in vaccine manufacturing in response to a spatial disease outbreak or on the battlefield. Or it can be deployed in a logistic base to produce consumable parts for the military. There are many uses." 
Wang is the principal investigator for a $300,000 National Science Foundation (NSF)-funded research project developing analytical tools for decision-making in supply chain network design and assembly planning for factory-in-a-box manufacturing. The NSF Excellence in Research (EiR) grant provides funding for operations engineering research and includes an educational component for undergraduate research. Additional funding of $16,000 per year goes to support undergraduate research. 
Wang's three-person team includes Maxim Dulebenets, Ph.D., an assistant professor of civil and environmental engineering at the college, and Weihong Guo, Ph.D., an assistant professor of industrial and systems engineering at the Rutgers School of Engineering. 
"This is a collaborative effort including different departments and different colleges," says Wang. "Dr. Guo brings her expertise in systems engineering and statistics to the project. I am involved with the manufacturing side of it, how we design and optimize the "factory-in-a-box" system and Dr. Dulebenets is involved with the transportation side, getting the goods to a location."
Dulebenets says that the "factory-in-a-box" concept has been used by several companies over the years but says there is a lack of methods to effectively address problems associated with it. 
"What we plan to do is to develop algorithms and theories to assist stakeholders in planning their "factory-in-a-box" operations," says Dulebenets. "We are developing a supply chain optimization plan that determines the appropriate sequence of visiting suppliers, manufacturers and we are looking at how delivery delays affect our end customer."
Undergraduate and graduate researchers are a big part of the project, according to Wang and Dulebenets. Graduate students will be taking the lead and will be exploring manufacturing design and supply, vehicle routing and resilience issues. Undergraduate students will be performing simulations and working with doctoral students to evaluate their research.
"One research area our graduate students will be working will be to develop an optimization model for vehicle routing issues," says Dulebenets. "Dr. Wang and I are planning to connect undergraduate students with graduate students so they can share their knowledge. We hope to introduce the undergraduate students to basic optimizations concepts so they can learn how to apply this to solving real-life challenging problems."
Research from this project could help build a framework for supply chain network design and provide valuable insight into the logistics of materials delivery and planning.