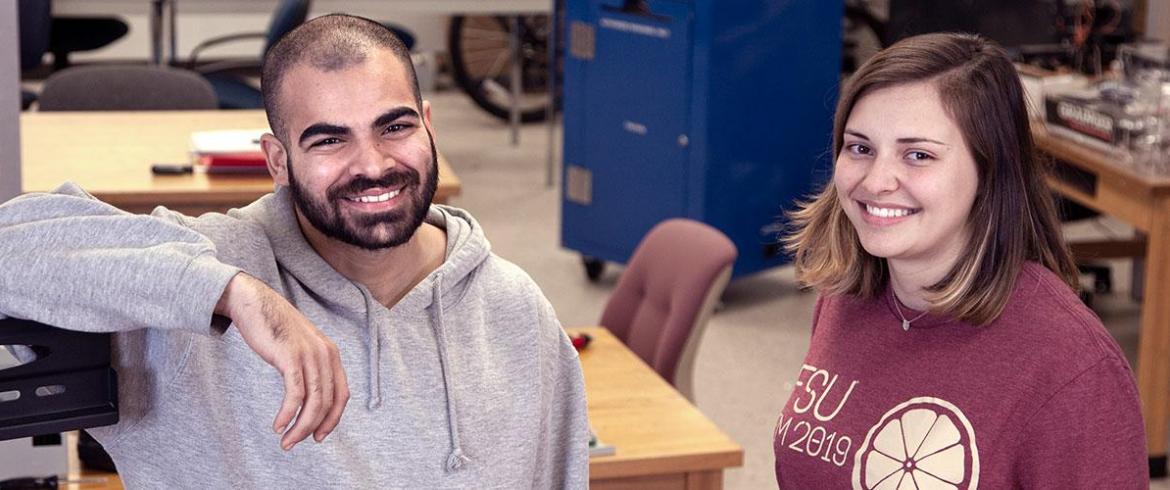 Two FAMU-FSU Engineering students were part of the Florida State University (FSU) team who won gold this year at the 2019 iGEM Giant Jamboree in Boston. The competition included 360 teams who showcased their research and competed for awards.
Undergraduates Shams Dhanani (mechanical engineering) and Alyssa Klein (chemical engineering) were part of the multidisciplinary team of 21 students serving as members and advisors.
"A gold medal places FSU among the best iGEM teams in the world," Cesar Rodriguez, Research Faculty I and Entrepreneur in Residence in the biomedical sciences department, Florida State University College of Medicine and team mentor said. "Only eight out of 52 U.S. collegiate teams achieved a gold."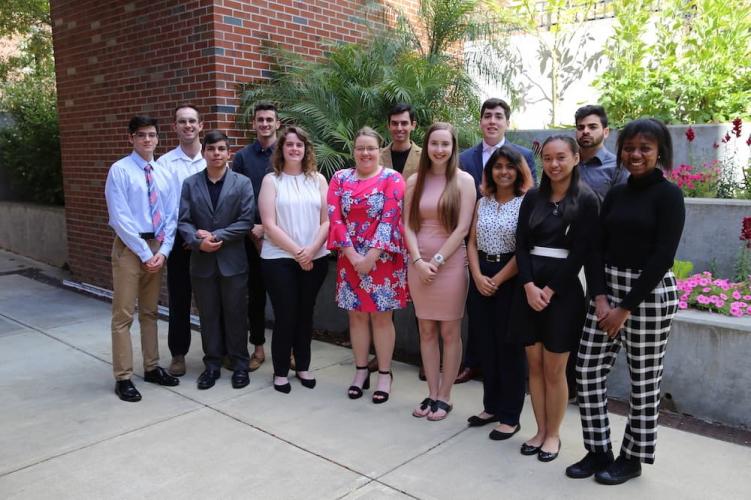 Dhanani described what it was like to win gold at the conference.
"Our team members were all perfectionists, so every step of the way we wanted to keep doing more," Dhanani said. "After the judge reviewed our presentation and poster, we would huddle together as a team and talk about how we could improve. On the last day, the bronze and silver nominations came up and we saw no signs of FSU on the board. We were sad, then suddenly, in the last column under gold, there it was, FSU. We had won gold, seeing that felt pretty great."
The team's research tied back to the state of Florida. The group wanted to find a solution to citrus greening, a bacterial disease affecting citrus trees that has plagued the state for years, resulting in a $2.9 billion loss in revenue for orange growers in Florida from 2007 to 2014. Team members wanted to learn as much as possible about this issue so they met with growers and various experts around the state.
Based on the citrus growers' needs, the team developed FLOEMA, a rapid prototyping platform composed of antimicrobial peptides, an injector-catheter device and a therapy management subsystem. Antimicrobial peptides are short sequences of amino acids that behave like antibiotics.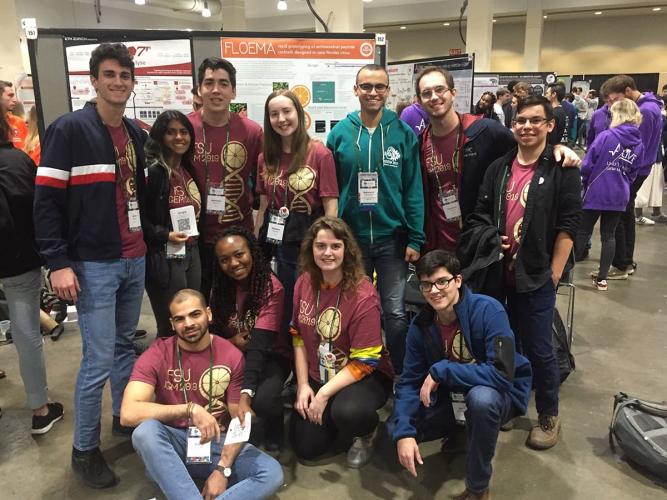 The 2019 FSU iGEM team members have backgrounds in biological science, criminology, entrepreneurship, information technology, marketing, mechanical engineering, computer science and statistics, chemical engineering, biochemistry and psychology. Each team member had a specific role in the project.
Engineering students Dhanani and Klein designed FloRx, an injector-catheter device that accesses the phloem or xylem of citrus trees. Dhanani and Klein also developed a therapy management subsystem, which is a software tool that advises when and how much of the therapeutic agent should be infused into the citrus trees.
"The biologists on the team were extremely helpful in giving a lot of the background information needed to create our prototype and models," Klein said. "They were critical in the creation of the cocktail. However, they needed a more efficient delivery method and that's where Shams and I came into play."
Dhanani described what it was like to work on a large team outside of the engineering field.
"Being on a large team was an eye-opening experience that I thoroughly enjoyed," Dhanani said. "We had a well-rounded team and we supported and educated each other in areas where we were weaker or stronger."
Team members were Cameron Conroy, Shams Dhanani, Jacob Gottlieb, Jessie Griesheimer, Alyssa Klein, Kathleen Mcclellan, Roderick Meyer, Mezindia Blessing Nkembo, Hannah Pascoe, Juan-Martin Portilla, Derica Parathundil, Conner Quinlan and Nicholas Vazquez.
Student advisers were: Jamal Youmas, Tyler Mitchell, Ben Cynamon, Alexandra Kata, Daniela Quijano, Ian Schlander, Arianna Sigalos and Michael Taylor.
The iGEM Foundation is an independent, nonprofit organization dedicated to education and competition, the advancement of synthetic biology, and the development of an open community and collaboration.
Find out more about FLOEMA. Check out the project's website: 2019.igem.org/Team:FSU