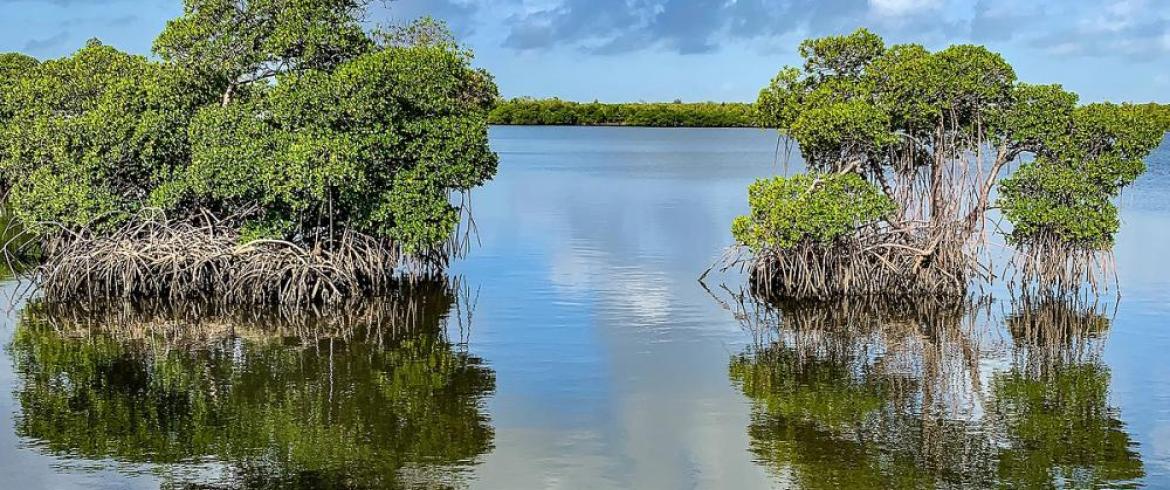 Machine learning (ML) is a powerful new weapon to battle water pollution in Florida. FAMU-FSU College of Engineering researchers are using the technology, a form of artificial intelligence (AI), to make predictions that can mitigate and prevent water pollution in the Floridan aquifer.
Civil engineer and RIDER Center faculty member Ebrahim Ahmadisharaf is working with co-investigator Ming Ye, a professor in the Florida State University Department of Earth, Ocean, and Atmospheric Science, on the study. They are developing a machine learning tool for water quality analyses in Florida's St. Lucie River and Estuary Basin, east of Lake Okeechobee and north of Everglades National Park. 
St. Lucie River and Estuary Basin Study
"We are using machine learning to study to predict the patterns of pollutants in the water that occur over time and across various geographic locations," Ahmadisharaf said. "Different conditions, locations and times can affect a range of water quality constituents—such as nutrients and bacteria—that can affect human health and ecosystem function."
The St. Lucie River and Estuary Basin is a complex system where water pollution from various sources flows into adjacent waters from the land. Surface and ground waters are interconnected, and the area is vulnerable to excess water pollution. Ahmadisharaf's machine learning tool can help watershed managers monitor the health of waterbodies.
"Water pollution continues to be a big issue across the globe and monitoring water quality is costly," Ahmadisharaf said. "Numerical tools like AI can help water quality managers track the health of water bodies under a range of hypothetical, yet plausible scenarios."
Water pollution continues to be an issue in the state, costing billions annually. The Florida Department of Environmental Protection (FDEP) and the Environmental Protection Agency (EPA) work to restore and protect water resources, and the new technology will be an important cost-saving measure.
Researchers say the problem is that most of our current data uses historical precedence. Changes in climate, population and urbanization pose new challenges that have not been observed in the past.
"With machine learning we can use numerical data to make predictions for events that have not occurred yet," Ahmadisharaf said. "Leveraging the existing datasets and the proposed tool, we can accurately predict what the water quality might look like under likely conditions that may occur in the future."
Their goal is to develop an open-source tool integrated with existing water quality databases in the EPA, FDEP and the South Florida Water Management District. Ahmadisharaf hopes the machine learning tool will inform stakeholders of pollution reduction strategies before making huge investments.
The U.S. EPA is funding the three-year project.
RELATED ARTICLES
Civil Engineer Taps AI Tech for EPA Study to Control Algal Blooms in Coastal Waters