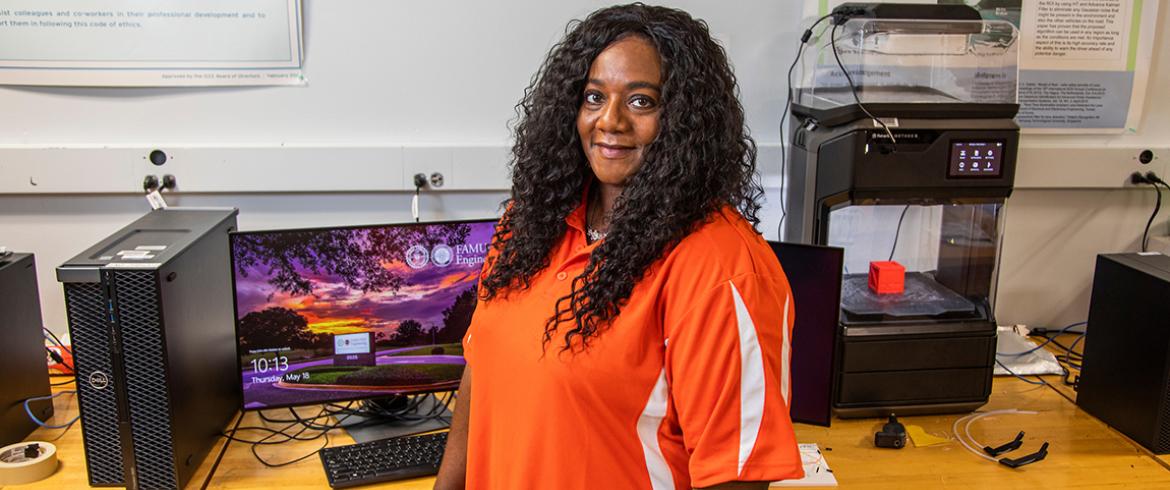 The Boeing Company, partnering with Advancing Minorities Interest in Engineering (AMIE), has awarded Florida A&M University $21,000 for a new mentorship project at the FAMU-FSU College of Engineering. 
The ECE Research Mentoring Program Geolocation Summer Project, led by Shonda Bernadin, an associate professor in the college's Department of Electrical and Computer Engineering, will develop a geolocation demonstration system to engage K-12 students and stimulate their interest in STEM. It is the first year the group has partnered with AMIE and Boeing in this program. 
"This year we are very excited that AMIE and The Boeing Company have partnered with us to co-sponsor the ECE Mentorship Program," Bernadin said. "We hope to develop a sustainable research program in geospatial intelligence which may lead to exciting, innovative research solutions."
"Boeing's partnership with AMIE focuses on increasing and strengthening the pipeline of underrepresented minoritized students in engineering careers," Nathan Brooks, a Senior Technical Fellow at Boeing said. "Since HBCUs are one of the best vehicles for providing social mobility for their students, it is critical that industry supports them as they train up the next generation of engineers."
The ECE Research Mentoring Program was created in 2020 by Bernadin and a team of researchers from FAMU to broaden participation in research, motivate graduate students, build professional development skills, and further cohort-building through academic and social integration. 
Based on a Ph.D. Student-Mediated Mentorship Model, the approach pairs graduate student mentors with undergraduate student mentees who work on mini-research projects under the guidance of a faculty supervisor. The work was published in The Chronicle of Mentoring & Coaching.
"The mini projects, which are typically part of larger research initiatives, are designed to engage undergraduate mentees in career development activities and motivate them to pursue graduate studies," Bernadin said. 
In some cases, projects include a high-school student apprentice as a member of the mentoring team. Bernadin noticed this approach cultivates community, promotes a sense of belonging and strengthens the diversity pipeline from K-20 to graduate and STEM professional.  
"A recent project by the Smithsonian called the Inspiring STEM Pathways utilizes projects like Dr. Bernadin's to make STEM exciting and relatable to minoritized students," Brooks said. "By seeing STEM professionals who look like them and who work with technology as cool as the things they see in movies and games, they can be inspired to follow in those same footsteps."
Brooks, a FAMU alumnus, is thankful for receiving his education at the FAMU-FSU College of Engineering. He was the first FAMU electrical and computer engineering graduate to earn a doctorate at the college. After graduating in 2004, he was a postdoctoral researcher at the European Organization for Nuclear Research (CERN) and has built a successful career.
"FAMU has a motto, "excellence with caring," and faculty and staff at FAMU and the joint college gave me an excellent education—and cared for me as a person," Brooks said. "I feel it is my duty to give back in the same way. The Boeing Company is filled with individuals and leaders devoted to giving back to our universities, especially our nation's HBCUs."
Brooks continued, "These engineers are needed as the future global race towards technology development relies on our ability to have a sustainable and diverse workforce. Projects such as Dr. Bernadin's will not only provide a unique opportunity for high school, undergraduate, and graduate students to tackle real-world problems in electromagnetics (one of the most nationally critical subject areas), but the results can be used to attract even younger students to STEM."
Boeing has awarded over $65,000 in additional support for undergraduate and graduate research capabilities at the FAMU-FSU College of Engineering through the AMIE Innovation Initiative. The summer partnership with Bernadin's group is one of two projects awarded to FAMU in 2023. 
"I am honored to have a role on our Boeing AMIE team that provided this support and on our Boeing University Innovation team that is sponsoring multiple research projects at FAMU that allow Boeing and FAMU researchers to develop new technologies in collaboration," Brooks said.
RELATED ARTICLES
FAMU-FSU Engineering partners with ASTERIX to build pipeline of diversity in STEM workforce
FAMU Awards Google Endowed Professorship to FAMU-FSU College of Engineering Professor
Boeing engineer, FAMU-FSU Engineering alum shares path to success