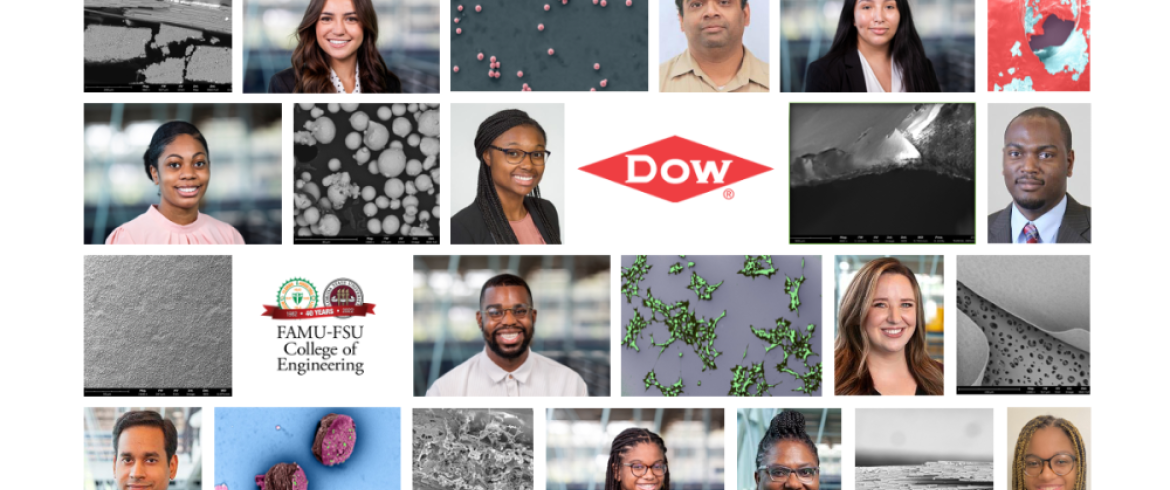 Florida A&M University (FAMU) was one of five Historically Black Colleges and Universities (HBCUs) in late 2020 to benefit from a $5M investment from Dow Inc. The partnership enriches the Black STEM talent pipeline, and the investment is making a real difference for students like Kemah Tah. 
Tah is a sophomore in chemical engineering at the FAMU-FSU College of Engineering and had the opportunity to work in undergraduate research as a Dow Scholar. 
"Sometimes when taking difficult STEM classes, one starts second-guessing themselves on whether they chose the right major," Tah said. "As a junior researcher, I got a first-hand look at what a career in the field is really like and was able to gain skills that I never would have gotten while sitting in a lecture hall."
The multi-year funding of nearly $1 million supports both the Undergraduate Research Experience (UREx) and the Summer Undergraduate Research Experience (SURE) at the college. More than 15 undergraduate students throughout the calendar year participate in the programs. As the joint college of engineering for both Florida A&M and Florida State universities, FAMU-FSU Engineering enrolls a uniquely high proportion of underrepresented minority students.
Jolie Frketic, a research engineer at Dow, was Tah's advisor through the curriculum. Dow scholars have the chance to work with industry mentors who guide them through the process. Frketic graduated in 2019 with a Ph.D. in Industrial Engineering at the college.
"As a mentor in the Dow SURE program, I enjoyed meeting with my mentee and being able to answer her questions on undergraduate research, graduate school and technical problems," Frketic said. "As an alumna of the FAMU-FSU college of engineering, it meant a great deal for me to give back to the school that helped me achieve a career I love and help someone else through the process."
Dow's goal of diversifying its workforce with top-quality Black engineers means students like Tah will have opportunities for undergraduate research experiences and industry-level mentoring that might not have been otherwise possible.
"Dow SURE is a program that makes a difference to hundreds of students from the seven universities we collaborate with, five HBCUs in the U.S. and two universities in Brazil," Andre Argenton, Dow's Chief Sustainability Officer and Vice President, EH&S, said. "It not only exposes undergraduate students to graduate degree options and what could be a wonderful career path in R&D, but has an impact on the Dow employee's experience, as it gives them the opportunity to positively influence the life of others through their passion for science at Dow."
The collaboration with Dow and the FAMU-FSU College of Engineering brings industry-level research equipment to the program. Students at the college have new opportunities to get real- world experience with a state-of-the-art Scanning Electron Microscope SEM. Scanning microscopy has been a long-heralded analytical technique for imaging materials. The new microscope will provide detailed images of the surfaces of cells and whole organisms and scans at resolutions that reveal the nature of materials and structures.   
"I got to work first-hand with the SEM machine, an instrument that I hadn't even known existed before this opportunity," Tah said. "Each week I got more comfortable with the machine and was able to produce beautifully clear images for the project that I am working on."
"High profile companies and small-medium enterprises have indicated that they require a workforce that is knowledgeable in advanced materials and characterization," Tarik Dickens, associate professor in the department of industrial and manufacturing engineering at the college, said. "The new equipment provides advanced imaging capabilities that help develop our student's research experience and relevancy in the field."
The UREx and SURE programs support scholarships, stipends, student projects, training materials and cost-shared equipment. In the spring and fall semesters, students will have student research assistantships. In the summer, students from the college and undergraduates from across the U.S. will have the opportunity for a ten-week internship. The summer program emphasizes research and development, ending with an "Engi-preneur" competition to demonstrate commercial relevance.
"Access to rapid imaging for their individual projects increases the potential for students to seek out graduate opportunities that align with Dow's mission," Dickens said. "With our unique capabilities in advanced additive manufacturing and chemical engineering, the UREx will further research in the chemical manufacturing industry and empower students to be the ideal candidates for Dow recruitment and related industries."
Eunice Heath, the Corporate Director of Sustainability at Dow, explains, "Dow SURE connects students to Dow research and development mentors early in their college careers. Through this mentorship, students gain great technical insights and personal development guidance while the Dow mentor fulfills the desire to contribute to the development of next-generation scientists and engineers. These growth experiences are invaluable for both the student and the R&D mentor. Evolving engineering and research talent is critical to ensure future generations have a sustainable future."
Dow SURE and FAMU UReX
Undergraduate research opportunities across all majors are available, and hands-on experience in material characterization and analytical microscopy training are offered. For more information (faculty and students): 
Undergraduate Research Experience (UREx)
Related articles:
FAMU Among Five HBCUs To Benefit from Dow's $5M investment to enhance the Black STEM talent pipeline