Florida A&M University and FAMU-FSU College of Engineering graduate student Danielle Carr makes history as the first-ever female FAMU student to be awarded the prestigious SMART scholarship from the Department of Defense (DoD). The mechanical engineer from Pompano Beach, Florida, will receive full tuition and a yearly stipend from the SMART Scholarship-for-Service Program, sponsored by the U.S. Naval Surface Warfare Center-Philadelphia Division.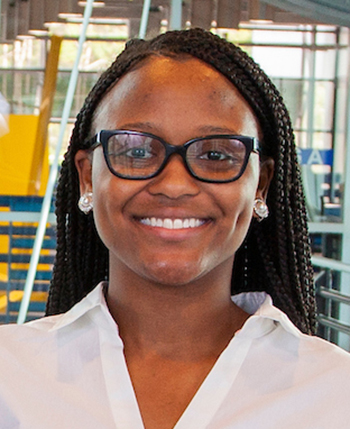 "I am thrilled that I am the first Black woman to receive this honor at FAMU," Carr said. "I am super excited about this and am proud to be a part of this historic moment."
Carr's research on the design and control of a finger-based haptics wearable device has earned the scholarship that will fully fund her doctoral studies for the next three years. The device allows people to interact with objects and other people from varying distances.
The Science, Mathematics, and Research for Transformation (SMART) Scholarship-for-Service Program is an opportunity for students pursuing an undergraduate or graduate degree in Science, Technology, Engineering, and Mathematics (STEM) disciplines to receive a full-tuition scholarship and summer internships. The award guarantees civilian employment with the DoD upon degree completion. The scholarship goes to the brightest students in the nation for work in a leading defense facility.
Carl Moore, associate professor in mechanical engineering at the college, is Carr's professor and graduate Ph.D. advisor. He supported her research experience in the undergraduate program sponsored by the National Science Foundation (NSF) and later as a graduate student through NASA's Broadening Participation of Next Generation Aerospace Engineers (BP-AE). 
"I cannot say I was surprised Danielle won the DOD SMART scholarship. She is one of the most driven and curious students I have advised," Moore said. "I am thrilled that the award will support her research into haptics-enabled telerobotics. The pandemic has accelerated the desire for telework and for people to interact with faraway loved ones. It's going to be exciting to watch this Black woman in STEM accomplish her goal to eliminate distance through robotics and, at the same time, breathe fresh air into the robotics community." 
Carr recently worked on a project with NASA, Lockheed Martin Space, and the University of Nevada - Las Vegas, that focused on remote teleoperation capabilities to produce plants and food in a remote environment. Engineers performed the work with a teleoperator located in Littleton, Colorado, and a robotic system located 1,300 miles away in Palo Alto. 
She compared teleoperation to controlling an entertainment system such as a remote control and TV. 
"A television is controlled remotely when the viewer uses a remote to communicate a command to a TV," Carr said. "Once the TV successfully receives the command through a communication channel, the new desired channel is shown on the TV screen. The difference here is that I am designing a remote called a haptic interface that will give users the ability to feel and manipulate objects through the sense of touch, things that are not just across the room but across the globe."
With Carr's device and a remote robot—often referred to as an avatar—a rehabilitation specialist could perform exercises on a patient far away. A distant family member could help an aging relative out of bed, and young students could explore remote ecosystems.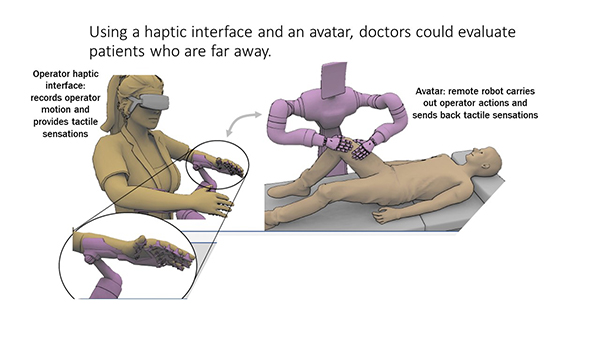 She will be working at the Naval Surface Warfare Center-Philadelphia Division and believes the US Navy is interested in her research because of the remote work possibilities.
"One application of this research might be when the Navy needs to send engineers to fix parts of the ships or anything onboard, which can be pretty dangerous," Carr said. "Setting a robot in its place and controlling it from a safe, remote location reduces the risk."