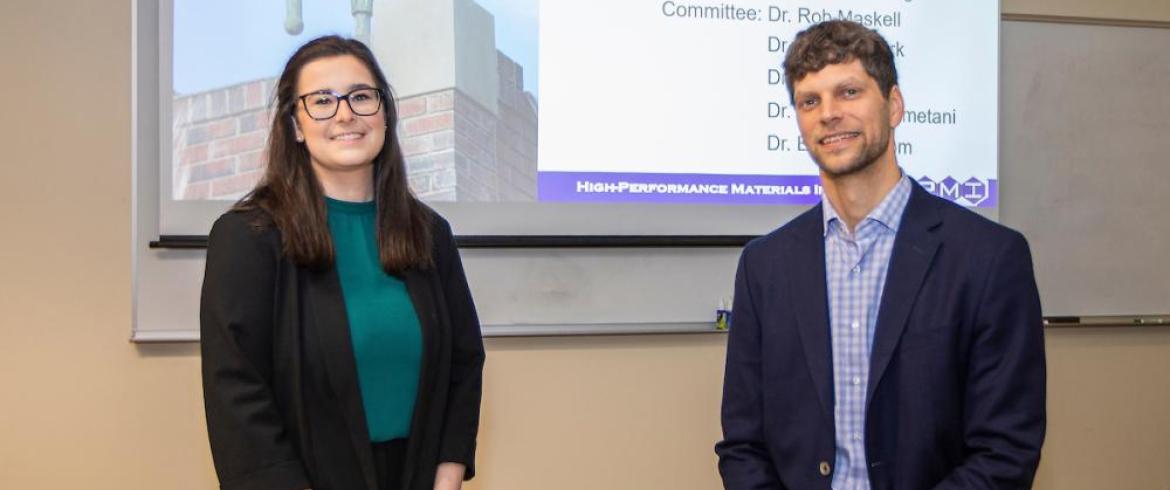 FAMU-FSU College of Engineering student Claire Jolowsky is the second scholar from Florida State University to receive a Cytec-Solvay fellowship for Advanced Composite Studies. Jolowsky successfully defended her dissertation on her work with materials and will graduate with her doctorate in industrial and mechanical engineering this spring.  
She is following in the footsteps of Rebekah Downs Sweat, Ph.D., who received the award in 2015 and is now an assistant professor at the college. Both Sweat and Jolowsky are researchers at the High-Performance Materials Institute (HPMI), where faculty perform research for emerging advanced composites, nanomaterials and advanced manufacturing. The institute is a world-class research center affiliated with the FAMU-FSU College of Engineering.
Jolowsky's research focuses on a fundamental understanding of the synergy and scaled-up manufacturing challenges using continuous carbon nanotube materials. This is in conjunction with carbon fiber to fabricate aerospace-quality high structural performance composite materials. During her doctoral studies, she actively participated in multiple research projects with NASA, AFOSR, industry partners and other universities. Jolowsky published numerous research papers and was granted a U.S. Patent for her work. She also won three major student research competition awards and has collaborated with Solvay experts to make high-quality composites.  
"The Solvay group has supported my research and graduate education since the fall of 2016. I have been very grateful over the years for the support from the fellowship as well as the feedback and guidance from the Solvay team of Matthew Jackson and Rob Maskell, Chief Scientist of Solvay," Jolowsky said. "My research has proven to be both rewarding and challenging, and I have greatly enjoyed pushing the envelope in bringing carbon nanotubes closer to being used in industrial applications. I very much appreciate the opportunities I have been given during my time at FSU made possible with the support from this fellowship."
"Claire has a great passion for composite technology and had excellent hands-on experience with and a fundamental understanding of composite manufacturing and testing," said Richard Liang, college faculty member and director of the High-Performance Materials Institute. 
The Cytec-Solvay Engineered Materials Doctoral Fellowship for Advanced Composite Studies supports graduate students. It is part of a multi-year partnership between the High-Performance Materials Institute and Cytec-Solvay. The collaboration advances composite technologies with one of the world's largest polymer companies.
 "Over the last five years, Claire has demonstrated an unrivaled work ethic and passion for materials research which has provided unique insight into the behavior of high-performance materials," said Matthew Jackson, an Associate Tech Fellow from Solvay. "She has accepted the difficult task of translating microscopic promise to macroscopic reality and has laid the groundwork for a new generation of material performance."
"We're delighted with this successful partnership and with the excellent work of Claire Jolowsky," said then-Interim Vice President for Research Laurel Fulkerson. "This is an example of just the kind of collaboration FSU is best at, and I'm grateful to Solvay and HPMI for making it happen."
Advanced composites are critical for U.S. global competitiveness and national security. The composite community is focusing on mass production technologies and next-generation materials.
"This long-term partnership and support from Solvay provides excellent opportunities for our students to work on the frontier challenges in the fields, and directly work with leading industry experts to accelerate student success and achieve academic excellence," Liang said. "It also further enhances our competitiveness to lead or join major federal research programs."