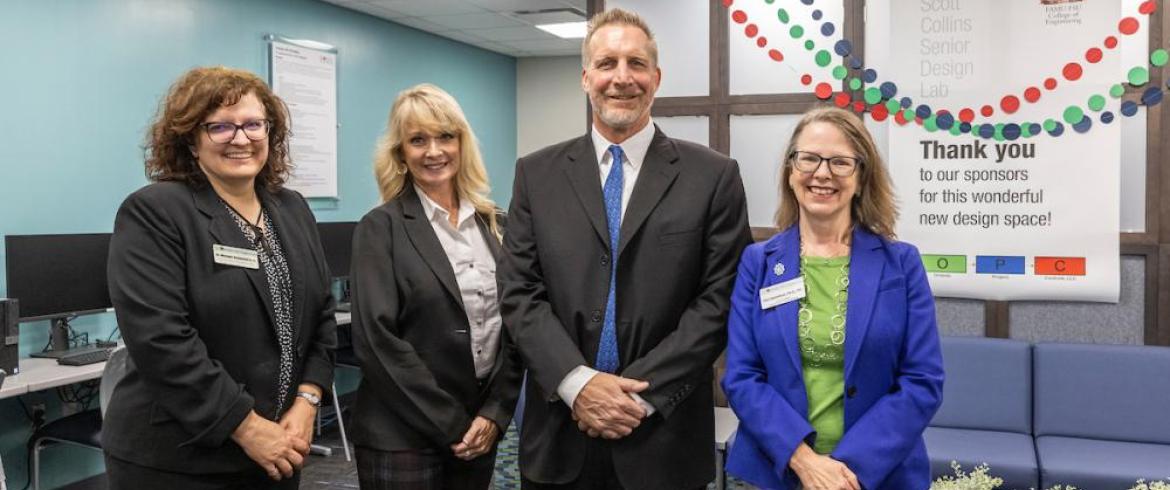 The Scott Collins Senior Design Lab for Civil and Environmental Engineering opened on February 18, 2022, with a ribbon-cutting by the major donor Scott Collins, whose name the lab bears, and much anticipation by the students and faculty of the FAMU-FSU College of Engineering. The multi-use space will be the incubator for students' capstone projects in civil and environmental engineering design—something they've waited years to experience.
"During the pandemic, we thought that this day would never get here," said Lisa Spainhour, professor and chair of the Department of Civil and Environmental Engineering at the college. "It will be fabulous to have this collaborative space for our Senior Design students to gather. There's nothing like being in a shared workspace for getting the creative juices flowing. We are grateful to Scott and to all of the donors who made this day possible."
The newly renovated space includes collaboration areas, a conference/pitch room, computers and a general vibe of innovation and inspiration. The prime sponsor for the project was Scott Collins, owner and CEO of Orlando Project Controls, Inc., and alumnus of the college via Florida State University. The new space was made possible by his corporate donation, along with major support from ColoneyBell Engineering, Urban Catalyst Consultants, Registe Sliger Engineering (now Ebbstone) and dozens of other individual and corporate sponsors.
A grand opening event at the college and a dedication of the lab marked the occasion. Senior civil engineering student Parker Austin spoke on behalf of the many students in attendance, thanking Collins and the other donors for their generosity.
"We have already begun to use the space for design team meetings and planning for our upcoming ASCE conference," he said. "I am especially excited about all of the special software that isn't available in the main computer labs. I know that it will help prepare me for my first job in the field."
As part of the ceremony, Spainhour unveiled a sponsor plaque in the space to memorialize the contributions of the many donors and the commitment of the Department of Civil and Environmental Engineering's alumni and corporate partners that made this project possible.
Read more about the lab's inception and fundraising efforts for the project.