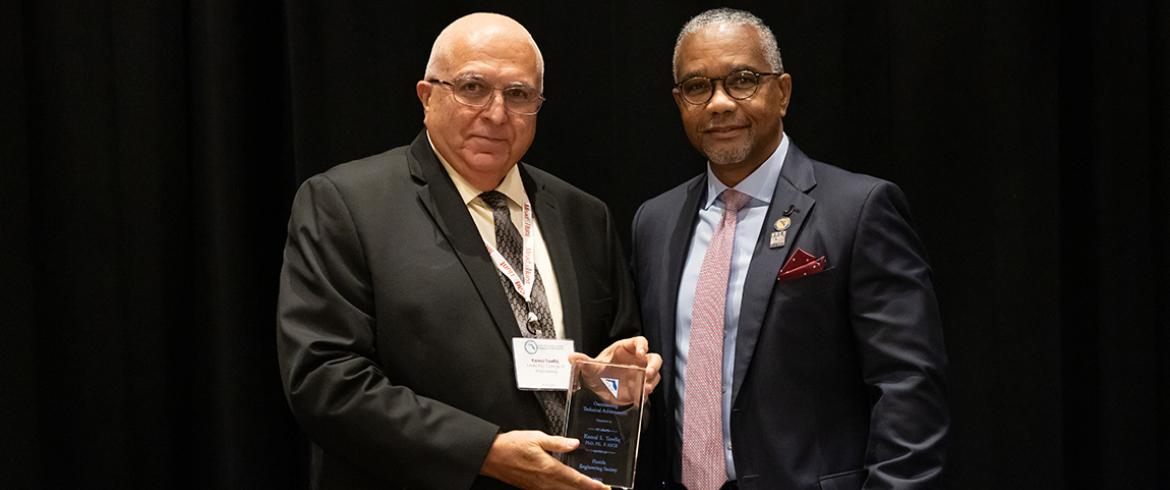 Kamal Tawfiq, professor and former chair of the Department of Civil and Environmental at the FAMU-FSU College of Engineering, was honored with the 2023 Outstanding Technical Achievement of the Year award from the Florida Engineering Society. Tawfiq received recognition at the annual Engineers Week banquet for a lifetime of technical and educational contributions to the engineering community in Tallahassee, Florida and beyond.
"It is an honor to receive this award," Tawfiq said. "It means a lot to have the support of the engineering community in Tallahassee. I hope to continue serving the college and advocating for continued excellence in engineering at the institution."
A prolific researcher, Tawfiq has conducted groundbreaking studies of soil-structure interaction, dynamic characterization of structural materials and novel pavement material systems, for which he holds several patents. 
"The Technical Achievement award is a perfect recognition for Tawfiq," said Lisa Spainhour, chair of the Department of Civil & Environmental Engineering. "This honors not only his impact on the state of practice, but his impacts through the technical contributions of the many graduates that he has trained as teacher and mentor, who have now gone on to serve their communities as engineers, researchers and business leaders." 
After receiving his Ph.D. from the University of Maryland, Tawfiq joined the FAMU-FSU College of Engineering in 1988. During his tenure he led the department in developing award-winning online Master of Engineering courses and served as an adviser and trustee to several international universities in Iraq and Syria. He was the founding chair of the board of trustees of a technical university in Kurdistan Region in Northern Iraq. He has received numerous teaching and professional awards, including the FSU Excellence in Online Course Design Award and the 2022 FAMU Advanced Teacher of the Year Award. 
Update
The Board of Directors of the Florida Engineering Society chose Tawfiq to receive the 2023 FES Outstanding Technical Achievement Award (statewide). He and other FES Award recipients were honored at the FES Awards luncheon at the FES Annual Conference in Marco Island, FL in July 2023. (See photo at top of the page.)
RELATED ARTICLES
FAMU-FSU Engineering alumnae share a vision for the Big Bend Florida Engineering Society
FAMU-FSU students, faculty and alumni recognized at Engineer's Week banquet